When entrepreneurs and start-up employees go to use the restroom in Station F, the world's largest start-up incubator located in Paris, France, they can either go into doors labeled "MENS" or "WOMENS."
If you think those signs seem strange, you're right. In correct English, they would read "Men's Restroom," or "Men," and "Women's Restroom," or "Women."
As an international start-up hub with almost one-fifth of residents possessing a citizenship that isn't French, Station F has chosen to "only speak in English." It's the language people are most likely to have in common, and the tech center doesn't want to exclude or ostracize any startuppeurs in Station F because they don't speak French.
In France, the presence of English in office spaces is, in fact, the norm, even if companies aren't only operating in English as Station F is. For example, at any French company you may work in le marketing and have un call this afternoon to do un brainstorming for how to get le closing of a new deal.
English's infusion into French is occurring primarily because, despite the preferences of L'Académie Française, English is trendy and because English is the language of business. Unfortunately for French companies hoping to get in on the Anglophone action, using English on a professional level is not as easy as it seems.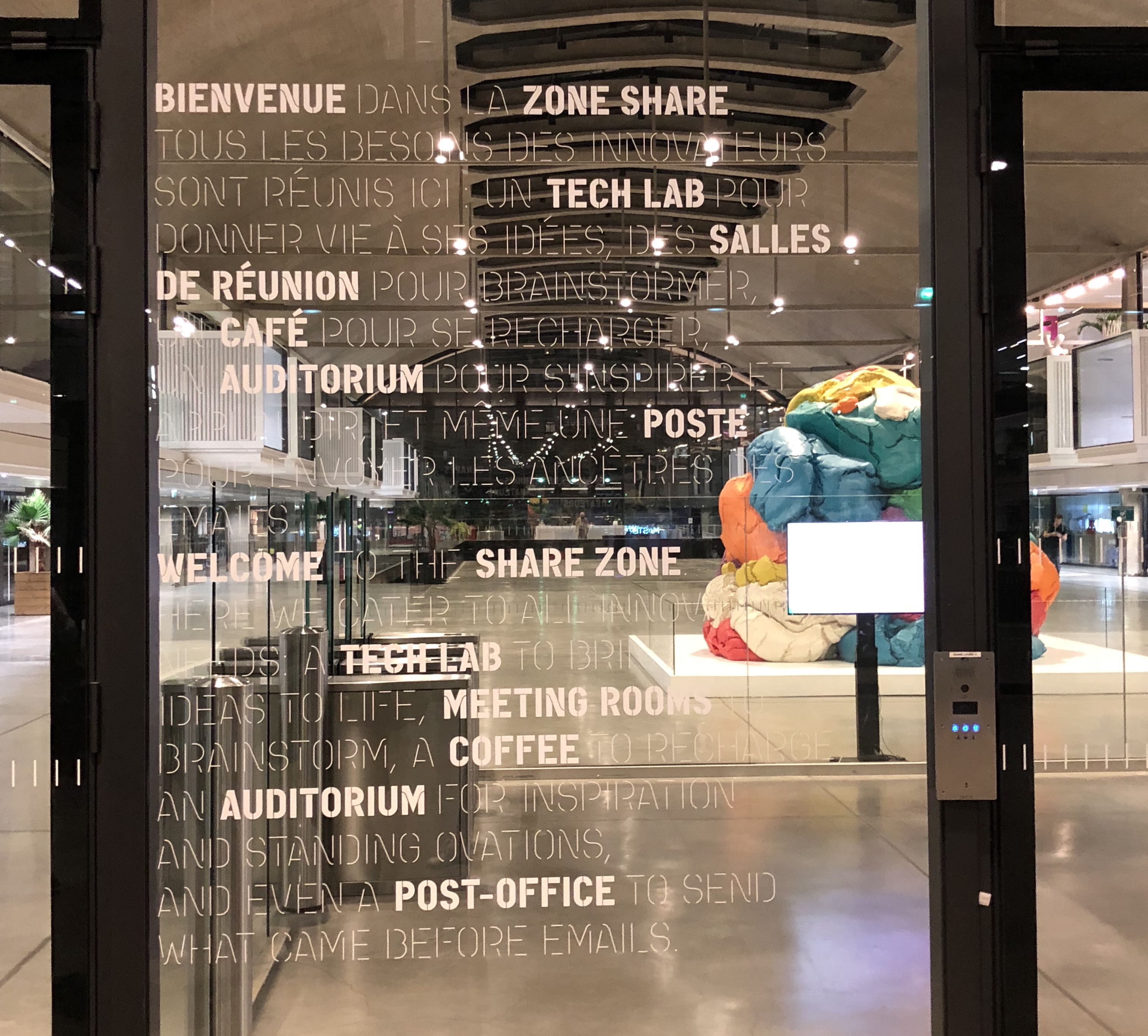 At the entrance of Station F's collaborative space, "la zone share" (see what we mean about the infusion of English into French?), French text welcomes entrepreneurs to the space. Below it is an English translation of the text, that contains a few notable mistakes.
"Bienvenue dans la zone share. Tous les besoins des innovateurs sont réunis ici: un tech lab pour donner vie à ses idées, des salles de reunion pour brainstormer, un café pour se recharger, un auditorium pour s'inspirer et applaudir, et même une poste pour envoyer les ancêtres des emails."
"Welcome to the share zone. Here we cater to all innovator needs: a tech lab to bring ideas to life, meeting rooms to brainstorm, a coffee to recharge, an auditorium for inspiration and standing ovations, and even a post-office to send what came before emails."
"A coffee" should be "a café" or "a coffeeshop." "Post-office" should be "post office," unless of course Station F is trying to communicate that there is a happy hour space for time spent together after work (i.e., post-office).
As companies try to translate things from French to English, it won't always be the English words that are the problem; sometimes it's the French words. The Gauls have a few French words that are English but not English, like un brushing. In French it means "a blow-out," and in English it means nothing. This English-but-not-English has made, and will continue to make, things even more difficult for the people responsible for translating from French to English: if it looks like English and sounds like English, it must be English… right?
For la rentrée, Station F printed tote bags — thousands of tote bags — with a list of various f-words like "founders," "fiesta," and "flamingo" printed on the outside. All is well until the words "full stack" and "flipper."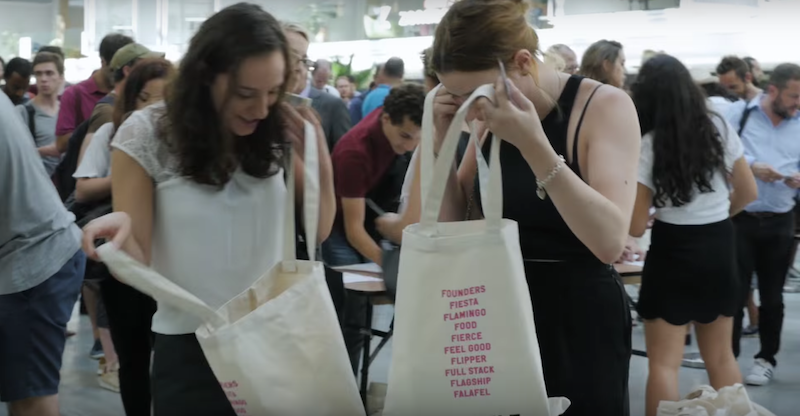 "Full stack" doesn't refer to a pancakes or books, it's the English-but-not-English word for a full stack developer, which is the name for a coder who works on the front and back ends of applications. And the bags don't say "flipper" because the French love the 1964 American TV series, "Flipper" about a bottlenose dolphin. In French, "[un] flipper" is the word for pinball.
An otherwise quite entertaining Station F safety video has a few errors that would've been easily caught by a native speaker reviewing the video. The stand-out mistakes are the spelling of "vehicles" in the French spelling of "vehicules," and writing "your precious" in front of a shot of an ID card. (Is it supposed to be "precious" like "important," or like "adorable" with a misspelling of "you're"? Or maybe it's a "Lord of the Rings" reference, in which case: well done.)

Station F is a great example of why companies should have a native English speaker — or someone who knows how to use an English dictionary — on hand when they want to use English in a more widespread, public way. As English and English-but-not-English becomes trendier to use in France, it's likely that there will be more mistakes. And it's just a matter of time before some French guy gets investigated by the FBI for starting an online platform where people can buy an antique baby foot (foosball table) online.