Christmas is coming and it's time to order the must-have bûche de Noël! Here is our selection of where to find the traditional French dessert in San Francisco.
Arizmendi Bakery
You don't change a winning recipe. This year again, the Sunset cooperative of Arizmendi Bakery will offer a bûche made with a sponge cake topped with rum custard and covered with chocolate, decorated with cranberries and meringue mushrooms (serves 12, $38). Reservations are recommended and possible until Dec. 22 (pick-up on Dec. 24 between 10am and 4pm). — 1331 9th Ave, San Francisco, CA 94122. (415) 566-3117.
Thorough Bread and Pastry
At Thorough Bread, you can choose between a vanilla-passionfruit bûche or chocolate-praline bûche. Deadline for ordering is Dec. 19 (pick-up Dec. 27 between 7am and 2pm). One bûche costs $42 (serves 10). — 248 Church St, San Francisco, CA 94114. (415) 558-0690. 
B. Patisserie
Which one to choose? The dilemma is real: strawberry on Breton shortbread, or carrot cake and pineapple compote, or chocolate and crème brûlée, or cookies and cream? For the undecided, at B. Patisserie you can buy individual bûches, taste a little of each, and then get a full size (serves 10, $75) of what you like best. Once your choice is made, please note that the deadline to order bûche is Saturday, Dec. 15. — 2821 California St, San Francisco, CA 94115. (415) 440-1700.
Tartine
Whether at the original address or at Tartine Manufactory, expect to wait in line to pick up your bûche on Christmas Eve at Tartine. The reputation of the place does not wane, forcing the quantity of bûches and other Christmas pastries to be limited to 6 per person! On the menu this year is a sponge cake topped with coffee-flavored butter cream, all covered with Valrhona chocolate (serves at least 10). — 600 Guerrero St, San Francisco, CA 94110. (415) 487-2600; Tartine Manufactory, 595 Alabama St, San Francisco, CA 94110. (415) 757-0007.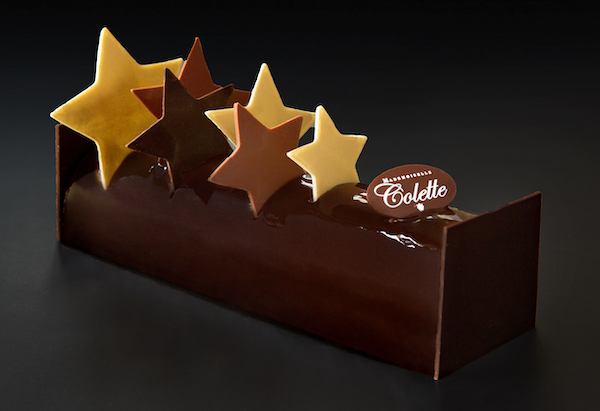 Mademoiselle Colette
While waiting for the opening of her third store in Redwood City, Mademoiselle Colette was busy on her holiday menu: the "Exotique" bûche combines a crispy biscuit with vanilla and mango/passionfruit mousse, all wrapped in an fruity frosting and decorated with white chocolate stars; the chocolate-yuzu log combines a crisp praline biscuit with milk chocolate mousse, dark chocolate génoise biscuit, and yuzu crémeux, with a dark chocolate glaze to top it off. Each bûche serves 6-8. — 816 Santa Cruz Avenue, Menlo Park, 94027; 499 Lytton Ave., Palo Alto, 94301
Miette
Chocolate lovers will drool for Miette's bûche: a chocolate sponge cake, tenderly wrapped in milk chocolate mousse, all covered with ganache. It's available in two sizes, small (serves 4-6, $35) and large (serves 10-12, $50). — 449 Octavia Street, San Francisco, CA 94102. (415) 626.6221.
La Farine
The well-known Oakland bakery and pastry shop La Farine offers a bûche made in the purest tradition of French holiday celebrations: Frangelico génoise, chocolate mousse, with all-chocolate icing and almond paste decoration. Invite a lot of people, this bûche serves at least 15 ($68). — 6323 College Ave., Oakland, CA 94618; 4094 Piedmont Ave, Oakland, CA 94611; 3411 Fruitvale Ave., Oakland, CA 94602