Piping hot, stringy, and cheesy, fondue is certainly not an unfamiliar dish to Americans. The fondue set, consisting of a sturdy, cast-iron pot that goes atop a camping stove-burner or flame, and long-handled forks, was pretty much a staple in every household in the 70s. But the food fad has died down since then, along with aspic, foam, and everything bacon (we blame this on prissy concerns over double dipping and the 2nd degree burn molten gruyère delivers). This was the end of a cheesy era — and of Schweizer Kaseunion, the Swiss cheese union.
For 85 years, Switzerland's most sacred industry was controlled by what was essentially a cartel, who sought to maintain the cheese business's prosperity, fixing the price of milk, limiting production, and restricting the kind of cheeses one could produce in Switzerland. It was to the country's advantage to protect the industry: beginning in World War I overall consumption levels in Europe plummeted, and Swiss cheese was piling up, tempting producers to slash prices in order to clear excess stock.
Those who remember their Econ 101 classes in their college days would know that fixing the price and supply of cheese simply was not enough. There had to be a demand for all the excess cheese, but Europeans weren't consuming cheese by the wheel as one would every now and then in the Alps. 
The cheese union went big: what better way to sell cheese than to sell a dish that calls for whole wedges of them? Their plan was to show good-looking, ski-gear-donning Swiss men and women partying over brightly colored pots of hot cheese in a series of aggressive ad campaigns that were launched throughout the 70s and backed by the Swiss government. Fondue became a huge hit, in Switzerland and beyond. In the US, though the dish had already been introduced at the Swiss Pavilion's Alpine restaurant at the 1964 World Fair in New York, it didn't reach its peak popularity until other advertisers jumped on the bandwagon in the 70s. As for chocolate fondue, that was nothing but a uniquely American conception (shocking!).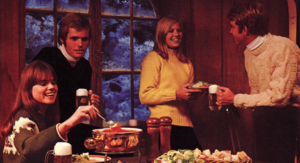 The resurgence of the fondue single-handedly revived the cheese industry. The movement was so successful that it transformed the dish from what was once an alpine delicacy to a national dish, a permanent fixture in the Swiss identity, despite its relatively short run in history. Like any other food fad, the fondue was not meant to last as a trend.
By 1999, amid allegations of corruption and concerns over the high costs of cheese subsidies and fondue's decline in popularity, the Schweizer Kaseunion collapsed. Maybe it was about time: the cheese business was doing fine without the cartel, and innovation soon followed. Today, there are not just three, but more than 450 unique types of Swiss cheese.