The suspense couldn't be higher. We can finally announce the finalists competing on Sunday, February 24, at the SPiN bar and restaurant to win the 2019 competition for the best baguette in New York, organized by French Morning. To attend the final, get tickets here.
Before revealing the finalists, chosen by some 800 French Morning readers, here's how the final competition will work: guests will be able to wander from stand to stand to taste the bread of the selected bakers. There will also be jam, coffee and wine to help you decide which baguette you like best. For the foodies a brunch package is also available.
Several awards will be given at the competition: the Public Prize is awarded by the participants — you — at the end of a bread tasting. At the same time, a panel of judges will be doing a blind taste test of the finalists' baguette and award the Grand Prix to the best baguette in New York. There's also a prize for the best specialty bread.
This year's jury members include: famous French author Marc Levy; chef Antoine Westermann, a famous Alsatian chef with three Michelin stars for his restaurant Le Buerehiesel in Strasbourg; chef Georges Masraff, executive chef at Gourmet Garage; chef Richard Farnabe; and bread specialist Charles Van Over, who is a chef, baker and food consultant.
Without further ado, here are the finalist bakeries listed in alphabetical order:
Almondine
https://www.instagram.com/p/Bh9G4zsBjBZ/
"In Almondine Bakery, we sell only fresh-baked bread, cooked in the traditional way": this is what this bakery in DUMBO (Brooklyn), founded in 2004 by baker Hervé Poussot, declares proudly on its website. Almondine makes all types of bread: the well-known French baguette, an "Almondine" baguette, pain de campagne, multigrain bread, raisin bread.
Epicerie Boulud
https://www.instagram.com/p/BdkwMRRgGTQ/
This is the second time in that competition's two editions that Epicerie Boulud has been among the finalists. Praised by the press, baker and pastry chef François Brunet has been responsible for pastries and breads within the Daniel Boulud Dinex group since 2014. Located in Lincoln Center, the Plaza Food Court and the World Trade Center, Epicerie Boulud offers a wide selection of pastries and French products, such as macarons, croissants and canelés.
Breads Bakery
https://www.instagram.com/p/Blvu17FHLFT/
With artisanally made and certified "handmade" breads, Breads Bakery was named by the foodie website Eater as one of 15 essential bakeries in New York in 2018. The bakery, which focuses on the use of natural and organic ingredients, has expanded since its creation in 2013. It now has three locations, one near Bryant Park, one in Lincoln Center and one in Union Square, and serves a variety of breads, including Challah, a traditional Jewish bread.
Choc O Pain
https://www.instagram.com/p/BslLzAMlUPC/?utm_source=ig_embed
Created in 2012 by Frenchwoman Clémence Danko, a former pharmacist who trained in the United States, Choc O Pain brings a French touch to New Jersey. The small bakery, which has four addresses between Hoboken, Jersey City and Jersey City Heights, won the Public Prize in the last edition of our competition. They sell good bread as well as croissants and pains au chocolat made on site, kouign-amann, chouquettes and other delicacies.
La Boulangerie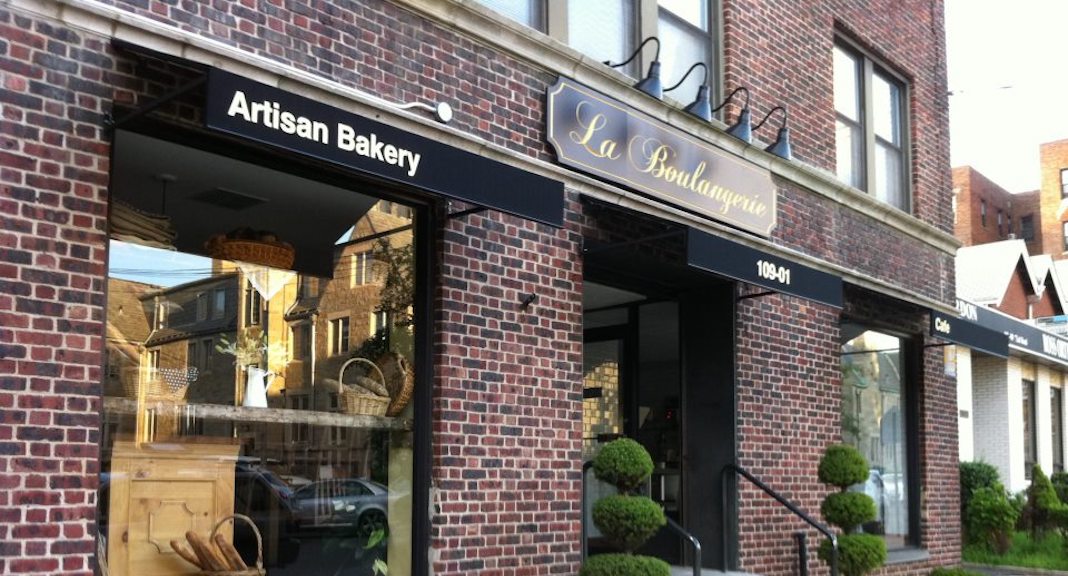 Located in Forest Hills in Queens, La Boulangerie is participating for a second time in the great competition for the best baguette. Created by the Breton Francois Danielo in 2011, a former engineer passionate about bakeries, the establishment offers many kinds of baguettes (tradition, campagne, céréales…), viennoiseries (kouign-amann, meringues, donuts…) and pastries (fraisier, opéra…).
Récolte
https://www.instagram.com/p/BsjpNSrgVaa/
Created by award-winning pastry chef and baker Peng-Chieh Wang, Récolte combines classic European flavors with Asian influences. The Upper West Side boutique, which is also one of the 15 essential New York bakeries named by Eater, also excels in the art of pastry making, with a dessert bar (Récolte Dessert Bar) opening this winter in collaboration with renowned pastry chef Michael Laiskonis.
Le District
https://www.instagram.com/p/BpMqBCqgGN_/
This French market in Brookfield Place shopping center in Lower Manhattan, Le District offers a variety of services: rôtisserie, poissonnerie, bar à frites, boucherie… and of course a boulangerie. Here, fresh bread is served every day, with very good pastries that are the favorite of many families and business people in Battery Park City. Described as a "French Eataly," the District opened its doors in 2015.
Le French Dad Boulangerie
https://www.instagram.com/p/BqfB9BRF8eK/?utm_source=ig_embed
A small, unpretentious bakery and café in Montclair, New Jersey, Le French Dad Boulangerie uses natural, organic and (as much as possible) local ingredients to make its delicious bread and pastries every day.
Maison Kayser
https://www.instagram.com/p/BhtFCNFDM1i/?utm_source=ig_embed
Already having picked up the Grand Prix and the Readers' Prize at the last edition of Best Baguette in 2016, Maison Kayser is undoubtedly the one to beat at this competition. With bakeries constantly popping up in New York and two addresses in Washington, DC, Eric Kayser's small craft business only continues to grow. The American adventure began in 2012, six years after the opening of the first Maison Kayser on rue Monge in Paris. Its secret: bread made on site every day using a technique developed by Kayser.
Orwashers
https://www.instagram.com/p/BsiSkYPBIEO/
In New York City since 1916, Orwashers is an institution for bread lovers. Launched on the Upper East Side to serve artisanal bread to immigrant populations from Europe, the brand now works with local farmers to produce flour "made 100% in New York State." Among the bread offerings: various products, ranging from the great classics to more unusual varieties such as "pains au vin." Orwashers also operates on the Upper West Side, in Fort Green, Brooklyn, and at countless New York farmers' markets.
Pain d'Avignon
https://www.instagram.com/p/Bsd4cdsBi3r/
Advocates of simplicity and tradition, the small bakery in Queens defends its passion for bread making. Combining French traditions and New York touches, Pain d'Avignon's bread is delivered every morning to the three Café d'Avignon boutiques located in the Essex Street Market, the Plaza Food Hall, and Dekalb Market Hall.
Silver Moon Bakery
https://www.instagram.com/p/Bs0afWRh0wA/
Known for its artisan breads, cakes and sophisticated pastries, Silver Moon Bakery has gained a certain reputation since 2000, when it became the first artisan bakery to open its doors in northern Manhattan in a long time. Located on the Upper West Side, Judith Norell and Georgia Stamoulis' bakery has become an institution well beyond New York.
Vaucluse
https://www.instagram.com/p/BcJTMV4h0gA/
An elegant Park Avenue brasserie, Vaucluse is not a bakery, but chef Michael White and his team make a variety of bread for customers every day. The rest of the menu is also worth a glance if you miss France: homemade pasta, Petrossian caviar, homemade lamb chop, and steak-frites share the menu with other French classics and innovative creations.
Sponsors: