Many Americans dream of moving to Paris but, fearful of the instability and uncertainty that often come with expatriation, choose a comfortable career path in the United States instead. Alison Benney is not one of those people. "I never followed a career path," Benney tells Frenchly. "I followed my passions instead." Passions that led her to Paris and a 34-year career at the Organization for Economic Co-operation and Development, (OECD) with the last 10 years working as manager of all social media, where she was rightly named "the social media queen."
During her social media rein, she built OECD's following on Twitter to half a million, on Facebook to over 230,000, and on LinkedIn to over 150,000.
In love with French history and the language, Benney graduated from the University of Missouri-Columbia with a degree in French in 1980. Determined to get to La France, Benney landed an au pair job just outside Paris in 1984. After her one-month stint as an au pair ended, Benney worked a slew of odd jobs. From deep frying chicken nuggets at the Burger King on the Champs-Elysées to cleaning houses and babysitting — at one point Benney feared she might have to return to the U.S.
As luck would have it, at the end of June in 1984, Benney was hired to work in the typing pool at the OECD. "I was a fast typist," Benney boasts over a cup of coffee in a café near her Paris apartment. "I applied to the OECD because it was the only place Americans without a work permit could find a job. They help you get what you need to live and stay in Paris."  Benney laughs, "Back then, the typists worked in the basement of the OECD with electric typewriters."
Through the OECD, Benney was able to stay and work in France legally. That summer of 1985, while many of the French were enjoying their beloved vacations, Benney helped launch their first computer network and IT help desk. Unfortunately, when everyone returned in September, Benney lost that job; seniority, as in most cases, took precedence. "I was an assistant after that for a long time," she remembers of the aftermath. Eventually, Benney would become a volunteer writer on the side from her work at the OECD where she took great pleasure in writing for The Paris Free Voice and Irish Eyes magazine. Her gained experience in journalism and communications as a volunteer writer for the two magazines landed her a job in the media division at the OECD in 1992 where she eventually worked for the newly-relaunched OECD magazine. In 2009, she introduced Twitter to the OECD, and three years later, executives at the OECD quickly recognized the value of social media and she became "social media queen," coordinating social media strategy for the OECD up until her retirement in 2018.
Working in France at an important, international IGO for 34 years certainly provided plenty of time to observe work life in France. "The stereotype is that the French get in a job and stay there forever and that they don't like to work, but I don't think it's that different in the USA or anywhere else." Benney laughs, "If you want to be bureaucratic you will be, if you want to have a good work ethic, you will have it." As for the differences between the two countries in the work environment, "I didn't notice any major cultural differences between the two cultures in relationship to work," she says. "You have to remember the OECD is extremely international and is not limited to just French and American workers."
While Benney has embraced living in France, keeping in touch with family from the states has been a huge hurdle. Coming from a large family from the Chicago suburbs — four brothers, two sisters, and "a 94-year-old mother who is very much alive and well" — she misses moments with loved ones because of the distance. "It's important to keep a close connection with your family if you chose to live abroad." For those considering expatriating, "know it will be impossible to be there at every special event in their lives. It's a choice you have to make and be aware of." On the flip side, finding a group of diverse friends as an expat is one of Benney's proudest successes. "Paris has allowed me an international community of friends who I truly cherish and value."
Besides navigating an illustrious career at the OECD, Benney has always enjoyed health and fitness. She has been offering American style fitness classes at The American Church in Paris for decades and witnessed the changing exercise culture in the city. "When I arrived in Paris there wasn't a sports scene at all, and no one was offering fitness classes." She continues, "Today, people are running, there are more bike paths and open spaces, and classes like yoga and Pilates have become popular."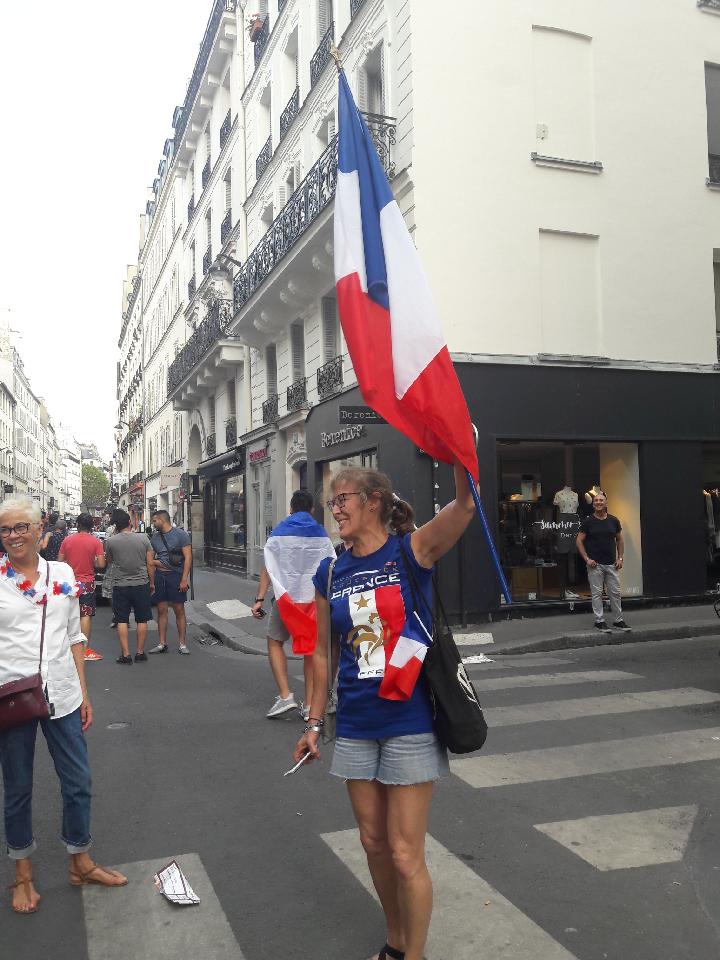 Retirement from the OECD in 2018 hasn't slowed Benney down. "I have an entire page full of projects and things I would like to do," Benney gushes. As someone who has had a long and successful career in many fascinating sectors, Benney's projects are ambitious.
For those considering a move to Paris, Benney offers sage advice: "Be very clear about what you want when moving and be prepared to slog through the challenges. Be patient and read books about cultural differences between French and Americans, it can help. Be curious and don't be afraid to talk to people." If you are still unsure look to this expat as a model: try following your passions as Benney did, you never know where it might lead you.