Nothing is perhaps more French than going to a market. Parisians often buy their vegetables, fruits, meats, and cheeses at marchés, preferring cheaper offerings that aren't produced en masse like many of the goods found in healthy foods stores like Naturella and Carrefour bio are. If you find yourself in the City of Lights and want an authentic experience in a market that's full of Parisians, head to the 12th arrondissement for the Marché d'Aligre.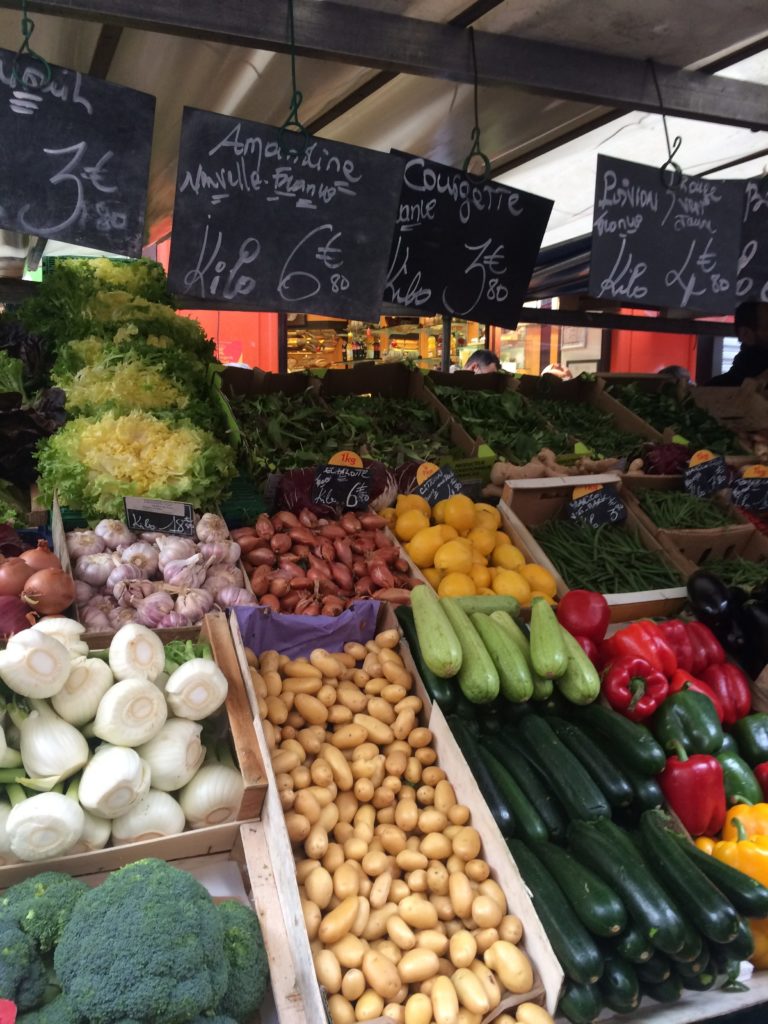 Operating since the late 18th century, Marché d'Aligre is on a street less than a quarter mile long, between rue de Charenton and rue du Faubourg Saint-Antoine. As you make your way down the street, lively vendors shout in friendly tones to buy des figues, des pommes, and more. Vendors will be there every day except Monday, but on the weekends expect large crowds flocking to do their shopping. With the jubilant energy, haggling, and bustling Parisien(ne)s, you'll feel like you've traveled back in time to La Belle Époque. On Sunday, a Frenchman wears a black top hat as he winds the orgue de barbarie and sings classic French songs. Where you can easily spend 20 euros without blinking an eye at les marchés in the chicer 6th arrondissement, at Marché d'Aligre, for ten euros or less, you can stock up for the week on all your favorite fruits and leafy greens.
Like in the states, make sure to buy seasonal produce to get the best bang for your buck (which in this case is the euro). For the sellers and buyers at the market, it's a serious business, so be prepared to wheel and deal. Know what a kilo to a pound is and brush up on your French money vocabulary. Centimes, not cents, cinq euros, not five dollars, and, like most markets, it's cash only. Exact change and small bills are preferred, and don't expect to break a fifty.
https://www.instagram.com/p/BrGLjuUH177/?utm_source=ig_web_options_share_sheet
In the middle of rue d'Aligre beside the produce vendors is the covered market, Marché Beauvau, the sister market of Marché d'Aligre. Expect the same friendly atmosphere as outside, but with higher prices since you're not dealing with fresh produce anymore. In Marché Beauvau, discover rich meats, fresh fish and artisanal cheeses. From the easily recognized camembert and comte to less known artisanal fromage like roquefort, this covered market is without a doubt a foodie's paradise. Mouth-watering baked goods are also offered, from the traditional croissant to beautiful tartes and macaroons. Consider yourself more of a food connoisseur or chef? Choose from one of the many boucheries that offer an array of fresh and tender meats.
If fresh produce vendors outdoors and artisanal foods indoors isn't enough to make Marché d'Aligre the best market in Paris, the third element should convince you: Puces d'Aligre, located on the horseshoe-shaped square adjacent to the Marché d'Aligre and the Marché Beauvau. Best described as an outdoor flea bazaar, vendors at Puces d'Aligre sell treasured antiques like candle holders, jewelry, and paintings alongside cheap trinkets, dishware, and home décor.Discover ornate African ceramics and contemporary clothing all sold at a reasonable price. For book lovers with an affinity for history, you can find old livres dating back to the 1789 French Revolution.
https://www.instagram.com/p/BTeCDIdhj35/?utm_source=ig_web_button_share_sheet
What makes the Marché d'Aligre even better is that it's surrounded by even more excellent food options (if you can't wait to get home to eat!). In front of Marché d'Aligre, uncover Le Pain Au Naturel (5 place d'Aligre), a boulangerie with an array of bread and pastries made fresh daily. As you wait in line, three large baskets full of scrumptious pain are out for you to nibble on, gratuite.
On the edge of les puces you will find Aux Merveilleux de Fred (12 place d'Aligre), a well-known French bakery applauded for its light and fluffy pastry called a merveilleux, made with a macaron base, buttery white cream inside, and finished with large shavings of chocolates all around. Heavenly in taste and subtle in texture, buy one of each flavor, it's worth it.
Finally, there's Le Baron Rouge (1 rue Théophile Roussel). A one-minute walk from Marché d'Aligre, this cozy bar à vin is frequented by American expats and locals alike. Count on good conversation, friendly barmen, and classic jazz music in the background. On the weekends, purchase oysters cooked out front on the grill, accompanied by a glass of white wine. It's a perfect way to end a market visit — to the best marché in Paris — in true Parisian style.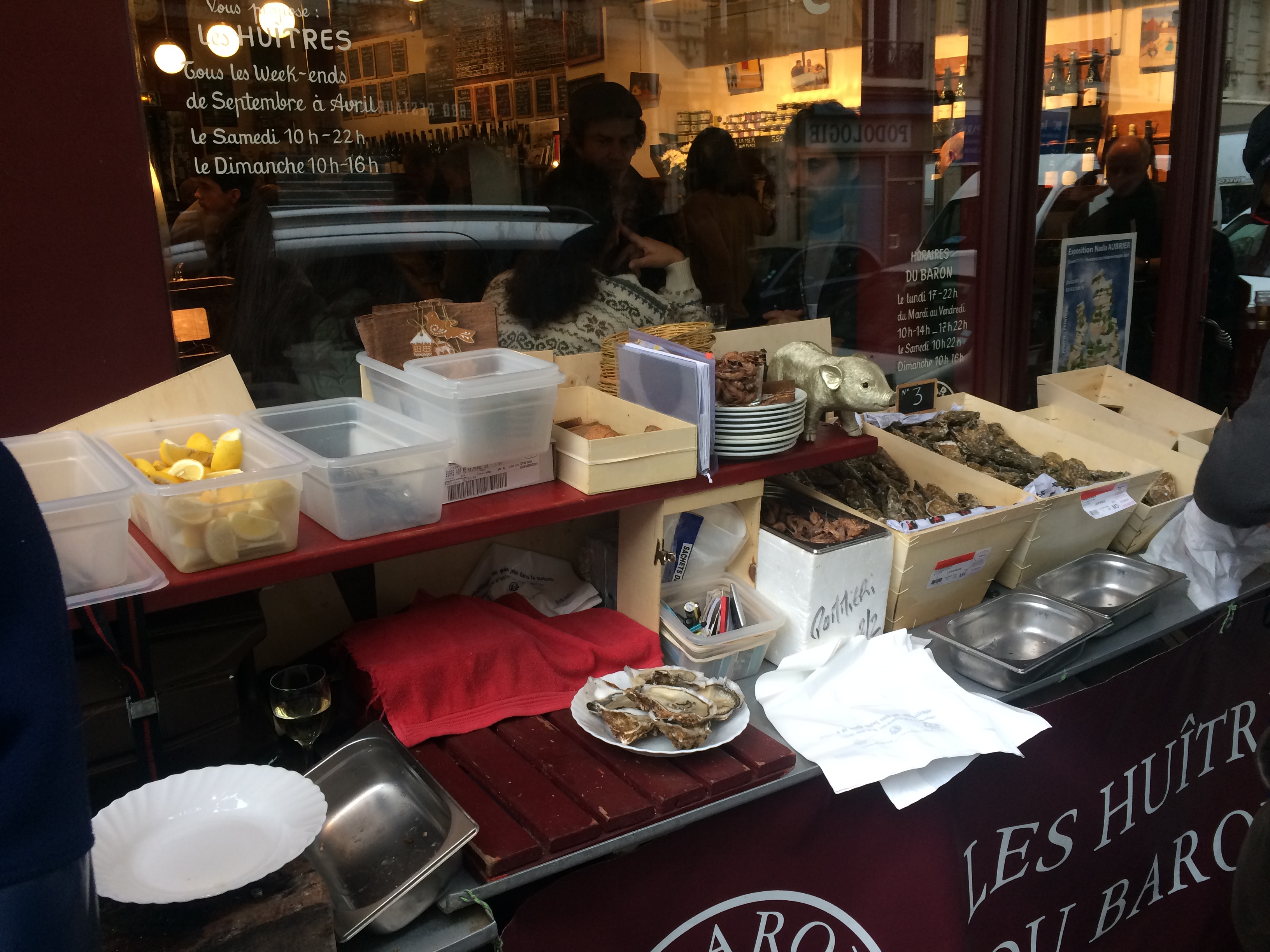 Marché d'Aligre is open Tuesday through Sunday, from about 7:30am until 2pm on Sundays and 1pm on every other day. Marché Beauvau is open Tuesday to Friday from 9am-1pm and 4pm-7:30pm, Saturday from 9am-1pm and 3.30pm-7:30pm, and Sunday from 9am-1:30pm. You can find the Marché on rue d'Aligre and place d'Aligre, 75012 Paris.