Jacques Brel. Lara Fabian. Selah Sue. What do these Francophone pop stars all have in common?
None of them are French. In fact, every one of these pillars of French music is Belgian. When you want to listen to some good home-grown, modern French pop, the odds are you won't find many born and raised (and alive) in France. If you google "French pop stars," of the nine suggestions of French musicians, four are deceased singers, and of the other five, only two have released albums within the last five years.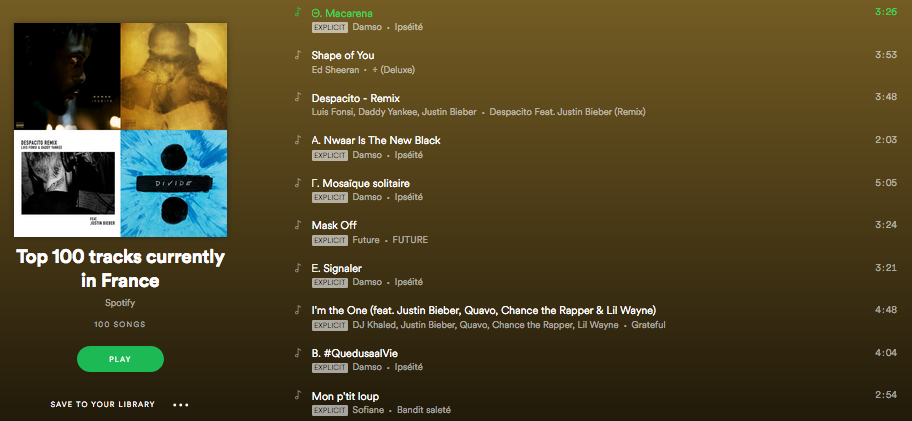 One reason could be that French consumers seem to be a lot more interested in English-language music (especially American pop music) than they are in homegrown French pop. For the week of August 25, 2018, only 6 out of 10 of the top-selling songs in France were by French artists, and most were rap. And one of the six, Jain, was on the charts for an English-language song, "Alright." Going back through the weeks, that percentage seems to stay consistent.
On Spotify's top ten list in France for the same week, only one artist, Sofiane, was French, though there were several songs by Belgian-Congolese rapper Damso performed in French.
For Agnès Gayraud, a member of the French pop group La Féline, the lack of French language pop music is a result of cultural ideals. "For my generation of musicians, this idea emerged that it was old-fashioned to write in French and that you were aligning yourself with the pompous, middle-class 30-something crowd," Gayraud said in a 2015 interview with Pitchfork about the growing underground, pro-Francophone music movement in France. Indeed, many people in France hold a rigorous attitude toward the French language, a perspective that's bolstered by government initiatives and policies. French radio laws are so strict that, starting in 1994, radio stations were legally required to devote 40% of airtime to French-language music. This was reduced to 35% in 2016 after radio stations protested for months, saying that there wasn't enough quality French music to fill the quota.
Seeking to evade the stuffiness and improve their chances of international recognition, many French artists, like electronic duo Daft Punk, are singing in English. However, according to Gayraud, this produces a problem: "These days, it's almost tacky to sing in English. It means sacrificing your creative desires for the promise of an international career…" But the values of the underground French music scene are different from the needs of mainstream pop artists who don't want to be confined to the "international music" corner of the record shop.
With the French language suffering from reputed stuffiness, it's not surprising that a lot of the most popular French-language music is rap or hip-hop. Damso, Maître Gims, Niska — many of these artists perform in French, but sidestep the perceived stuffiness of the language by using heavy argot and verlan, forms of slang, even dialect, that come out of Paris's banlieues. This manipulation of the language gives the music an organic, authentic local flavor more convincing than haute français, and more accessible than English.
Despite the Academie Française's efforts, the French language will continue to evolve. And French music, or at least, the music French people listen to, will continue to evolve with it. But for now, French pop is definitely not on top.