Many Americans enjoying an expat life in France argue that their quality of life has improved. While the standards of living might fare better in sectors like health care and education, traditionally, France trails behind in health and fitness. It might not come as a surprise that the U.S. is the single biggest market worldwide in the number of members in health and fitness clubs and in revenue. In France, le wellness, particularly in relation to fitness, only recently joined the competitive market in the last five years. According to the latest Deloitte report on the European health and fitness market for 2018, France now stands impressively at number three behind the U.K. and Germany. But how did a country that prefers to take its time, walk, relax with un verre de vin, and debate, suddenly become a top fitness market?
The development of low-cost gyms can be thanked in large part to the fitness surge in France. In the past, health clubs and spas were targeting a select group of wealthy patrons that could afford to go. With high membership costs of 200 euros per month, sometimes more, and yearly contracts difficult to get out of, younger generations and those making a modest salary weren't purchasing such luxuries. In 2016, more than 145 low-cost clubs opened in France, bringing the total to 649 out of the 4,000 total.
Most reasonably priced gyms offer flexible memberships ranging from 20 to 30 euros per month, which can be canceled at will. Neoness and Basic Fit are great examples. It's the onset of budget-friendly gyms and the people's interest in them has put France on the global health and fitness market, generating a positive effect for the economy.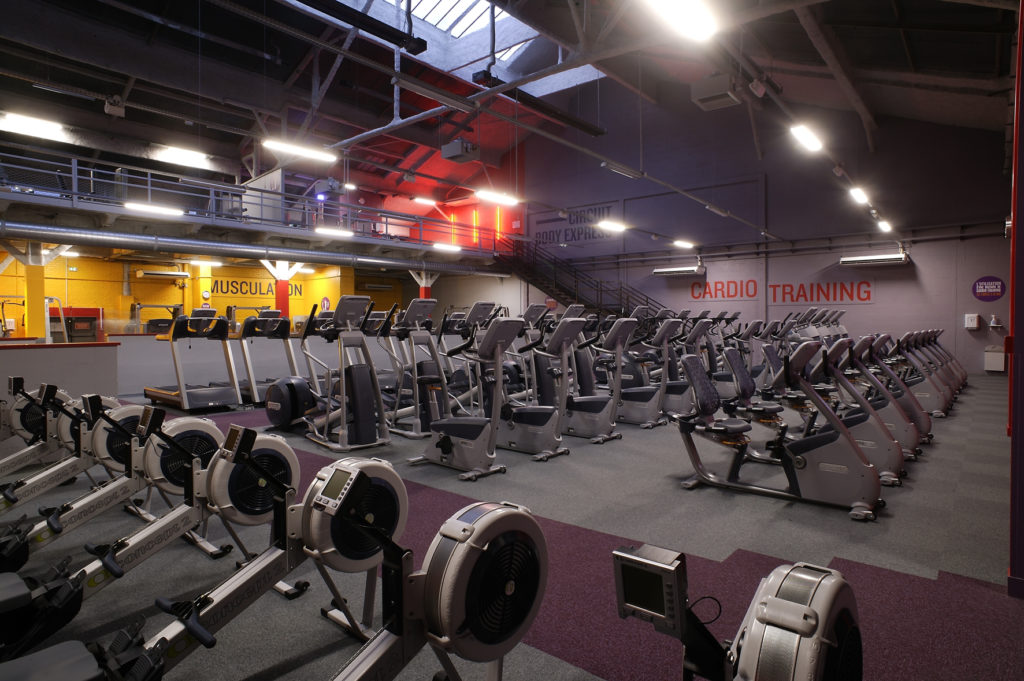 Speaking to a group of French pilates students at a Paris studio this fall, they recounted that the number of pilates and yoga studios in France has seemingly doubled over the last 15 years, most notably in bigger cities like Marseille, Lyon, and Paris. Boutique studios in wealthier areas like the 6th arrondissement offer pilates and yoga classes that can range from 28 to 45 euros each. In more bobo areas that border the center of Paris, you can take more affordable classes for as little as 15 euros. Trendy workout fads that are old news in the states like Xtend barre, Bikram Yoga, and spinning, are finally in vogue now among the French, arriving in boutique studios and low-cost gyms.
Kay Tsuda and Édouard de Maupeou, the owners of, Keana, one of the first pilates studios in Paris, have a hunch. Before Keana opened its doors in 2004,  "Parisians thought pilates was some kind of sect," Tsuda explained lightheartedly. However, Tsuda continued, around the time of their opening "the media started waking up to pilates." In the past five to ten years, the same can be said for numerous workout classes that were once unknown to the French. Tsuda did mention that while many studios have opened, just as many have closed because of high French taxes.

What makes studios like Keana unique could be the understanding de Maupeou and Tsuda has of the French mentality when it comes to working out. "The majority of Parisians are quite sedentary, so the classes have to be adapted to their physical conditions," explains Tsuda. "Traditionally, the French, at least the Parisians, are very mind-oriented and very little body-oriented." She continues, "Sarkozy amused the media and the public in a slightly condescending way by jogging. He was judged for trying to be too American. Jogging was not a French activity!" The studio cares deeply about the wellbeing of its students, Tsuda insists, which undoubtedly goes hand and hand with being responsive to their cultural needs. It's Tsuda and de Maupeou's sensibilities in understanding French standards in relation to wellness that enable them to run a successful pilates studio. Following the success of their first studio, they opened their second studio, I Love Pilates two years ago.
In 2015, the French government decided it needed to take its own shot at addressing the French mentality toward exercise. Partnering with National Fitness Campaign (NFC), the government devised plans that would encourage the French to work out. The idea behind the NFC program was simple: a platform of 100 meters-squared equipped with seven exercise stations in the center of French cities, with free access for all. Essentially the plan was to create outdoor gyms for circuit training, with several machines that require you to use your own body weight. When managed effectively, each participant works out at a station for seven minutes then switches. The entire body benefits and is sculpted from head to toe. As you walk along pathways in medium- to large-sized cities in France, you can find plenty of these outdoor gyms being used at full capacity.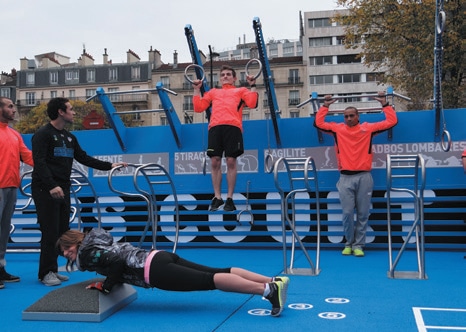 In the last few years, the French government and the council in charge of la santé have run major campaigns related to health and wellness. Leading radio and television stations routinely advertise healthy living including eating more fruits and vegetables, drinking plenty of water, educating people on the harmful effects of smoking, and bouger plus —moving more. This year, the French parliament will fight against junk food with a detailed report explaining its toxic effects on people while strongly recommending to reduce additives like salt. Where the French could feign ignorance about healthy lifestyle choices before, the government is making a point to shed light on the sector for the well-being of the country.
https://www.instagram.com/p/BoV8qkSFaaE/?utm_source=ig_web_copy_link
Overall, fitness is booming in Europe and the French wellness market is thriving. The annual retail value increased from 18.2 billion euros in 2013 to 19.8 billion in 2017. It can only be good that the country that consumes so much tasty, buttery croissants and cigarettes has decided that jogging and gyms aren't too American to enjoy.