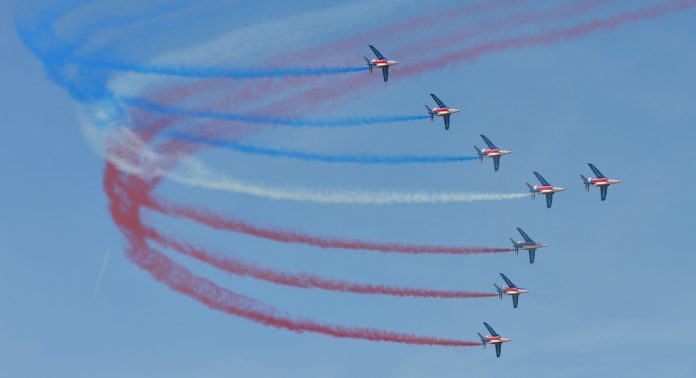 Event Details
From Friday 17 March 2017
to Thursday 4 May 2017
Agenda:
Friday, March 17, 2017 – Saturday, May 6, 2017
American tour of the Patrouille de France
Complete program
Location : USA
Thirty-one years since its last tour in North America, the Patrouille Acrobatique de France (PAF) returns from across the pond to celebrate the 100th anniversary of the United States' entry in World War I.
As France's acrobatic flight demonstration squad, the Patrouille Acrobatique de France ("Acrobatic Patrol of France") is the oldest flight demonstration squad in the world. (The American equivalent of France's PAF is the Blue Angels.) For the flight path, ten planes will debark from the East Coast to the West Coast on a southern and midwestern route before crossing the middle back to New York. Flight demonstrations, meetings with American pilots, and flyovers of monuments and places symbolic of the Franco-American relationship are all on the docket for this month-and-a-half long tour, stretching from March 17th to May 6th, 2017. With a such a widespread, cross-country tour, PAF's US trip requires the help of more than 70 aviators, pilots, mechanics, and support team members.
The tour kicks off on March 25th when the French flight patrol begin their US tour with a flyover of the Statue of Liberty in New York City. Other highlights include a reception with the French Ambassador on March 27th in Washington DC, and a visit to the Maxwell Air Force Base in Alabama to pay respects to those injured fighting in France during WWI on April 7-9th. Several of those injured will be present at the ceremony.
The highlight of the voyage: a flyover at the official ceremony of the 100th anniversary of the United State's entry into WWI, on April 6th in Kansas City, Missouri, organized by the World War I Centennial Commission. PAF's presence at the ceremony is a "symbol of the enduring friendship and the historic relationship that connects these two countries," explained one of the organizers of the event. See the full list of events below and keep your eyes to their skies to spot one of PAF's planes.
East-to-West Schedule:
March 17 : Departure from France
March 19: Official arrival in Bagotville, Canada
March 25: Flyover of the Statue of Liberty in New York
March 27: Flyover of Washington DC and reception by the Ambassador of France
April 1-2: Meeting in Melbourne, Florida
April 3-4: Meeting in Lakeland, Florida
April 5-6: Commemoration of the Centennial in Kansas City, Missouri
April 7-9: Centennial meeting and honoring of those injured during WWI in France, at the Maxwell Air Force Base in Montgomery, Alabama
April 10-12: Meeting with the Blue Angels at their air base in Pensacola, Florida
April 12: Flyover of the Trescal facilities in Dallas, Texas
April 13: Flight photo in front of the Grand Canyon in Arizona
April 13-16: Airshow in front of the the California State Capitol in Sacramento, and flight photo in front of the Golden Gate Bridge in San Francisco, California
West-to-East return schedule:
April 17-18: Meeting with the Thunderbirds on their base in Nellis, Nevade
April 19: flyover of the United States Air Force Academy in Colorado Springs, Colorado
April 19: Visit to the Air Force Base in Scott, Illinois
April 20-21: Performance of a training exercise TEI (Trilateral Exercise Initiative) with the American and British air forces on the Air Force Base in Langley, Virgina
April 22-23: Meeting at the Stewart Air National Guard Base in Newburgh, New York
April 28-29: Participation at the NATO Tattoo Festival, which honors the NATO command in Norfolk, Virginia
April 30: Flyover and meeting in Ottawa, Canada
May 1: Flyover and meeting in Montréal, Canada
May 2: Flyover in Québec, Canada
May 4: Leave Bagotville, Canada for France
Event Details
From Friday 17 March 2017
to Thursday 4 May 2017
Agenda:
Friday, March 17, 2017 – Saturday, May 6, 2017
American tour of the Patrouille de France
Complete program
Location : USA