La Chandeleur, an annual holiday on February 2, is sacred for Francophones and Francophiles, even when they're 9,000 km from France in Los Angeles. If you don't want your kitchen coated in flour and a gooey, half-cooked crêpe that you flipped too high stuck to your ceiling, turn to the masters. Frenchly has identified five addresses that do the French tradition best in Los Angeles.
1. "Hipster" crêpes at Black Flour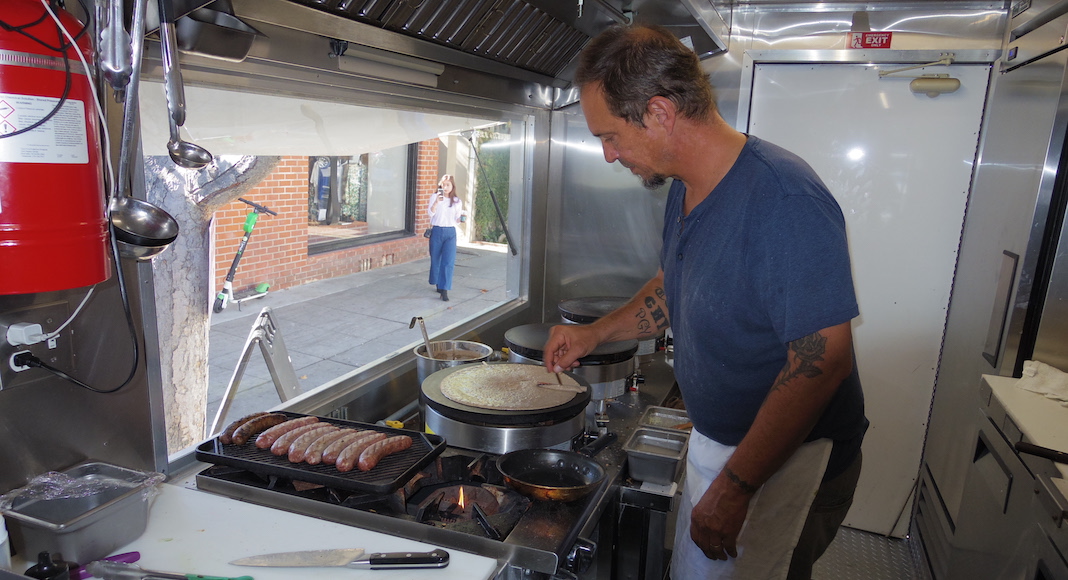 At the Black Flour food truck, American chef Jamie Young is in the kitchen. But the U.S. doesn't get all the credit: he's married to a French woman, Marie Ravel, and learned the basics of making crêpes au sarrasin (buckwheat crêpes) in Paris. For almost a year, they have been bringing rock'n roll into the tradition together, mixing Breton cakes with Californian flavors or names, like "Skinny French Guy from Los Feliz" (crêpe complet), "Fixie rider from Arts District" (Brie and raisins) or "Hippy girl from Topanga" (which is reminiscent of avocado toast). People craving something sweet will enjoy the crêpes au caramel beurre or crêpes with homemade jam, made by Young. — Weekday meeting places here, closed on Saturday, February 2, and open on Sunday, February 3, at Bruce's Beach, 2600 Highland Ave, Manhattan Beach
2. Respected tradition at La Table de Sophie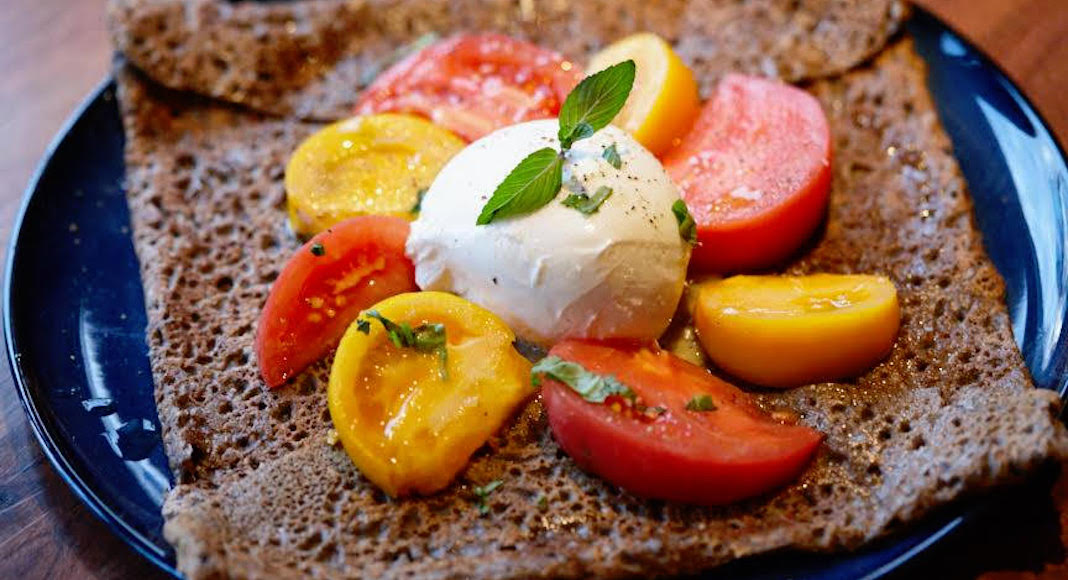 At La Table de Sophie in Westwood, lovers of this Breton treat have plenty of choices, with no less than fourteen galettes concocted by chef Irina. Among the most original on the menu, you'll find the "Apulia" with burrata and tomatoes, the "Alsacienne" with chicken sausage and cabbage, as well as the "Soubise" with candied onions. If you still have room for dessert, you'll probably succumb to the crêpe served with honey and lemon, grandma's chocolate crêpes, or "Plougastel" (berries cooked in a red wine sauce, served with vanilla ice cream and nuts). — 1386 Westwood Blvd, Los Angeles.
3. US Vibes at Monsieur Crepe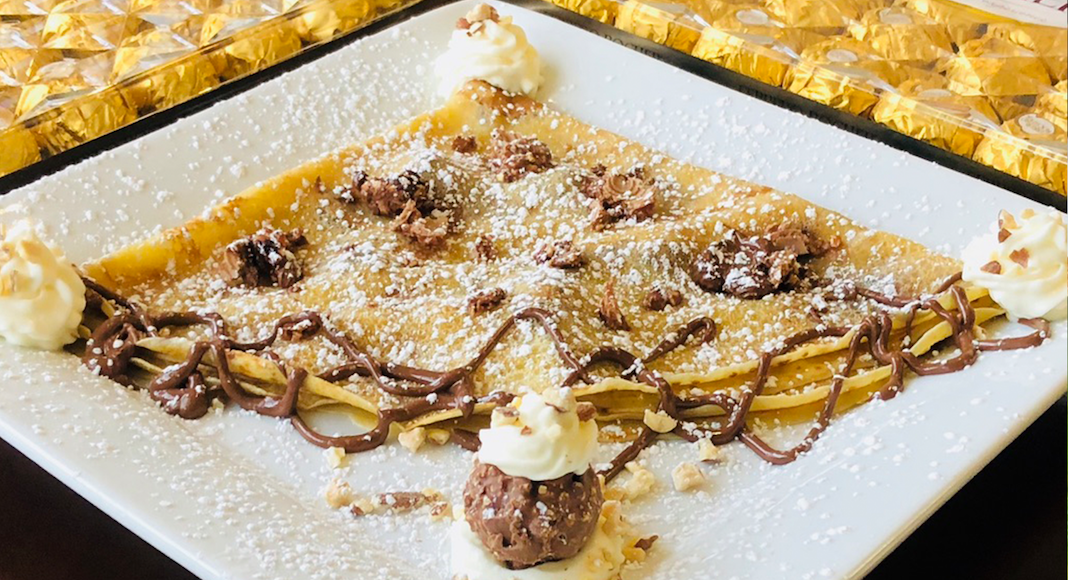 A new address will delight the residents of Pasadena. At Monsieur Crepe, the owner Aurélien Mosconi, known as Tony, wanted to capture the atmosphere of French crêperies, while taking inspiration from the American influence. And this is also found in his food with "Forestière" (mushrooms, caramelized onions, bacon and spinach), "Pistou" (grilled chicken, dried tomatoes, parmesan and pesto), or "Végétarienne." The menu is not lacking in sweet creations such as "S'mores I "obvious!" (marshmallow and chocolate), the "Tatin I" untranslatable!" (apples and caramel), and the "Poire Belle-Hélène." All made with fresh ingredients and homemade recipes. — 54 W Sierra Madre Boulevard, Sierra Madre; 105 N Hill Avenue, Pasadena
4. The Staples at The French Crêpe Co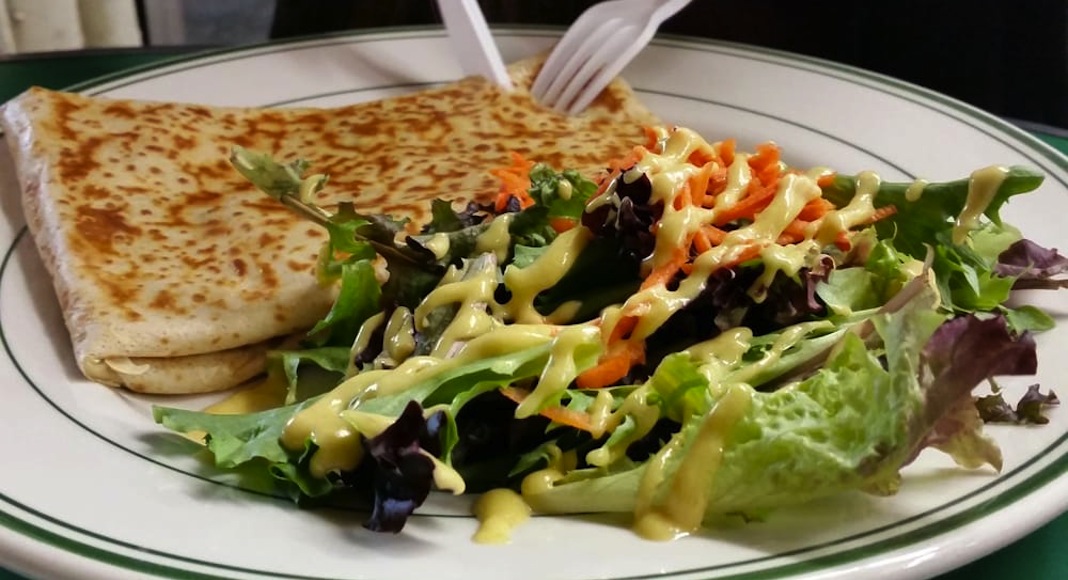 It needs no introduction. At Original Farmer's Market and in Hollywood, the French Crêpe Co invites its customers to travel through French cuisine (though you won't find any buckwheat crêpes there). On the menu, an option with beef stroganoff, the "Parisienne" (tomatoes, three cheeses and scrambled eggs), and the "Savoyarde" (made with raclette cheese and pickles). Sweet tooths won't be disappointed, with the "Chapon" with chestnut cream, the "Chez moi" with Nutella, or the famous crêpe Suzette to fulfill their need for something sweet. — Original Farmers Market, 6333 West Third Street & Fairfax; 6801 Hollywood Boulevard #403, Hollywood
5. Paris-style at Crêpes Bonaparte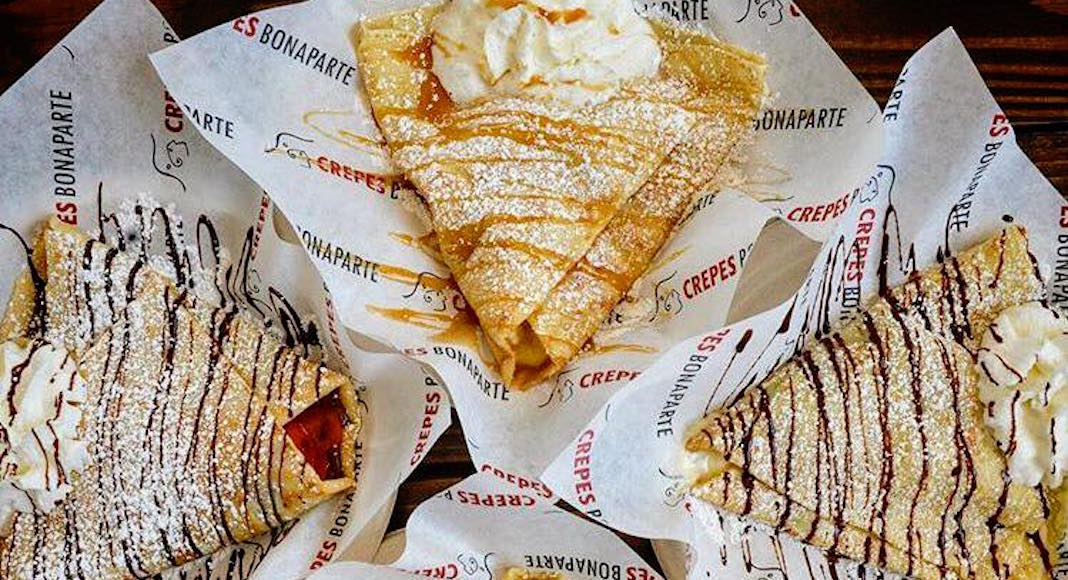 Mobile in their food truck (and stationary in their restaurant) in Los Angeles and Orange County for the past ten years, Crêpes Bonaparte has always wanted to recreate the experience of crêpe sellers on the streets of Paris. Christian and Danielle Murcia continue to present this Breton dish in their restaurant in Fullerton. They have their signature crêpes, which are "Caprese" (tomatoes, chicken, mozzarella and pesto), "California Sunrise" (avocado, bacon, cheddar, and egg) and "HazelBerryAna®" (strawberries, banana, Nutella and whipped cream). — Crêpes Bonaparte, 115 S Harbor Blvd, Suite A, Fullerton; locations of the food truck here