Paris is a small city, yet it swells with rich cultural, political, and artistic history. In each of its neighborhoods, physical remnants tell stories and legends of the time that has passed.
Tucked in between the 6th and 14th arrondissements on the Left Bank, Montparnasse is one of the most mythical neighborhoods of the city. Named after Mount Parnassus, the home of the nine muses of arts and sciences in Greek mythology, it has been a lively center of the Parisian artistic and cultural scene since its heyday in the 1910s – 1930s.
Beneath Montparnasse lies a tourist favorite, the Catacombs of Paris, but that doesn't count as a visit in town! Above ground, there are lots of essential spots to explore from quirky tombstones at the Montparnasse Cemetery to the two streets full of crêperies to choose from. We've listed six reasons Montparnasse is a worthy stop for the true lover of French culture and history.
Crêperies on Rue du Montparnasse and Rue d'Odessa
(map)
Craving crêpes? Montparnasse has two adjacent streets with about seventeen crêperies to choose from! After a movie date at the nearby UGC Montparnasse cinema, you'll have a myriad of choices on Rue du Montparnasse and Rue d'Odessa for the perfect Parisian sweet or savory crêpe.
For those who particularly love traditional crêpes from Bretagne, there's Ty Billig, Les Glenan, Le Filibuster, and La Petite Bretonne to satisfy those buds.
Montparnasse Tower
33 avenue du Maine, 75015 (map)
https://www.instagram.com/p/BTHxHa9Bhbv/
Being one of the highest structures in Paris, the Tour Montparnasse is popular among visitors who want superior views of the city. Sure, the skyscraper sticks out like a sore thumb and is often mocked by locals for its dull, blocky appearance… but it all pays off once you get up the Observation Deck and see all your beloved Parisian landmarks in one panoramic view, including, of course, the Eiffel Tower. For more visitor information and tickets, click here.
Montparnasse Cemetery
3 Boulevard Edgar Quinet, 75014 (map)
You might be thinking, what makes a cemetery worth a visit if none of your relatives are buried there? Well, like the Père Lachaise cemetery, the Montparnasse Cemetery is a resting place for many of France's greatest intellectuals, artists, and musicians. You can pay your respects to Charles Baudelaire, Susan Sontag, Serge Gainsbourg, Jean-Paul Sartre, Simone de Beauvoir, Samuel Beckett, Man Ray… the list goes on! It's not quite like meeting your favorite celebrity in real life, but hey, it's close. (Plus, there are no bodyguards around to hold you back from snapping a pic.)
Aside from visiting for your idols, this cemetery is also an interesting place to see for the unique and unexpected sculptures that adorn the tombs. Almost like a visiting a museum, seeing these interesting tombs will show you how far people go to honor their loved ones.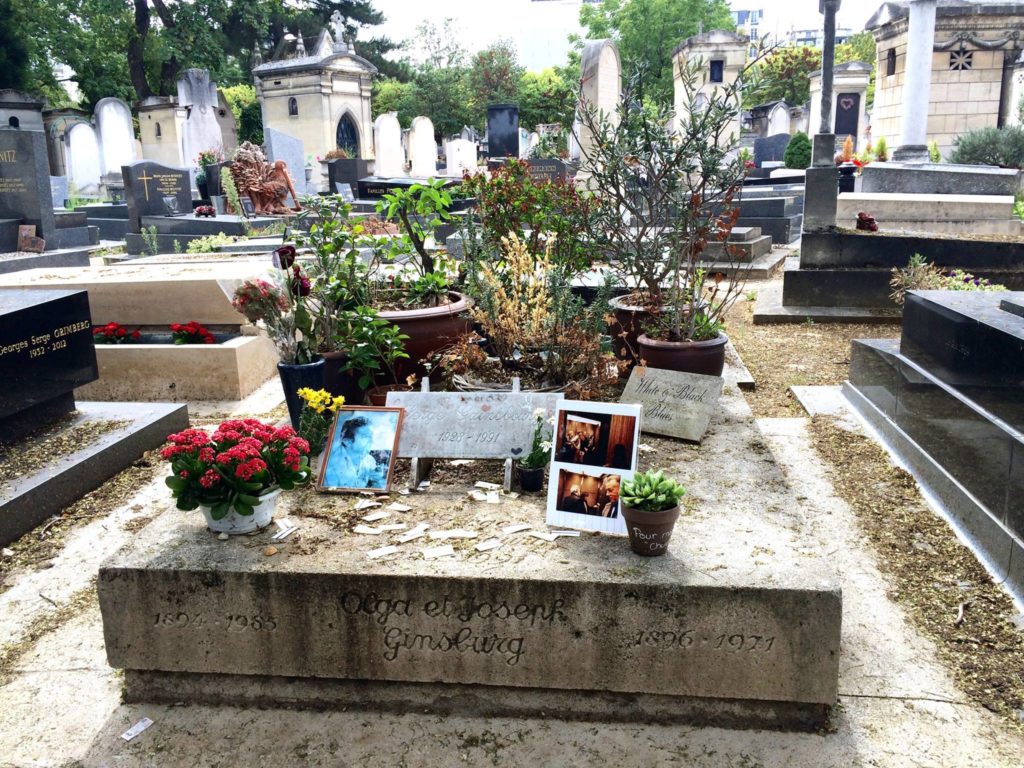 Musée Zadkine
100 bis rue d'Assas, 75006 (map)

Speaking of museums, the Zadkine Museum is a small, charming establishment tucked away in a quiet street near the Luxembourg Gardens. An atelier-musée, the museum was a home and an art studio to the Russian-born sculptor Ossip Zadkine, whose works are influenced from the Cubist movement, as well as African and Greek art.
The Musée Zadkine now holds about 300 of the artist's sculptures and other artwork like drawings, photographs and tapestries. The cost to view the permanent collection is free, except during periods where a temporary exhibition is on show. The outdoor garden is also worth a visit, where some of his sculptures are on view free of charge.
Other places to see Zadkine include his tomb at the Montparnasse Cemetery, and in the Luxembourg Garden, where his sculpture "Le poète ou Hommage à Paul Éluard" stands along the southern walkway of the Luxembourg Garden.

Carrefour Vavin

The intersection of Boulevard du Montparnasse and Boulevard Raspail (map)
The Carrefour Vavin, or better known today as the Place Pablo Picasso, doesn't just refer to its literal translation as "the intersection of four roads at Vavin." The name refers to the area and its reputation as a cultural and artistic intersection from the 1910s – 1930s.
At the four corners of the intersection are the four mythical cafés that served as the main cultural and intellectual hubs in the Roaring Twenties: Le Dôme, La Rotonde, La Coupole, and Le Select. From all over the world, unique communities of artists, painters, thinkers, and writers came to thrive in the creative and intellectual atmosphere that filled the cafés and their outdoor terraces. Regular customers included figures like Pablo Picasso, Salvador Dalí, F. Scott Fitzgerald, Henry Miller, Samuel Beckett, and the party list goes on.
Nowadays, Carrefour Vavin and its cafés are still alive and bustling. The charm of the past is still there, and these institutions love to remind their visitors the part that they played in Paris's artistic and cultural history.
Check out La Rotonde to see copies of Amedeo Modigliani's artworks, with artists' signatures tastefully displayed on the walls, and imagine being back in the Roaring Twenties and swinging it with Fitzgerald and the gang (like in Midnight in Paris!).
Rue de Rennes
(map)
If you're in need of a shopping fix after absorbing all this culture, Montparnasse has its (humble) equivalent of New York City's 5th Avenue. Rue de Rennes hosts a long row of shops like international chain stores like Zara, Uniqlo, and H&M, but it has its fair share of French stores like Kookaï, Fnac, Caroll and Marionnaud.
Take a turn to the left toward Le Bon Marché for more shop-till-you-drop experiences, or straight on to Boulevard Saint-Germain for more boutiques and Parisian cultural history.