Holiday music is playing in stores, you've finished started your Christmas shopping, and bakeries are breaking out the big (icing) guns. Gingerbread men, sugar cookies, chocolates galore, Challah bread, fancy hot chocolate, and — the most important of all — the bûche de Noël. This traditional French holiday dessert, a Yule log, as we call sometimes it in English, is shaped and often decorated like a log. Whether you like chocolate, hazelnut, berries, or lemon flavors, there's a bûche de Noël out there for you. Here are all the places to get a bûche de Noël in New York in 2018.
MANHATTAN
Financier
This year Financier is going all-out on their bûche de Noel. Choose from a traditional praline, coffee, Grand Marnier, or chocolate bûche, in either 9" ($39) or 13" ($50). Tradition-breakers might prefer the La Nuit Etoile bûche filled with chocolate mousse, pistachio cream, and raspberry mousse, all glazed with chocolate (9", $46), or else opt for the Mont Blanc (7", $36; 9", $38). Order in store, by phone (718-290-1011), or online. (Order before Dec. 16 and receive a 10% with code XMAS18.) — Various locations throughout Manhattan
Balthazar Bakery
Balthazar offers one special bûche de Noel made with chocolate genoise rolled around white chocolate mousse, wrapped in a dark chocolate bark ($75). Besides bûche, their holiday menu boasts croquembouche, gateau opéra aux marrons, flourless chocolate cake, and wine poached pear galette. Order by phone or via email. — 80 Spring Street (212-965-1785)
Ceci Cela
Located in Nolita, Ceci Cela is offering four bûches as adorable as the little French bakery-café itself. Three of the bûches are classic flavors: the chocolate, the vanilla, and the Grand Marnier. All of those are available as an individual bûche ($6), a small (serves 4-6, $30), and a large (serves 8-10, $42). The final bûche is the Vendôme, made with chocolate and raspberry mousse and glazed with chocolate, which is available in one size (serves 8-10, $50). Order in person or on the phone two days in advance of whenever you want your bûche. (The store will be open on Christmas Eve and Christmas Day.) They're also available to buy in-store. — 14 Delancey St (212-274-9179)
Silver Moon Bakery
Silver Moon Bakery on the Upper West Side offers two bûches, chocolate and chestnut, available in three sizes: 6" (serves 6-7) for $39, 9" (serves 9-10) for $44, and 12" (serves 12-13) for $56. Order now to make sure you can get your bûche for Christmas (they will be closed on Christmas Day) over the phone or in-store. — 2740 Broadway, UWS (212-866-4717)
Dominique Ansel
https://www.instagram.com/p/BrIIGz1geyF/
New Yorkers' favorite French pastry chef, Dominique Ansel, is serving three mouth-watering bûches: the double chocolate bûche is made of flourless chocolate cake and chocolate mousse, topped with a layer of marshmallow snow and a forest of white chocolate trees (and it's gluten-free). The chestnut bûche is made with an almond biscuit, chestnut mousse, a drop of whiskey, and candied chestnuts from Aubenas, France. Finally, the "Winter Gnome" bûche is made with a milk and cookies ganache, a chocolate chip and almond cookie, gooey caramel and a crunchy hazelnut feuilletine. Pre-order here to pick up in the Soho store, and here to pick up in the West Village store (pick-up is Dec. 21-24). It's $45 (serves 6-8) per bûche. — 189 Spring St, Soho (212-219-2773); 137 Seventh Avenue South, West Village (212-242-5111)
Aux Merveilleux de Fred
Famous for the French pastry after which they're named, Aux Merveilleux de Fred is offering two bûches this year, both based on the recipe of their signature merveilleux. One bûche is merengue with dark chocolate, topped with whipped cream and dark chocolate flakes. The other is merengue with speculoos cream and white chocolate flakes. They come in four sizes serving 4 ($26), 6 ($39), 8 ($52), and 10 ($65) people. Call to order or fill out an order form here. Bûches should be ordered two days in advance, and can be ordered starting Dec. 13. — 37 8th Ave, West Village (917-475-1992)
La Tropezienne
Our favorite Harlem bakery, La Tropezienne, has bûches available starting on Dec. 17 in four flavors: vanilla, chocolate, mocha, and praline. There are five available sizes of 6" ($24), 8" ($32), 10" ($40), 12" ($46), and 14" ($52). Call to order. — 2131 1st Ave, Harlem (212) 860-5324
Benoit
You can get a very special bûche from Alain Ducasse's restaurant, Benoît, in Midtown. He's offering a chocolate mousse bûche, infused with bergamot, with pear and a tea biscuit. It costs $45 (serves 6-8). Order at least 24 hours in advance online or by phone. — 60 W 55th St, Midtown, (646-943-7373)
Maison Kayser
https://www.instagram.com/p/BrP5GGzBO8t/
The best baguette in New York, Maison Kayser has four bûches this year that'll make you drool. The first is the Kayser, their signature chocolate bûche made with dark chocolate mousse and creme brûlée, on dark chocolate biscuit, all topped with a chocolate glaze. The second is the "Berry" bûche made with blueberry mousseline and almond biscuit, mixed berry confit, and topped with berry glaze, white chocolate, and fresh berries. The third is a classic chestnut bûche, made with chestnut mousseline and vanilla cream, topped with chestnut glaze, milk chocolate, and candied chestnuts. All these yule logs are $42 (serves 6-8) and are available through the end of the year (order before Dec. 21 at 5pm for pick-up on Dec. 24-25, and Dec. 28 for New Year's Eve). Order over the phone (646-783-3559) or at one of their many locations. — Various locations throughout the city
Chanson
The Flatiron District patisserie and dessert bar Chanson is making one special yule log this year: a black frosted chocolate bûche, with dark chocolate and brandied cherries. It costs $30 (serves 6) and must be ordered at least 24 hours in advance. Bûches are available until Christmas. Order in-store or over the phone. — 20 W 23 Street, Flatiron District (929-423-8880)
Le District
At the tip of Manhattan in Brookfield Place, Le District is celebrating the holidays with five special bûches. Four bûches are offered in the traditional flavors of chocolate, Grand Marnier, coffee, and praline. The fifth bûche, La Nuit Etoile, is particularly special, made with chocolate mousse, pistachio cream, raspberry mousse, a chocolate biscuit, a pistachio lady-finger sprinkle, glazed chocolate, and a base of sugar dough. The chocolate and Grand Marnier bûches are available in an individual serving size ($6), 8.5" ($39), and 12.5" ($50). The coffee and praline bouches are available in sizes of 8.5" ($39), and 12.5" ($50). La Nuit Etoile bûche is available in an individual size ($6) and 9" ($46). They're available to order in-store from the patisserie or by phone. — Brookfield Place, 225 Liberty St, Financial District, (212-981-8588)
Bouchon Bakery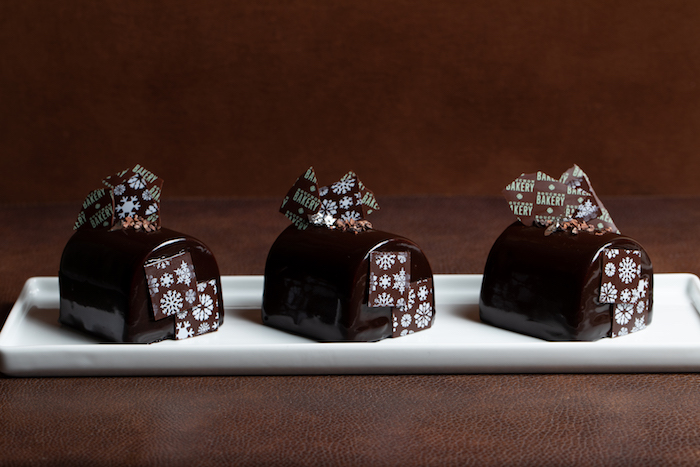 The most French of the American bakeries Bouchon Bakery offers two appetizing bûches: a first, chocolate caramel, made with three chocolates and caramel ganache, and a coffee hazelnut, made with hazelnut cake, praline cream, candied hazelnuts, and Chantilly. Each one is available in two sizes for $38 (serves 4-6) and $48 (serves 6-8). A miniature version is also available for $6.95. Order by phone, in store, or online here by Dec. 20 at 5pm, pickup is available Dec. 22-24. — Time Warner Center Ten Columbus Circle, Third Floor, UWS (212-823-9366); 1 Rockefeller Plaza, Midtown (212-823-9357)
La Toulousaine
La Toulousaine offers a bûche traditionelle, with flavors of vanilla, chocolate, and coffee inside, and buttercream on top. It comes in two sizes, 8" ($38.11) or 12" ($52.26). They start taking orders in person at their Upper West Side store and over the phone on Dec. 15. — 942 Amsterdam Ave, UWS, (212) 866-2253
Miss Madeleine
Peggy and Gérald Huteau at Miss Madeleine have made three bûches for the holidays. The first is white chocolate with a soft sponge cake filled with a white chocolate mousse, covered with white chocolate. The second is made with dark and milk chocolate and sponge cake filled with chocolate mousse, all wrapped chocolate exterior. The last bûche is coconut, filled with coconut cream and sprinkled with coconut flakes. These three bûches, decorated in classical French ways on top, cost $54.90 each (serves 10-12), or $100 for both. Order in-store or on the website (orders must be made at least two days in advance). Delivery is possible for $15 or for free for orders over $80. — 400 East 82nd St, UES (646-896-1227).
Margot Patisserie
https://www.instagram.com/p/BrDQferlLck/
Margot Patisserie is making one fail-proof, spectacular chocolate bûche that you have to see to believe — it's decorated with a sleigh, reindeer, tiny silver trees, and a small present. It comes in four sizes: 8" ($50), 10" ($60), 12" ($70), and 16" ($90). The quantity of bûches they're making is limited so pre-order yours now (pre-ordering ends Dec. 18). Order on the phone or in-store. — 2109 Broadway (entrance on West 74th Street), UWS, (212-721-0076)
Mille-feuille
Mille-feuille offers three bûches: vanilla-Cognac-chestnut, decorated with a creamy ganache to look like snowy ski slopes; triple-chocolate, made with layers of dark, milk, and white chocolate; and a "dark chocolate black forest with cherries" bûche, with dark chocolate sponge cake, chocolate cream, and a cherry confit. These 7″ bûche (serves 6) are $39. Order online, on the phone, or at one of their locations. (Get 15% with the promocode SNOW on the website before Dec. 17.) — 2175 Broadway, UWS, (212 362-6261); 552 Laguardia Pl, Greenwich Village, (212 533 4698); 250 W 77th St, in the Hotel Belleclaire, 250 W. 77th St, UWS (212 362-6261)
Epicerie Boulud
Daniel Boulud's Epicerie Boulud offers bûches as beautiful as they are delicious. Four choices are available: the chestnut blackberry bûche (chestnut mousse and blackberry gelée on a chestnut biscuit), the chocolate caramel bûche (63% dark chocolate mousse, caramel crémeux, a chocolate flourless biscuit), the Exotique (passionfruit banana mousse, roasted pineapple, mango confit, coconut dacquoise), and the Opera (spiced coffee mousse, coffee buttercream, dark chocolate ganache). One bûche serves 6-8 people ($42). Order online here, or purchase one directly at one of their locations starting on Dec. 18. — Lincoln Center, 1900 Broadway (212-595-0303); Westfield World Trade Center, 185 Greenwich St LL 4000 (212-595-9605); Plaza Food Hall, 1 W 59th St (212-794-2825).
La Maison du Chocolat
The purveyor of fine French chocolates La Maison du Chocolat has two bûches this year. One is the Caracas, made with a soft dark chocolate mousse, chocolate from the Dominican Republic, a chocolate crumble, and an chocolate-almond biscuit. The other is the Salvador, which contains a dark chocolate ganache, chocolate biscuit cooked with whole raspberries, topped with chocolate shortbread. An individual bûche is $10, a medium (serves 4) is $56, and a large (serves 6) is $77. Order online here and in store starting Dec. 12. — Various locations around Manhattan
Ladurée
https://www.instagram.com/p/BrQP7–FjAT/
Proving they're not only good at making macarons, Ladurée is offering four bûches. One pistachio (pistachio macaron biscuit, pistachio buttercream, crispy praline leaves), one gluten-free rose and raspberry, the "Marie Antoinette" (macaron biscuit, rose mousseline cream, raspberry jam, lychees, raspberries), and one "Fleur Noire" for the chocoholic (sacher biscuit, chocolate feuilletine, vanilla cream, Caribbean chocolate mousse, dark chocolate leaf). Individual-sized bûches are $8.50, and larger ones (serves 6-8) are $68. This year's signature bûche is the "Tine," made with a rice pudding ganache, spiced cherry compote and a rose-flavored mousse, all arranged on layers of almond dacquoise and macadamia praline. The flavors are an homage by the Norwegian chef to his home country — it's even decorated to look like a traditional Norwegian box. The "Tine" is available starting Dec. 19 for $75 (serves 6-8) and in individual portions starting Dec. 5 ($11). Order in store or over the phone. — 864 Madison Avenue, UES (646-558-3157); 398 West Broadway, Soho (646-392-7868)
Eclair Bakery
Eclair Bakery is offering five bûches this year. The Tiramisu (lady fingers with mascarpone mousse), the Trio (three chocolate mousses, milk, white, and dark), the New York (vanilla mousse, pecan mousse, salted caramel, and chocolate sponge), the Wendy, (milk chocolate mousse, creme brûlée, and chocolate sponge), and the Crunchy (dark chocolate mousse, hazelnut crunch, chocolate sponge). They are available in two sizes, 6" (serves 6-10, $42) and 10" (serves 10-12, $42). The Wendy and Crunchy are currently available for purchase in store, the other flavors will be available in store starting Dec. 19. Pre-orders begin on Dec. 14 (must order two days in advance). Order on the phone or in-store.  — 305 East 53rd Street, Midtown East (212-759-2253)
BROOKLYN
Almondine
After suffering damage from Hurricane Sandy and reopening just months later, Almondine proves again that they just won't quit with three exceptional bûches: praline (almond sponge cake, praline cream), chocolate classic (Valrhona chocolate cream, coated in chocolate, topped with mushroom-shaped meringues), and berry vanilla (lady fingers sponge, citrus syrup, mixed berry mousse, wrapped in caramelized meringue). Pay $45 for a small (serves 6-8) or $55 for a large (serves 10-12). Order before Dec. 20 on the phone, by email, or in store. — 85 Water Street, DUMBO (718-797-5026)
Charlotte Patisserie
Charlotte Patisserie will be delighting Greenpoint and Cobble Hill with three bûches this year. One hazelnut buttercream ("Nutcracker," $32), chocolate raspberry mousse ($38), one pistachio redcurrant mousse ($37), and one traditional hazelnut mousse ($37). Available in one size (6"). you can buy one in store or pre-order a bûche over the phone (718-383-8313) from now all the way until the end of Dec. (All orders for pick-up between Dec. 22-24 must be placed by Dec. 21.) — 596 Manhattan Ave, Greenpoint (718-383-8313); 201 Court St, Cobble Hill (929-295-0372)
Bien Cuit
https://www.instagram.com/p/BrQuxAnlJL0/
Bien Cuit on Smith Street, which is often referred to as Little Paris, is sticking with and oldie-but-goodie. Their large hazelnut, chocolate, and malt bûche is $42 (serves 10-14), or you can get your own individual version for $8. Get one today at Smith Street or Grand Central Market. Pre-orders should be made over the phone (718-852-0200) or by email before Dec. 21 at noon. — 120 Smith Street, Downtown Brooklyn; 89 E. 42nd St., Midtown East
Caprices by Sophie
The patisserie of Frenchwoman Sophie Jaeger is specialized in whimsical sweets, but this year again, she's offering a bûche for the holidays at her shop, Caprices by Sophie. Four types of bûches are available (chocolate, raspberry, vanilla-caramel, and Mont-Blanc) in size small (serves 5) and large (serves 7). Prices vary from $29 to $45 depending on the size and type of bûches. Call or visit the store to order. — 138 N 6th St. Williamsburg (347 689 4532)
Le French Tart
This year, Le French Tart is offering two classic bûches (coffee or chocolate buttercream) and a few "mousses" (the Bonaparte, with crème brûlée in the middle; the Josephine, with chocolate mousse and jam; and "Death By Chocolate" which is "all chocolate"). The bûches are $39 (serve 6-8). To order, go to French Tart or call. Bûches will be baked and ready within 24 hours. — 579 5th Avenue, Park Slope, Brooklyn. (929)-276-3035.
Pistache NYC
In their new location on Flushing Avenue, Pistache will offer three bûches this year. One with dark chocolate mousse, blueberry and chestnut, one with lemon and hazelnut praline, and one with chocolate mousse and berries. Bûches are $45-$48 depending on the kind, and all serve 8-10 people. Order via email, at least 72 hours in advance. They're taking order from now until the end of December. — 630 Flushing Ave, Brooklyn (646-207-9390)
Colson Patisserie
https://www.instagram.com/p/BrOQ-ejBPLk/
The Park Slope French pastry shop Colson Patisserie has made five Instagram-worthy bûche for the holidays. There's a strawberry white chocolate bûche (strawberry mousse, lady-finger cake, strawberry gelée, and white chocolate), an opera bûche (espresso-soaked almond genoise, rich chocolate ganache, coffee buttercream, chocolate coating, pistachio crumble and pistachio macarons), a lemon meringue with caramel bûche (almond genoise, lemon curd, caramel buttercream, and toasted meringue), a "Devil's Food" bûche (decadent chocolate mousse, dark Devil's Food cake, and a chocolate glaze), and a "Black Forest" bûche (chocolate sponge filled with Morello cherries, topped with Kischwasser whipped cream). The first three of these bûches are gluten free. Order online here, available for pick-up in store only. One bûche costs $45 (serves 8-10). — 374 9th St, Park Slope, (718-965-6400); 253 36th St, Industry City, (347-637-6676)
Dolce Brooklyn
Our favorite place to get gelato, Dolce Brooklyn, also offers an excellent yule log. The The Red Hook shop offers two bûches: chocolate-vanilla and salted-caramel-vanilla. Both flavors are available in two sizes: for 4 people ($25) and for 8 people ($50). Bûches can be pre-ordered here until Dec. 23 for pickup on Dec. 23-24. (Delivery is also possible in Brooklyn and Queens through Grubhub.) — 305 Van Brunt St, Red Hook (718-855-0680)
QUEENS
Cannelle
Cannelle offers a superb selection of bûche to the borough of Queens. At Jackson Heights, they're offering three bûches de Noel: mocha with buttercream, "vanilla exotic" (Bavarian vanilla with passionfruit filling and buttercream finish), and chocolate hazelnut (hazelnut crème brûlée, chocolate almond cake, and milk chocolate mousse). In LIC, they offer those three plus one more: the "Mont-Blanc," with vanilla crémeux, chestnut cream, and blackcurrant jam. They're available in three sizes, small (serves 4-6, $25), large (serves 8-10, $35), and extra large (serves 16-18, $65). Order online here. — 75-59 31st Ave, East Elmhurst (718-565-6200); 5-11 47th Ave, Long Island City (718-937-8500)
NEW JERSEY
ChocoPain
The fan-favorite at New York's best croissant competition, the New Jersey bakery-cafe ChocoPain has three bûches de Noel. The first is a chocolate darquoise bûche, with chocolate mousse covered with ganache. The second is a sautéed apples vanilla mousse bouche, containing vanilla mousse with caramelized white chocolate, sautéed apples, and hazelnut dacquoise. The third is a "Caramelia Mont Blanc," made with caramelized white chocolate, chestnut cream, and candied chestnuts. One bûche is $40 (serves 6) and can be ordered online or over the phone. — Various locations in New Jersey