If you're in Paris, especially in the area near Place du Châtelet, you may have noticed a small glass building, claiming to be a visa center. You might also have seen posters in the metro showing a split screen of two black and white images of faces with the word "DAU" written in the middle. You might, like myself, have wondered what this mysterious "project" was, and what it all meant.
I still can't tell you exactly what DAU is, or what it means — and if you ask the people who work here, that's kind of the point. Part art exhibit, part film project, part ongoing sociological experiment, and part alternate reality, DAU constitutes a multimedia, immersive experience that transports visitors to Soviet Russia of 1938-1968.
 "It's an approach that's completely sensory, holistic: to simply go eat some food, to go watch a film, to get lost, to leave one's comfort zone," DAU's head of communications, Camille Guillé, tells me over bowls of mashed potatoes and borscht at DAU's subterranean cafeteria/bar. "It's really an experience that makes us leave our everyday lives."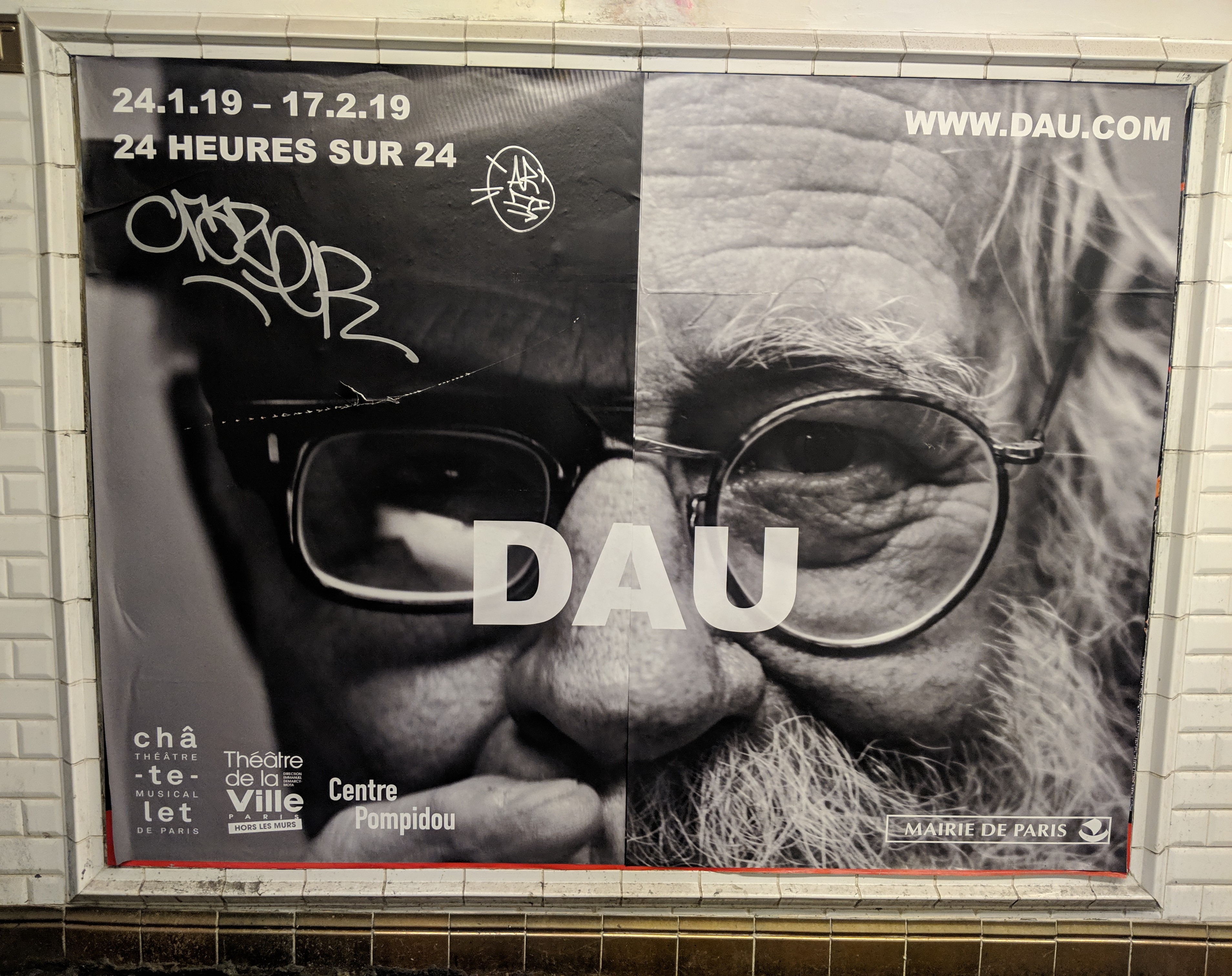 It's a rainy Friday afternoon in Paris, but inside of the experience, which is located in the currently-under-construction Théâtre de la Ville and Théâtre du Châtelet, it certainly feels like we've left the City of Light. At the dimly-lit bar counter, Russian-speaking workers wearing the clothing of the era's proletariat ladle glops of borscht into tin bowls. Behind them, rows of mass-produced tomato juice line stock the cupboards. Men in dark suits patrol the corridors of the two connected theater buildings.
In order to get into the world of DAU, you have to first apply for a visa (which are available for six hours, 24 hours, or unlimited) online. The questions on it, however, are not your typical visa questions. Instead, you are asked a series of uncomfortable personal questions — about your sexual preferences, views on fidelity, family relations, and so on — questions that, according to Guillé, are intended to lead us to "an exploration of ourselves" before we enter the exhibit.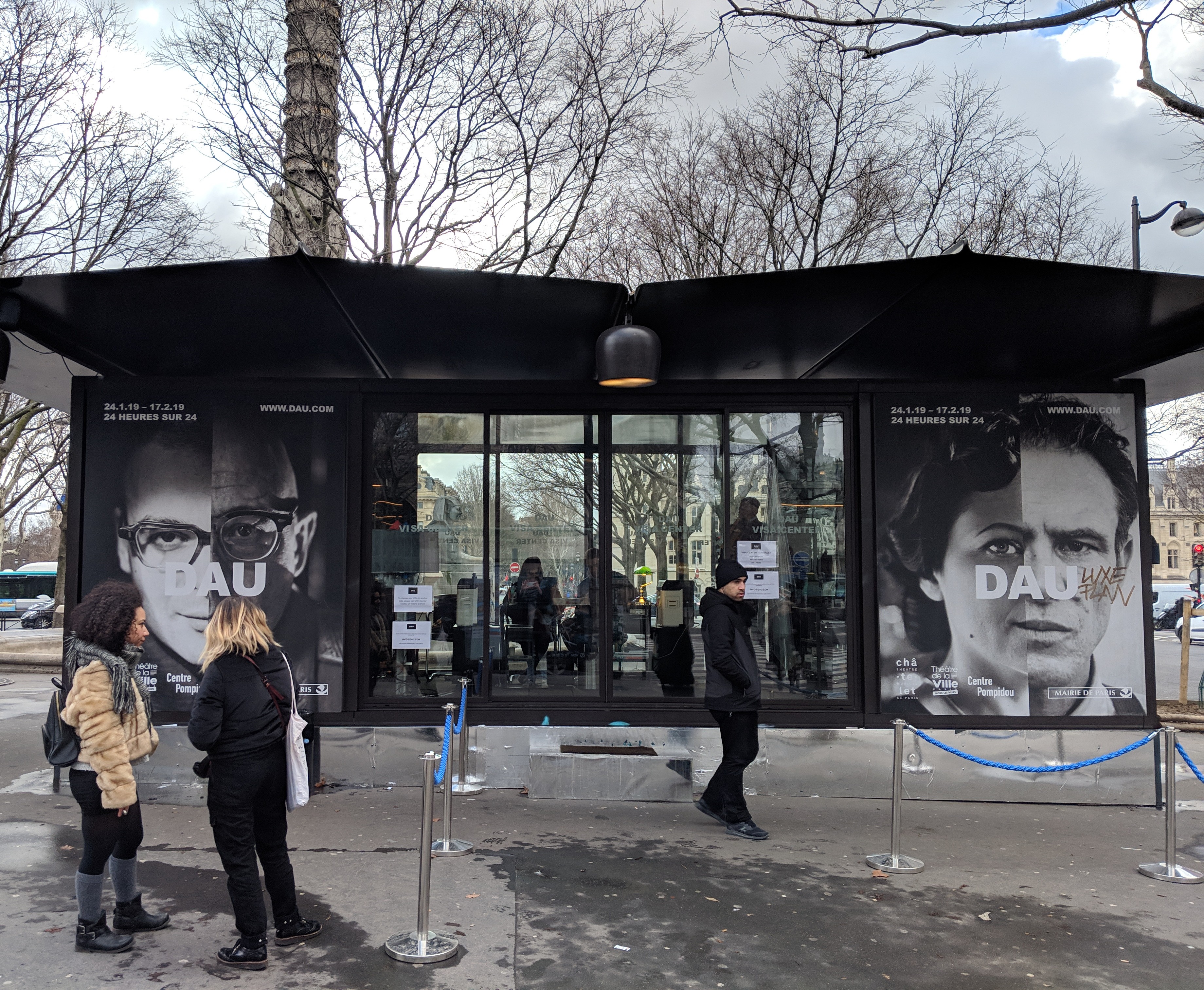 Once inside, the line between fiction and reality quickly blurs even further. Your phone is confiscated and put in a locker (you'll get it back when you leave), your bags are checked, your visa is scanned, and you are screened for illicit items.
Realistic mannequins as well as set pieces from the initial biopic that gave birth to DAU are placed throughout. Upstairs, in the "communism" section of the exhibit, actual Russians live in shared apartments, their laundry hanging out to dry in the hallway. You can visit with a Shaman, who doesn't speak French or English, or take in a live harp concert in the auditorium. Multiple entrances open to different rooms, where you can find everything from a screenprinting studio to a power room for actors.
The experience is kind of like a "create your own adventure" book, in Soviet form.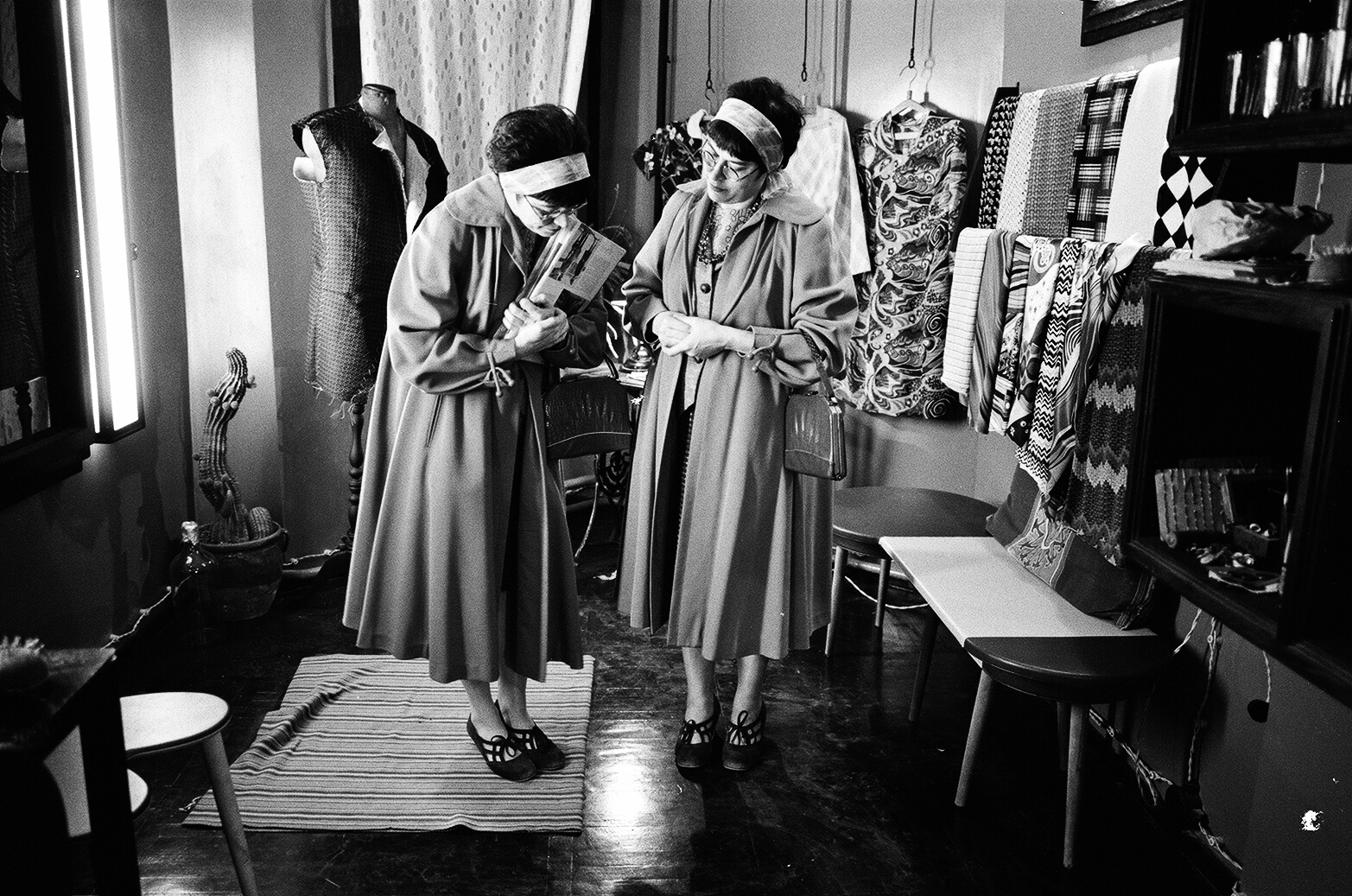 The basement of DAU is called "history." It's here that you can look through 700 hours footage taken at "The Institute," a realistic film set in Kharkov, Ukraine that recreated the true conditions of the Soviet Union and within which more than 400 everyday people from all walks of life — cooks, teachers, bakers — lived, and were filmed, for two years from 2009 to 2011. (It's been called the Soviet Truman Show.) 
The brainchild of Russian filmmaker Ilya Khrzhanovsky, The Institute was initially created as a set for a biopic about Lev Landau, a Nobel-prize-winning Soviet physicist, but quickly morphed into something entirely different. With a three-man crew, Khrzhanovsky set out to film the lives of the everyday people who had decided to give up their past identities to live in this alternate reality: their dinners, social gatherings, philosophical conversations, and, yes, their sexual encounters. A number of artists, from costume designers to famous actors to experimental musician Brian Eno became interested in the project, and began to collaborate, as well.
"There was an entire society represented in this institute," Guillé says, "that was between fiction and reality."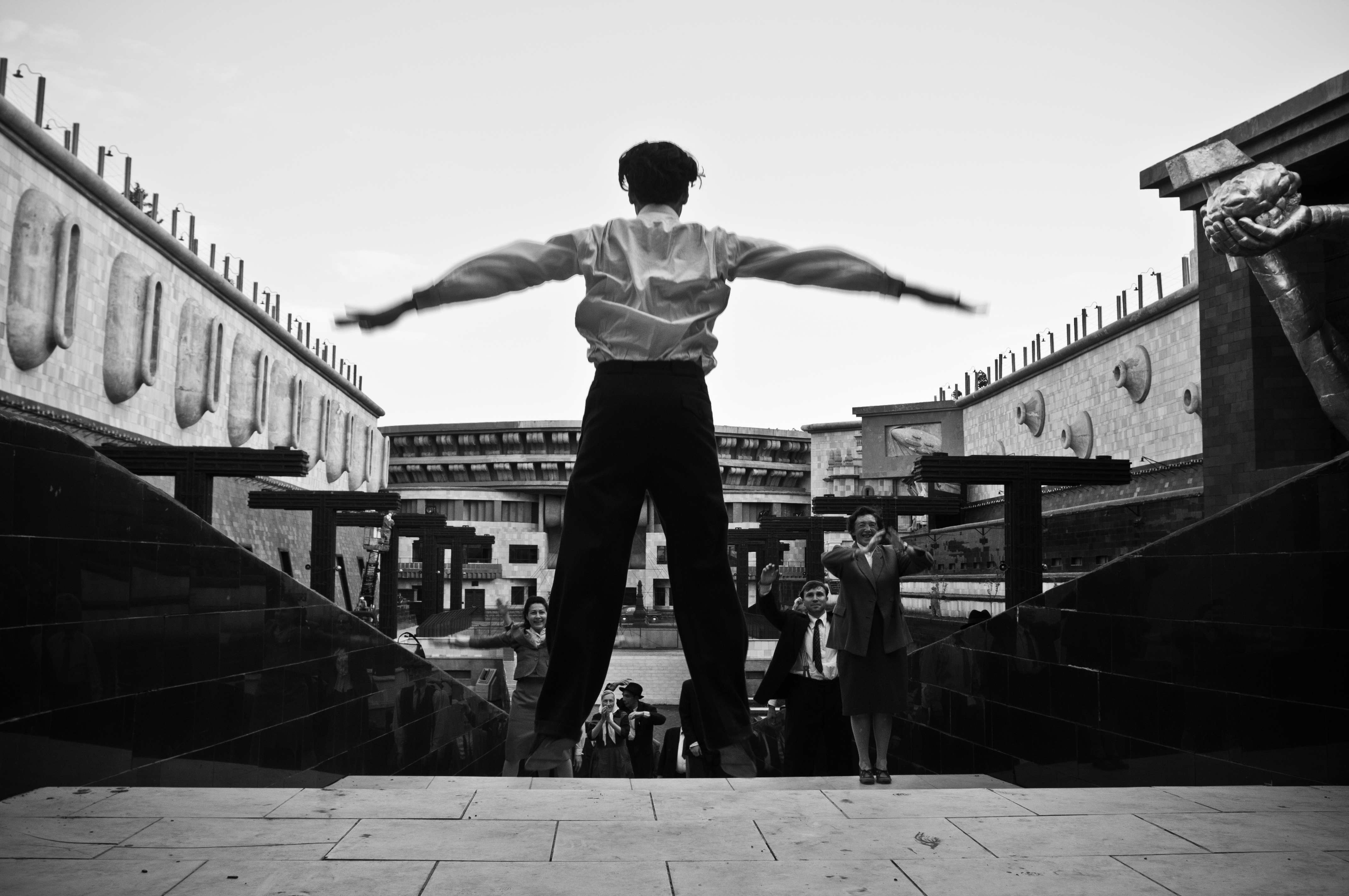 In DAU, the footage of this world has all been archived and categorized into broad sections — betrayal, motherhood, body, mind, animal, future, sex, and utopia — that tell the various stories of the inhabitants of the Institute. And the experiment, Guillé says, finishing her bowl of mashed potatoes and borsch, is ongoing.
"DAU is like a living organ, it's always on the move," she says.
As of last Friday, about 16,000 people had visited DAU in Paris. Organizers initially aimed for 50,000, but a complication with the Paris prefecture delayed the opening of the exhibit by two days.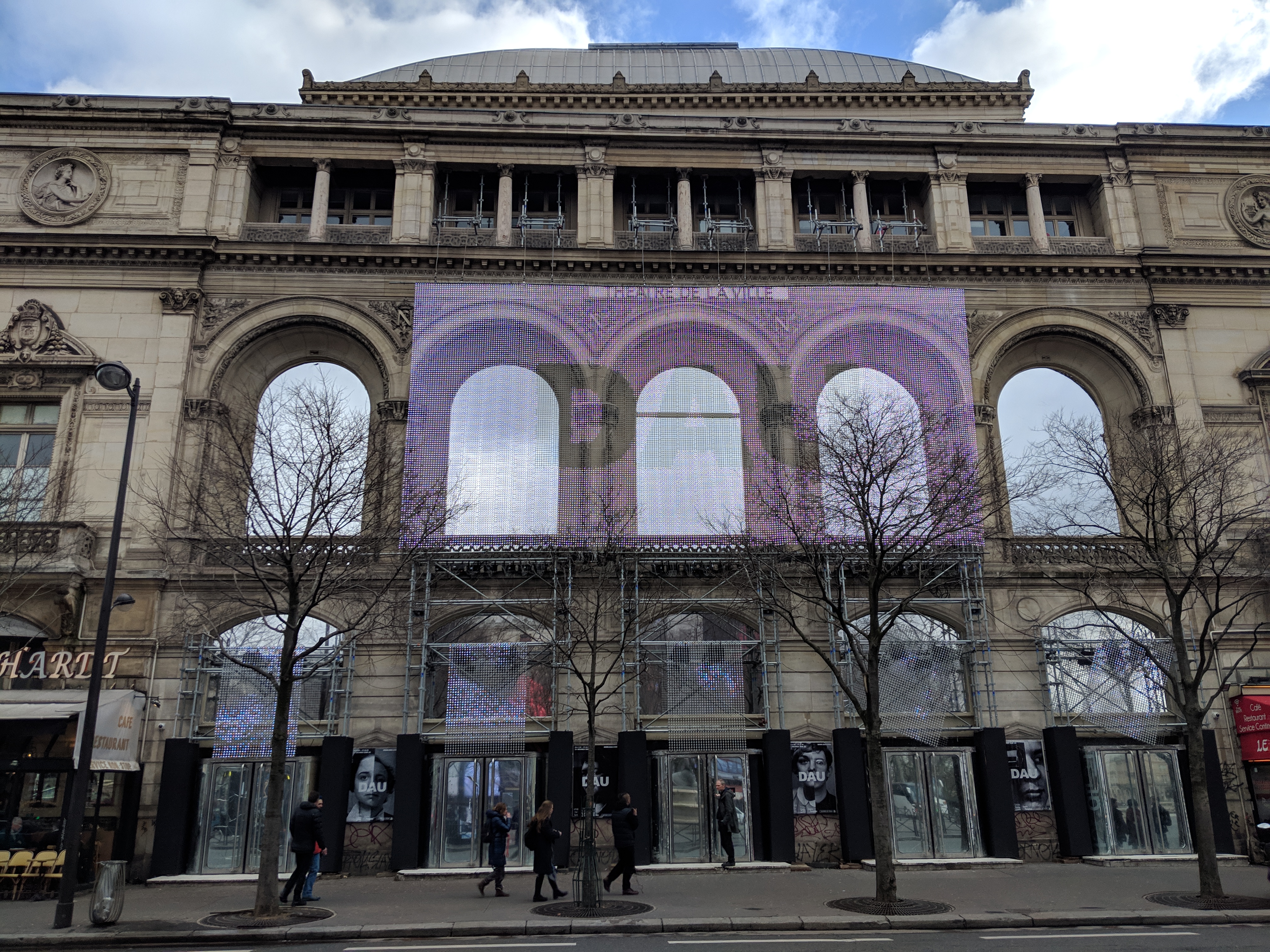 Visitors have one more week (until February 17) to check out its Paris incarnation before it moves to London, and then, its organizers hope, Berlin. In these places, DAU will take on a different form, similar to the way in which the experience seems to mean something different to everyone who enters it.
"It leaves no one indifferent, whether for the good or for the bad," Guillé says of DAU. "It's not a simple mirror on the human condition; it's also a moment of truly encountering yourself and others."