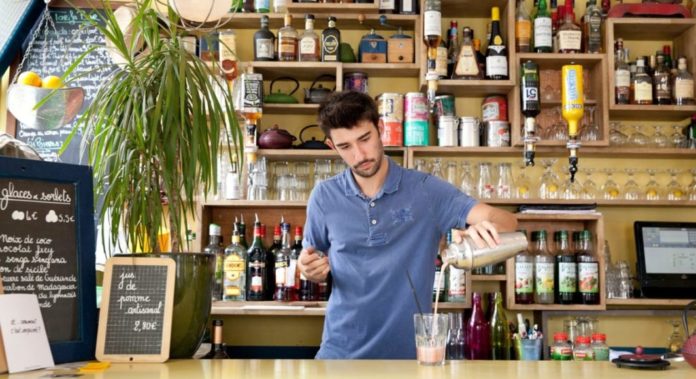 Second largest and number-one in our hearts, Lyon is full of hidden gems not to be missed by foodie travelers.
France's gastronomic capital is known for high-end traditional French cuisine, but the city has much more to offer for foodies. Beyond the pricey restaurants of Vieux Lyon and Presqu'île, tons of hidden culinary treasures are waiting to be discovered. Get off the beaten tourist track and explore Lyon's food scene at these seven destinations.
1. 405 Une Boutique des Bières
1 Rue Sainte-Marie-des-Terreaux (website)
Located next to Place des Capucins, Lyon's biggest beer store offers over 600 different beers from all over the world. From Belgian wheat beers to American IPAs to imported beers from the Seychelles, this store offers a sélection énorme at affordable prices.
2. Le Tandoori
8 rue Sainte-Marie des Terreaux (website)
The tandoori wrap occupies the perfect middle ground between a to-go Kebab and a sit-down meal. Located next to Place des Terreaux, this hole-in-the wall with a generic name is open all night, serving some of the most flavorful wraps in Lyon. Brochettes of chicken, beef, or falafel are covered in spices and cooked in a traditional tandoori oven, then wrapped up with veggies in fluffy naan, all for 5 euros. Oh mon dieu…
3. Bahadourian
20 Rue Villeroy, Place Djebraïl Bahadourian (website)
This Middle-Eastern delicatessen and caterer is a Lyonnais institution. Set up in 1929 by Djebrail Bahadourian, the family-run business offers rare teas and spices, beans, baklavas, and other exotic goodies from all over the world. Bahadourian serves as the perfect porte d'entrée to begin an afternoon discovering the diverse Guillotière quarter.
4. Le Bistrot des Fauves
29 Rue Saint-Michel (website)
No visit to Lyon is complete without a good meal of traditional French cuisine, and for that, the Bistrot des Fauves never disappoints. It doesn't matter what they have on the menu (which changes daily), everything is fresh, delicious, and well-portioned. The price is on the low-end for sit-down restaurants, and the heated terrace outside is perfect for groups before it the warm weather arrives.
5. La Crèmerie de Charlie
9 Rue du Plat (website)
Just next to Place Bellecour, this small but modern fromagerie offers a good selection of well-chosen cheeses, from the runny Lyonnais Saint-Marcellin to pungent Roquefort. Their sample platters make for perfect apéro with friends.
6. Supermarché Asie
12 Rue Passet (website)
Just next to Guillotière, Lyon's Chinatown is a refreshing change of scenery from the rest of the city. This spacious supermarket offers an impressive selection of authentic Asian products, from noodles to teas to all sorts of sauces (including sriracha!). There are plenty of Vietnamese and Chinese restaurants nearby for an after-shopping meal.
7. Café Mokxa
3 Rue de l'Abbé Rozier (website)
While American coffee at many French cafes can taste like burnt rubber, the baristas at Mokxa produce some of the tastiest coffee around, with delicious pastries to match. Mokxa reminds you of a hipster coffee shop, complete with bearded baristas, Hario pour-over systems, and exotic single-origin beans.