The French luxury fashion house Hermès has released a podcast in which key individuals at the brand recount stories, delve into secret workings behind the storefront, and open up the world of Hermès for its listeners. Episodes are available in French and English; eight English episodes and nine French episodes are available. Being created by French people, and a bit bourgeois, the podcast sounds quite that of a fairytale with a compelling storyline, lovely intonation changes, and mysterious characters.
https://www.instagram.com/p/Bt6PmKwgSo3/
With origins in leatherwork and equestrian fashion, Hermès was established in 1837 by a half-German émigré Thierry Hermès. Everything started at the store on 24 rue du Faubourg Saint-Honoré where the atelier and store were first located and, so, the podcast is called "The Faubourg of Dreams." The flagship store is still located at the same location. It is there that Thierry, and later his son, dreamed up the fashion magnate. The brand went from making bridles and harnesses to establishing the coveted carré foulard in the early turn of the century borrowed from war spies using designs on their scarves for hidden messages and tactics. "Something useful can never be ugly," explains the narrator. Down the century, the brand would also create an expensive Birkin bag inspired by Jane Birkin.
Deeply rooted in France and in French history, Hermès continues to be a huge part of French history (the royal gendarmerie still wears its accessories). In one of the episodes, the narrator even says, "It's not a question of how great and wonderful Hermès is, it's about being entertaining." Entertaining it is indeed, both the brand and the podcast. With constantly rotating window sets, there is always an element of surprise on rue du Fabourg Saint-Honoré.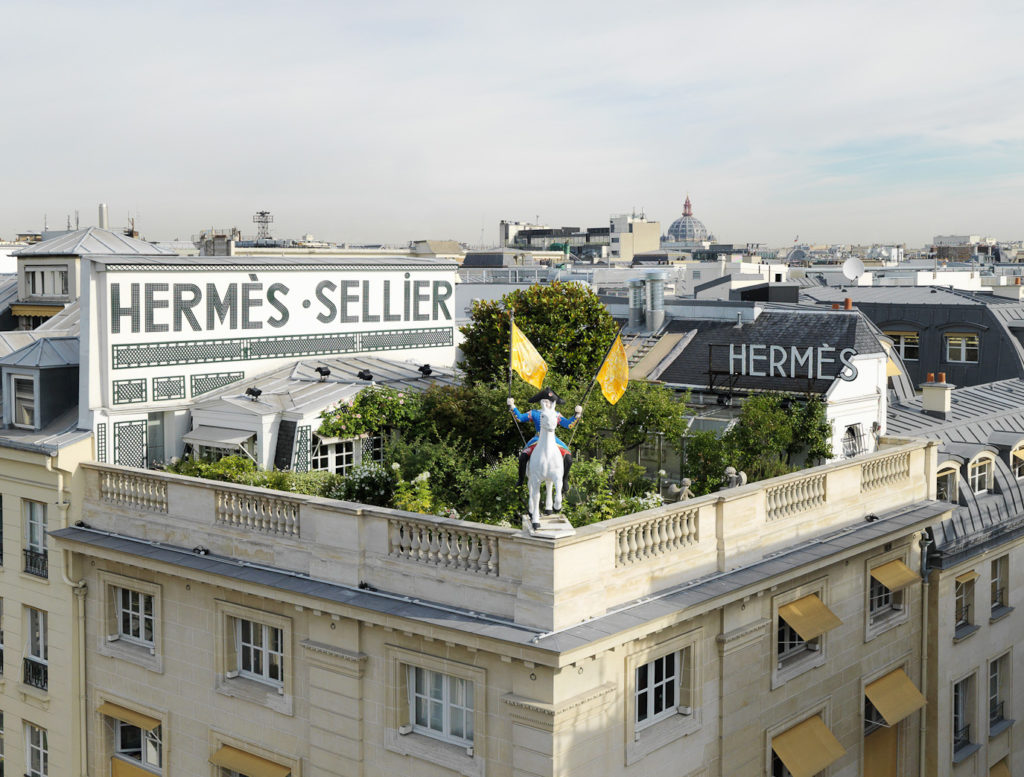 While Hermès may not be a brand in most people's reach, the podcast is interesting for those working on their French, as well as history and fashion buffs, and Francophiles. (Challenge yourself and listen to it in French!) From designers, to store managers, the scarf master, and even the brand historian, you'll be immediately drawn into this world of silk, leather, and everything in between. You will hear of the lady who brought a live lobster to the store in order to pick the perfect porcelain dish (finally settling on none) and of the secret rooftop garden, Hermès Selier. The brand's past perfumer Jean-Claude Ellena even dedicated a perfume to the petit oasis in Paris's sky: "Un Jardin Sur Le Toit." You'll feel like you've joined this fantastical high fashion world too while listening to the podcast.
Featured image: Stock Photos from Fortgens Photography/Shutterstock