Between Mayors Anne Hidalgo and Eric Garcetti, it's an ongoing story. Calling the French elected official "my sister," the mayor of Los Angeles kept reminding the media of their chemistry at a joint press conference on Tuesday, September 11 in his West Coast city where she was visiting.
Last year, they had already signed a unique "Jumelage olympique" (Olympic Twins) agreement on the protection of the environment, solidarity and inclusion, innovation and start-ups. To go one step further, they announced a partnership: students from Los Angeles' community colleges will be sent to Paris as ambassadors next summer. "We will take care of them like our children," assured Hidalgo. Garcetti added, "At a moment when we're so divided in the world we hope that this will breathe some strength and some friendship back into the world."
Avec Eric Garcetti, @MayorOfLA, nous nous sommes joints aux volontaires pour assurer une distribution de repas aux personnes sans-abri. Un moment fort de solidarité et de partage. #NationalDayofService pic.twitter.com/LRwrkLlSUs

— Anne Hidalgo (@Anne_Hidalgo) September 11, 2018
Recalling the deadline of "six-years to change the world," i.e. before the 2024 Paris Olympic Games, the mayors praised their common vision in the fight against climate change, noting their involvement in the C40 (the association for the mayors of the world's largest cities, dedicated to the environment and air quality). Hidalgo is the president of the C40, Garcetti is the vice-president. Last Wednesday, they participated in the Clean Mobility Summit, a gathering dedicated to clean transport alternatives.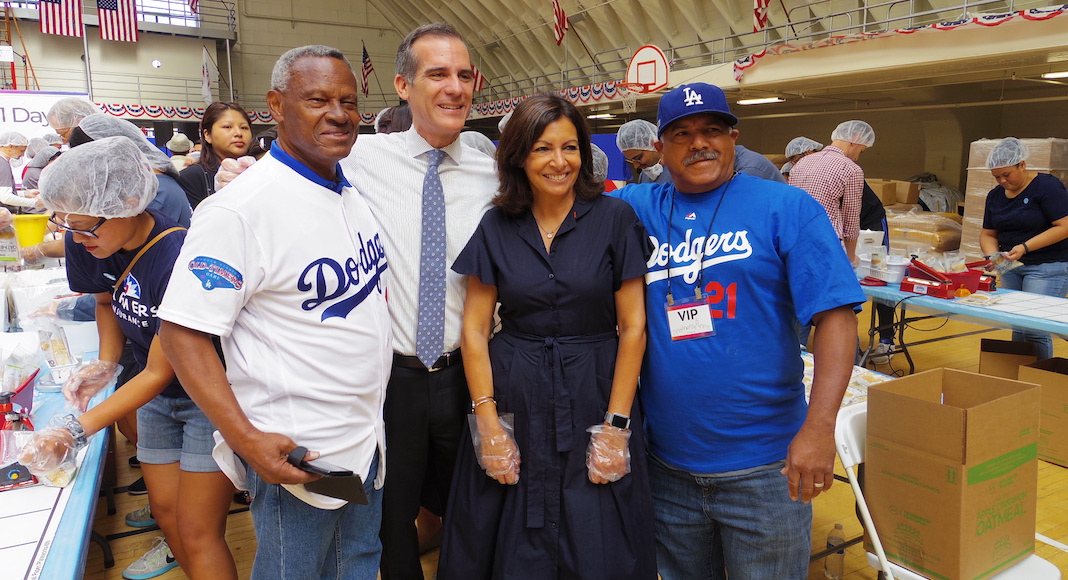 Garcetti spoke of the fires in the area and the need to set up a bus system that is completely electric. For her part, Hidalgo praised the "visionary elected American officials" who are looking for solutions, despite President Donald Trump's rollback of environmental protection policies. "We mayors are concrete. It is up to us to act on transit," she says. The two will head to San Francisco, September 12 to 14, for the Global Climate Action Summit — "a very important meeting" for the Hidalgo.
Joining @Anne_Hidalgo in announcing the launch of the @ClimateMayors Electric Vehicle Purchasing Collaborative. The clean transportation revolution is not a distant vision for the far-off future — it's happening here in L.A. and cities across the world. https://t.co/Bdhh82O4Tu pic.twitter.com/W4dAdFv8qT

— Mayor Karen Bass (@MayorOfLA) September 11, 2018
Before departing for a private interview, Hidalgo wished her counterpart good luck in his hypothetical upcoming presidential campaign: "I think he will have a bright future in Los Angeles, and perhaps at the national level."