In Los Angeles and Orange County, July 14th is a time for the Franco-American community to get together and celebrate. Here's a roundup of blue-white-and-red events.
Mega-party at Zebulon for Coucou's 10th birthday
To celebrate its 10th anniversary, Coucou French Classes is pulling out all the stops for Bastille Day. The French language school, which has offices in New York and Los Angeles, is throwing a big party on Thursday, July 13, at the Zebulon café-concert, on the border of Los Feliz and Glendale. Students, alumni, teachers, friends, friends of friends, French and Americans alike… the whole "Coucou" community is invited to join in the festivities, starting at 7pm. And there'll be plenty of room: with its three spaces, bar, concert hall, and outdoor terrace, Zebulon can accommodate up to 800 people. Old-fashioned photo booth, tarot readings… There's plenty of fun to be had while enjoying a crepe from Black Flour Crêpes, cotton candy, or a cocktail made just for the occasion. In the evening, several artists will take to the stage, including Pickle Drag Queen and her "French drag show," and a live performance by Keveen Baudouin, a teacher at Coucou. Two DJs, Theo Gee and DJ Pierrot (Décadanse) will keep the audience dancing until the end of the night. There will be lots of prizes to be won, including "a pretty cool one" says Cynthia Périnat, from Coucou Los Angeles, without revealing the surprise. Admission is free. Food and drink will be provided.
Zebulon Café-Concert, 2478 Fletcher Dr, Los Angeles, CA 90039.
French Cancan and a terrace dinner at La Bohème
Behind French Tuesdays is a well-known Frenchman in Los Angeles. For 16 years now, Gilles Amsallem has been organizing LA's big July 14th party, under the patronage of the French Consulate. Between 600 and 700 people attend every year. The blue-white-and-red event will take place on Friday, July 14, at La Bohème, a colorful West Hollywood restaurant boasting "one of the most beautiful exteriors" in LA, according to Gilles Amsallem. Guests can enjoy French cuisine with an Angelino twist under the stars, or have a drink while admiring the famous French Cancan performed by dancers from Cabaret Versatile. Three shows will take place, at 8pm, 8:30pm, and 9pm, before DJ Frank takes over the dancefloor. Other surprises await. Tickets range from $18 to $85 on Eventbrite, depending on the number of people and the reservation date.
$5 discount for French Morning readers with code: FM5.
La Bohème, 8400 Santa Monica Blvd, West Hollywood, CA 90069. To learn more or reserve a table, email [email protected], or send a message to 917.690.2523.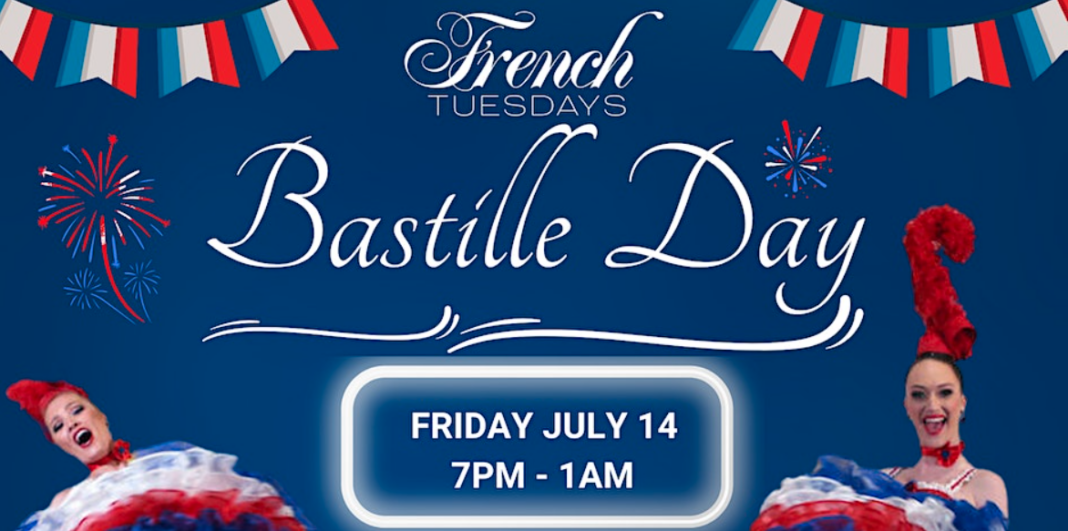 A Parisian soirée in Orange County
After the success of its first edition in 2022, Orange County's Bastille Day is back! On Saturday, July 15, 150 guests are expected at Roquette in Santa Ana, starting at 6pm, for a chic French-style evening. It's an opportunity to discover this café-bistro, opened by Breton chef Samuel Geffroy a few months ago. Behind Frenchly Yours, the party was imagined by Victoire Auguste-Dormeuil. A French expat living in California for over 20 years, this businesswoman wanted to bring French and American networks together "by celebrating our shared values, starting with freedom!" she explains. Chef Samuel's cocktail reception will showcase the best of French gastronomy. Singer Tamar Figotin will cover a French repertoire, then DJ Djemel Chergui will get the dancefloor moving. Guests can have their portraits taken in the style of French presidents. The lucky ones will walk away with two tickets to Tahiti, donated by Air Tahiti Nui in a raffle. Tickets are on sale on Eventbrite, for $75 before June 30, and $90 afterwards, and include a kir royal, glass of wine, and cocktail. Dancing-only tickets are available from 9pm ($20).
Roquette Café & Bistro 201 Sandpointe Ave Suite 150, Santa Ana, CA 92707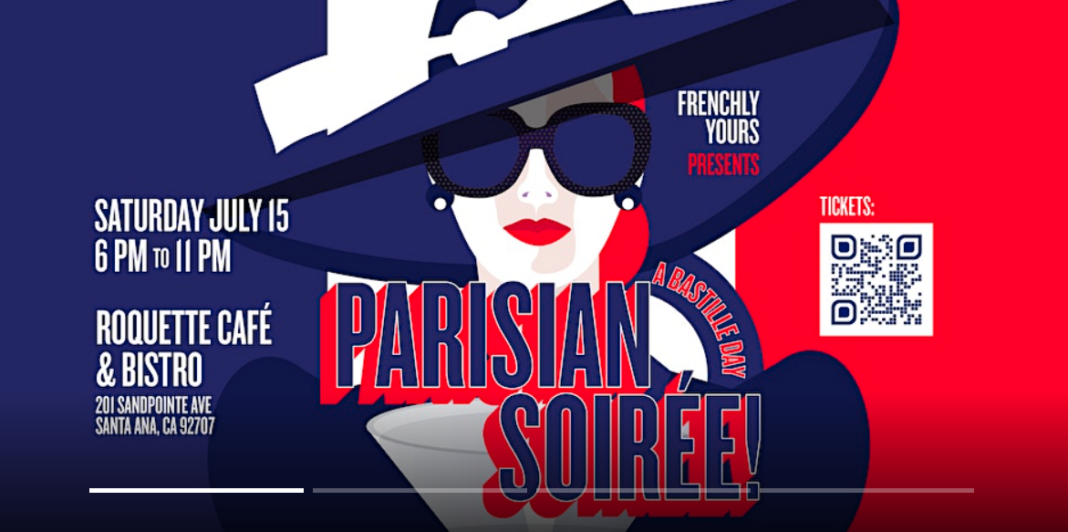 A picnic with the Alliance française de Pasadena
On Friday, July 14, the Alliance française de Pasadena is organizing a picnic open to all, members and friends alike. Meet at 5pm in Garfield Park, South Pasadena, under the banner of the association, headed by the dynamic Emmanuelle Franks. Bring a picnic lunch, and desserts and drinks will be provided by Alliance Française. A great opportunity to meet new people and chat in French. The only condition for participation: register here before July 13. A participation fee of $10 is suggested.
Garfield Park, at 1000 Park Ave South Pasadena, CA 91030
A game of pétanque at Sweet Lily
For the past 4 years, Marine Le Faucheur and Thibaut Leymarie, who run the two Sweet Lily bakeries and the brand-new Sweet Lily by Night restaurant, have been organizing a pétanque tournament to celebrate Bastille Day. The event takes place on Saturday, July 15, from 3 pm in the park opposite their Cahuenga Boulevard store. Whether you're a beginner or an expert, French or American, alone or with your family, you're all welcome to join in the fun and enjoy a delicious buffet concocted by the Sweet Lily team ($60 per person). The winning team will take home a bottle of Ricard and a $50 voucher from Sweet Lily. Runners-up will walk away with a $35 gift voucher.
Sweet Lily Bakery, 3315 Cahuenga Blvd W, Los Angeles, CA 90068
Bal de Versailles for Loulou's birthday
To celebrate its first birthday, Loulou, the restaurant dreamed up by Frenchman Erik Chol and his wife Florence, has pulled out all the stops. On Friday, July 14, come in costume from 6pm for a "Versailles Ball" on the rooftop of Santa Monica Place, overlooking the sea. On the program: a musical performance by jazz singer Chloé Perrier, DJs, stilt-walkers, French Cancan dancers, and other surprises… Chef Stanley Suchy, behind the stove at Loulou, will treat guests to a special menu ($79): caviar and blinis, escargots or salmon tartar, duck à l'orange or bouillabaisse, chocolate fondant or crème brûlée. Reservations here.
Loulou Rooftop-Restaurant-Lounge, 395 Santa Monica Place, #300 Santa Monica, CA
Moulin Rouge at Le Petit Paris
For July 14, Le Petit Paris, the chic French brasserie in Downtown LA run by Fanny and David Rolland since 2015, has never lived up to its name so well. Happy hour will begin at 5 pm on the patio of this historic building, with a live DJ. After sipping a cocktail, it's on to dinner and a show from 8 pm. While enjoying the generous bistro cuisine served on the premises (beef bourguignon, duck confit, truffle pasta…), guests will be transported to the heart of Montmartre's famous Moulin Rouge by the Cabaret Versatile troupe. We advise you to reserve your table (here) in advance.
Le Petit Paris, 418 South Spring Street, Los Angeles
A garden party in Beverly Hills
On Sunday, July 16, a Bastille Day celebration will be held for the first time in an elegant Beverly Hills park, in the presence of the Consul General of France in Los Angeles, Julie Duhaut-Bedos, and the city's mayor, Julian Gold. French and Americans, young and old, are welcome from 4 to 7 pm at Beverly Cañon Gardens. The event was organized by the Union des Français de l'étranger de LA and its president, Cynthia Hajjar, to celebrate the long-standing friendship between France and Beverly Hills. A sister city of Cannes, the city is home to the French consuls' residence. After the official speeches, it's time to celebrate, with products from the French Market and performances by Patricia Magicia, DJ Djemel, and C'West, "whose dancers will be performing at the Paris Olympics next year," enthuses Cynthia Hajjar. The event is free, with registration here.
Beverly Cañon Gardens 241 North Cañon Drive Beverly Hills, CA 90210 Tel: (310) 285-6830