Christmas is coming, and to quote Mariah Carey, all I want for Christmas is bûche de Noël. Here's our non-exhaustive selection of places to find one in Los Angeles.
Dominique Ansel
There are the well established bakeries that don't have anything to prove, like Dominique Ansel, where they are offering two bûches, available for $45 (serves 6-8) at the Grove; one bûche with chestnuts from Aubenas, France (and a dash of whiskey), and another gluten-free "double-chocolate" bûche, decorated with chocolate stars and a meringue Santa Claus hat. Each bûche can also be bought in a single-serving for $7.70. Order at least 48 hours in advance online or in person in the bakery, before Dec. 24. — 189 The Grove Dr, Los Angeles.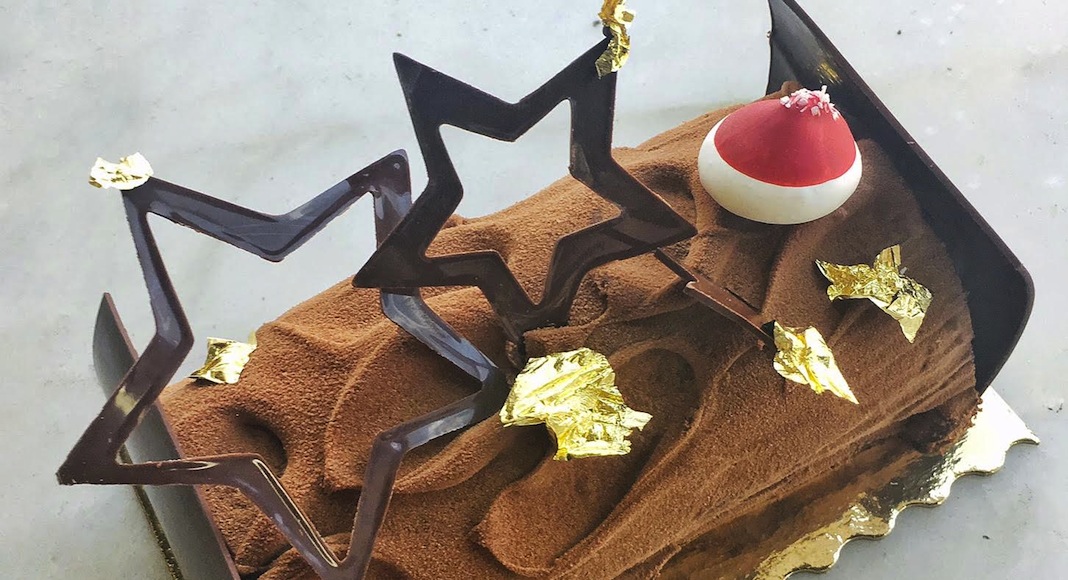 Sweet Temptations
You can't go wrong if you stop by Sweet Temptations. Like a goldsmith, Yvan Valentin has refined his recipes over 40 years, today selling three delicious and original bûches. The bûches are chocolate (ganache and candied hazelnuts), Moka (infused with Three Rivers rum), and chestnut cream. Each bûche costs between $31-$32 (serves 10-12). To make sure you don't miss out on your bûche, available the entire month of December, be sure to order it 24 to 48 hours in advance. — 3514 W Jefferson Blvd, Los Angeles.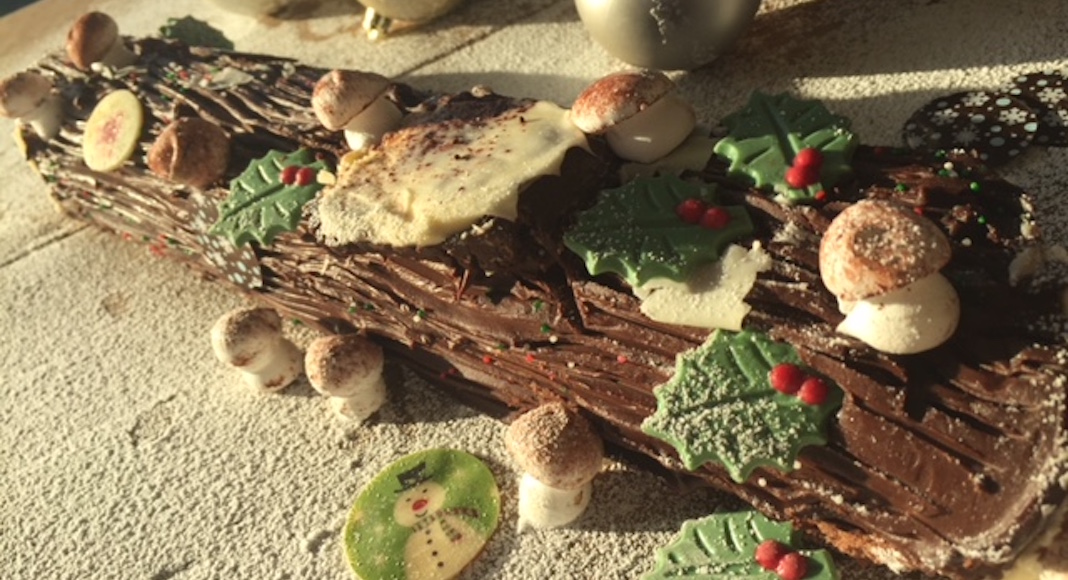 Ladurée
At Ladurée, they don't take bûche lightly. Every year, an original creation takes customers by surprise, and this year, they're going Scandinavian for Christmas. The signature bûche "The Tine," created by chef Sverre Saetre, is shaped like a box, with a base of rice pudding and cherry compote, topped with a rose mousse. They'll be available in store starting Dec. 19 (serves 6-8, $75). An individual-size bûche costs $11. They also have three classic bûches: pistachio (pistachio macaron biscuit, pistachio buttercream, crispy praline leaves), gluten-free rose and raspberry, the "Marie Antoinette" (macaron biscuit, rose mousseline cream, raspberry jam, lychees, raspberries), and "Fleur Noire" for the chocoholic (sacher biscuit, chocolate feuilletine, vanilla cream, Caribbean chocolate mousse, dark chocolate leaf). Individual-sized buches are $8.50, and larger ones (serves 6-8) are $68. Order yours at least 24 hours in advance. — 189 The Grove Dr, Los Angeles; 311 N Beverly Dr, Beverly Hills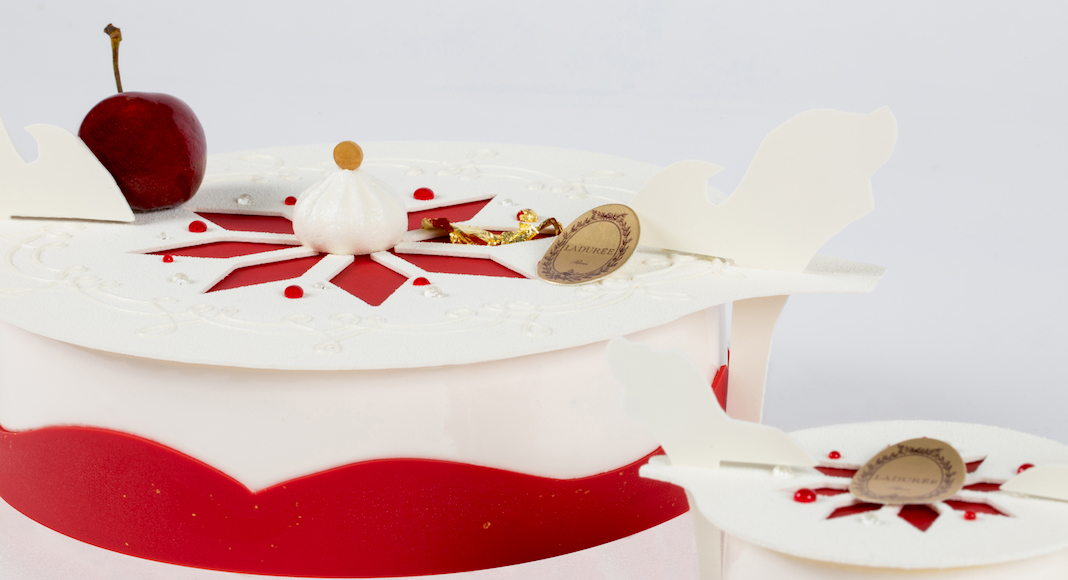 Michelina
You can delight your taste buds by stopping by the Original Farmer's Market. The pastry chef of Michelina, Jerôme Nebati, has created three types of bûches. Customers can savor the chocolate mousse and candied praline combination (with a possibility to add coffee), the traditional rolled bûche (chocolate or coffee flavors), each for 6-8 people, or even the majestic, golden hazelnut bûche for 10-12 people ($125). You can find these bûches in a single-serving ($9.50), or in a larger version for 6-8 people ($70). Order before Dec. 21st. — The Original Farmer's Market, 6333 W 3rd St, Los Angeles.
Pitchoun Bakery
Since its opening, Pitchoun Bakery has impressed its clientele, and this holiday season won't be an exception. The Souliès family has dreamt up six new artisanal bûches: Aspen (chocolate with a coconut cookie), Kauai (chocolate ganache, mango jam, and a pistachio base), North Pole (a madeleine base covered in vanilla mousse and candied apples), Santa (raspberry madeleines, strawberry mousse, and crème brûlée on top), Mont Blanc (shortbread base, chestnut cream and meringue, all topped with whipped cream), and the Tradition (genoise base with vanilla, chocolate, or Grand Marnier buttercream). You can buy the bûche in a large size (serves 6-8, $37), except the Tradition ($32), which is also available in mini-format. Orders ([email protected]) must be placed at least 48 hours in advance. — 545 South Olive St, Los Angeles; 8500 Beverly Blvd. #103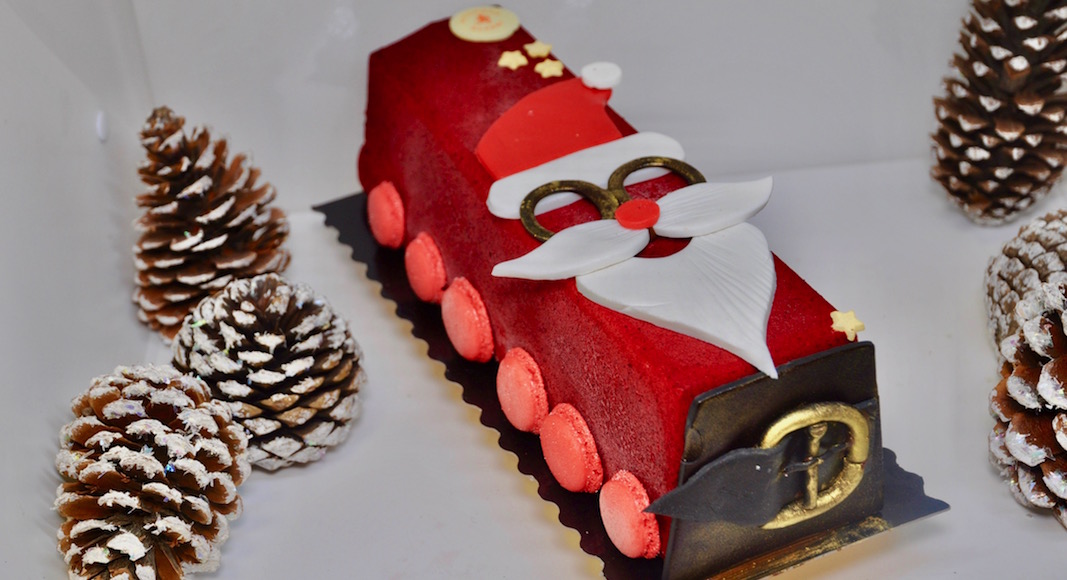 Frenchifornia
On the Pasadena side of the city, Frenchifornia infuses Christmas spirit into their pastries. From the first weekend in December, Guillaume Delcourt is putting on his apron to prepare two bûches (vanilla and chocolate, with raspberries available to add) with a genoise base and buttercream, and covered in chopped almonds. Sizes vary with each order, serving 5-10 people, as well as being available in an individual portion. Order at least 3 days in advance. Prices vary between $6.50 and $7.50 per serving. — 247 E Colorado Street, Pasadena.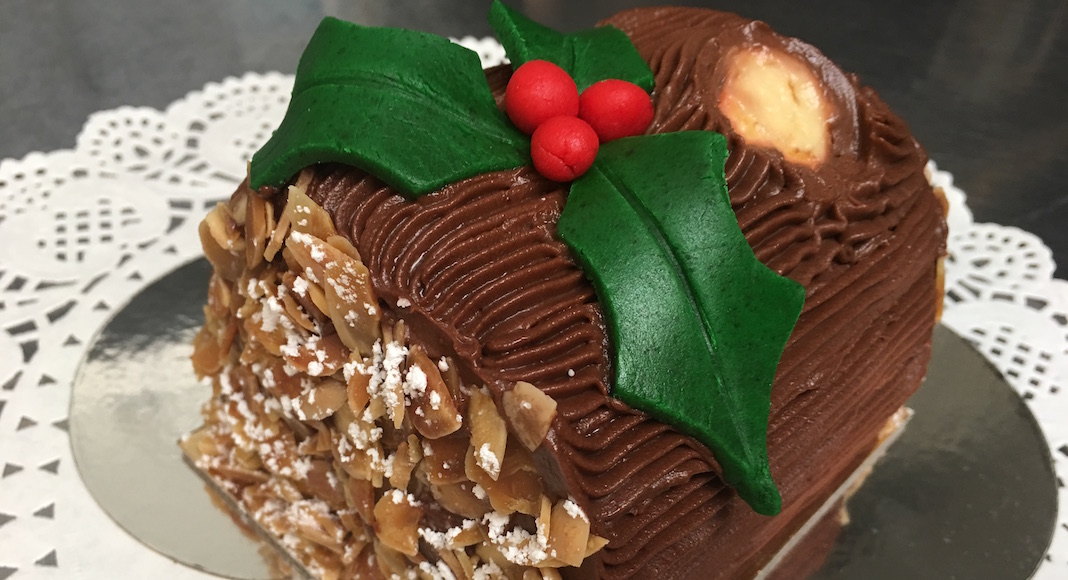 Lark Cake Shop
The design of the Lark Cake Shop bûche is the most surprising. Their legendary bûche stands above the rest because it resembles a tree branch, giving the cake a natural touch. This sponge cake with chocolate mousse is covered in a chocolate glaze to give a grooved effect. Sold in only one size (serves 15-20) this bûche costs $45. Order 24 hours in advance. — 3337 W Sunset Blvd, Silver Lake; 1355 N Hill Ave, Pasadena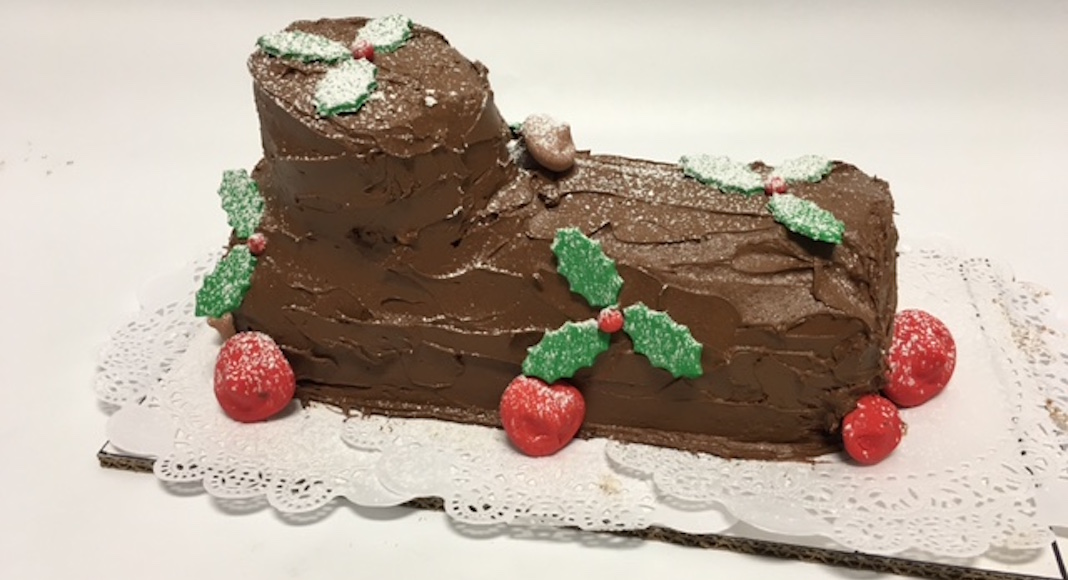 La Chouquette
At La Chouquette, Dan Darmon is busying himself with trying to impress his clients of Melrose Avenue. He is offering two bûches: one chocolate hazelnut (milk chocolate mousse with a ganache center topped with hazelnut, praline, vanilla cream, and soft hazelnut biscuit, all surrounded by a chocolate glaze) and one vanilla fruit (light vanilla mousse with a passionfruit center, a raspberry compote, and a tender genoise, all placed on a sweet tart). The bûches are available in a large size (serves 8-10, $70) and also in an individual size ($9). Available until the Dec. 23, order 48 hours in advance. — 7350 C Melrose Avenue, Los Angeles.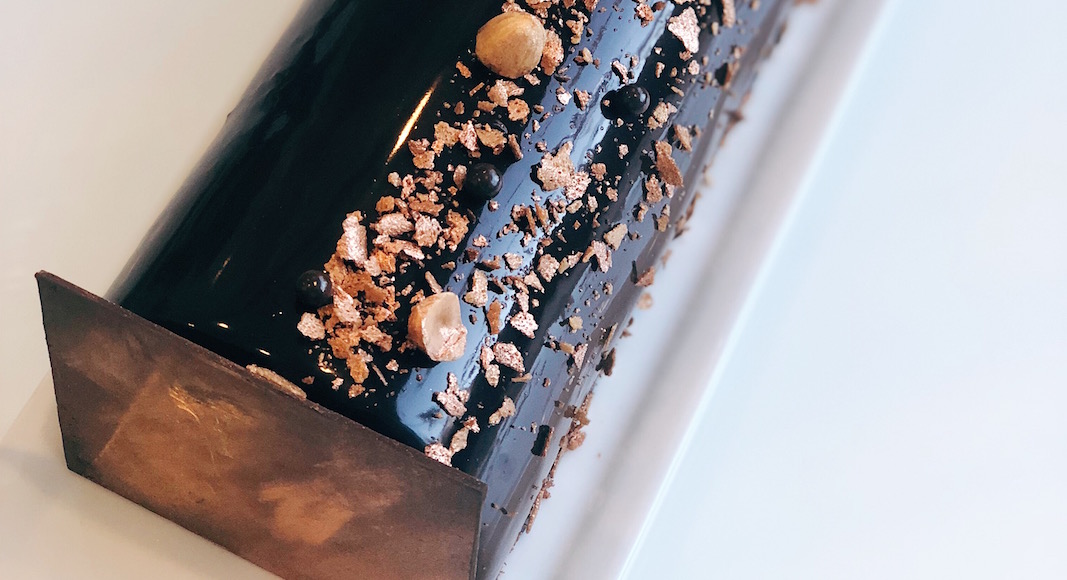 La Tropezienne
You can also find bûche de Nöel at La Tropézienne Bakery, which has three locations in LA (Downtown, La Brea, and West Hollywood). Chef Jonathan Breter is offering two bûches for the holidays: the Red and White (vanilla genoise, white chocolate mousse, rosemary-infused apricot compote, all covered in a red glaze) and a chocolate Guanaja bûche (gluten-free chocolate cake, chocolate mousse and freshly candied hazelnuts). They are available in individual size ($8) or in family size (serves 12, $72). The bakery is accepting orders up to a week before Christmas. — 757 S Main St, Los Angeles; 211 South La Brea Ave, Los Angeles; 8703 Santa Monica Blvd, West Hollywood