Sharon Hu, the mother of a 4-year-old boy, walked from stand to stand on Saturday at the French Morning Bilingual Fair. She was curious about the different immersion programs offered in and around San Francisco.
"I'm looking for a Mandarin program for my son, who will go to school in 2019. This fair really allows you to meet multiple schools at once, and to gather a lot of information in a short time," she explained. "I am also very interested in other offers related to bilingualism, like the books and toys available here today."
This year, diversity is more important than ever, both in terms of the languages represented — from French to Korean, not to mention Chinese, Spanish or Italian — and the services offered such as schools, nurseries, travel agencies, airlines, magazine and book subscriptions, multilingual toys, and audiovisual learning tools.
The terrible air quality in the Bay Area that discouraged some people from coming to the Bilingual Fair did not dampen the enthusiasm of the thirty exhibitors and 200 participants who decided to brave the environment for this second edition, organized at the Meridien Hotel in San Francisco.
"There were fewer people than last year, but it allowed us to have richer conversations, both with our colleagues and with parents who came to learn about the different programs," remarked Andrew Brown, Director of Admissions at French American International School.
The conferences, held in the room next to the exhibition hall, also easily found their audience. Organized around the benefits of bilingualism for cognitive development and on the contribution of travel to an international curriculum, the talks attracted a wide public and proved highly informative.
"Research on bilingualism is particularly interesting," explained Agnès Hogan, Director of Admissions and Communication at the Lycée Français de San Francisco. "Bilingual schools provide a lot of data and research, like the information presented today on cognitive development, that validates our teaching."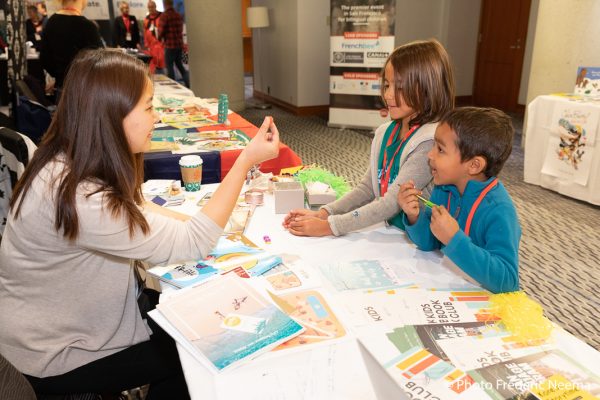 At the Lunii stand, where kids were enthralled by their audio storyteller in seven languages, young and old alike were listening to this new screenless toy developed by a French start-up in New York. At the Korean Center booth, parents discussed the art classes offered to 5- to 10-year-olds in Korean after school.
The exchanges with parents and fellow educators were also positive for Coralie Leclerc Sobhani, who's just opened the French-language nursery Au Beau Séjour in Oakland. "I was able to meet with the Francophone Charter School in Oakland, with whom we can collaborate so as to better align our programs in the future. I also met parents who are already looking into enrolling their children in 2020."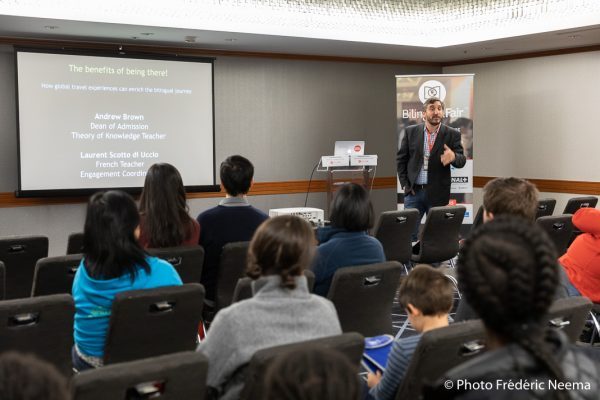 The Saratoga French Cultural Preschool was similarly optimistic, appreciating the connections forged during the day: "The lower amount of attendance allowed exhibitors time to talk to each other, which isn't usually possible," explained Nadia Jorio, the school's founder. "Canal+ offered us bags for the school, and we may enter into a partnership; we bought two Lunii My Fabulous Storytellers for our classes, and we were able to meet with the French consulate representatives."
L'intérêt pour le bilinguisme a aussi été confirmé par la participation au concours d'essais de nombreux collégiens et lycéens invités à disserter sur le thème "En quoi le fait d'être bilingue change votre vie?" Emmmanuel Lebrun-Damiens, consul général de France à San Francisco, a remis les prix aux deux lauréates du concours – Hanna Partovi pour le collège et Marguerite Guilbert pour le lycée, toutes deux élèves au Lycée Français de San Francisco. Bravo à elles!
Interest in bilingualism across generations was confirmed by the high participation in the essay competition by middle and high school students, who were invited to write on the theme "How does being bilingual affect your life?" Emmmanuel Lebrun-Damiens, Consul General of France in San Francisco, presented the prizes to the two winners of the competition: Hanna Partovi for the middle school competition, and Marguerite Guilbert for the high school competition, both students at the Lycée Français de San Francisco. Congratulations to both of them!