Not in France to celebrate Bastille Day? You're not alone, and that won't stop you from celebrating in New York. French people and lovers of French culture have plenty of options for celebrating "Bastille Day" (called le quatorze juillet or la fête nationale in French). And since Frenchies love to party, the events are spread over several days. Here's an overview of all the Bastille Day events in NYC in 2023.
Monday, July 10th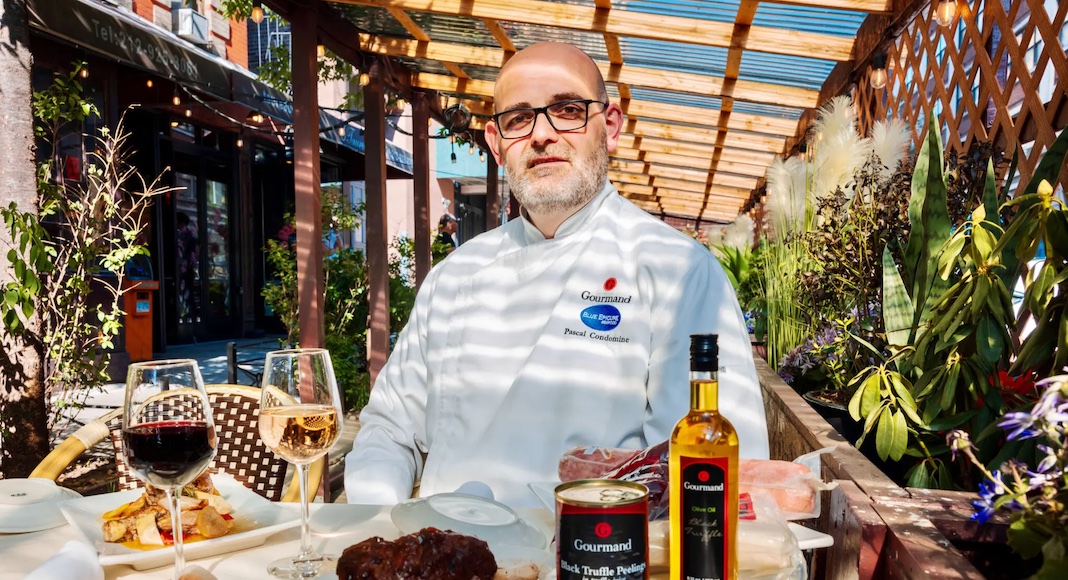 The festivities begin with French Restaurant Week. For the 12th edition, some fifteen restaurants (four times as many as last year, still in post-Covid mode) are taking part in this week-long feast. La Sirène SoHo and La Sirène Upper West Side are back, joined by Le Gratin, Bar Boulud, Felix, Bistro Léo (Sixty Hôtel), Fig & Olive, Gaby Brasserie Française (Sofitel), La Bonne Soupe, Le Rivage, Chez Francis, OCabanon, Perrine (au Pierre), Orsay, and Amélie Wine Bar. Inspired by New York restaurant week, the event will feature fixed-price menus showcasing the flavors of France, from foie gras au torchon to duck confit or braised rabbit, to profiteroles and chocolate fondant. The partnership with OpenTable makes it easy to book online throughout the week.
French Restaurant Week, from Monday, July 10, through Sunday, July 16.
Wednesday, July 12
The Paris American Club is once again offering a sunset sailboat cruise and wine tasting for Bastille Day. Board at North Cove Marina (Brookfield Place) for a musical start to the evening.
Pre-Bastille Cruise, North Cove Marina, Brookfield Place at 7pm. Reservations are $120$ for club members, and between $135 and $155 for non-members. Tickets here.
Thursday, July 13
Bastille Day at Rumsey Playfield, in the heart of Central Park, has become a fixture of Manhattan's July calendar. The evening of French culture, organized by the French Consulate, is sure to be a lively affair, with performances by Bénabar, Franco-Congolese rapper Passi, Adèle Castillon, the French and American breakdance teams defending their colors at the 2024 Olympic Games in Paris, and DJs Joachim Garraud – a regular at New York's July 14th – and Marie Berson, a flautist DJ, in an electro duo. All introduced by the Marseillaise and the Star-Spangled Banner, of course. The Comité des Associations françaises et de langue française de New York (CAFUSA), a sponsor of the evening, will be raffling off prizes. To register for the raffle, click here.
Bastille Day at Central Park, Thursday, July 13, Rumsey Playfield, from 5pm to 10pm.
Friday, July 14th
French Film
The Bronx Library Center invites you to immerse yourself in the pomp and grandeur of the Court of Versailles with Sophia Coppola's film "Marie-Antoinette." This cult favorite biopic, starring Kirsten Dunst and Jason Schwartzman, was released to critical acclaim in France in 2006.
Bronx Library Center, 310 E Kingsbridge Rd, Bronx, Friday, July 14, from 4pm to 6pm. More details here.
On the Hudson
Bastille Day is also celebrated on the water, with a yacht party with French DJ Myd, in partnership with Villa Albertine. A dream setting on the Hudson, passing under the Brooklyn Bridge and in front of the Statue of Liberty, aboard one of the Circle Line yachts. Sorry to all minors: you have to be at least 21 to climb aboard and take part in this festive evening.
Bastille Day Yacht Party, The Circle Line, 83 North River Piers West 43rd St and 12th Ave, Friday, July 14, from 7pm to 12am.
French Music
Singer Lili Roquelin offers a different setting for Bastille Day: the skyline as seen from Queens. The voice of this French artist, accompanied by her piano and ukulele, will resonate in Gantry Plaza State Park. The hour-long performance is co-hosted by the New York State Office of Parks.
Lili Roquelin will perform under Gantry Towers on July 14 from 7pm. (It will be moved to Saturday, July 15, in case of rain.)
Stand-Up
Paul Taylor will be evoking our Bastille Day on stage at the Broadway Comedy Club. The British comedian will be presenting his latest show, "Bisoubye x," with jokes in French and English. He looks forward to seeing you on July 14 (and July 16), as he told French Morning on Instagram.
Rosé All Day
Claudette, the French restaurant on lower Fifth Ave that recently revamped its menu and decor to reflect its new coastal-inspired offerings, will be celebrating Bastille Day on Friday, July 14, with $9 glasses of rosé all day. They will also be offering a special "Dark and Storm the Bastille" cocktail for $10.
Saturday, July 15th
Happy birthday Coucou French Classes!
A double celebration for Coucou French Classes: the school will not only be celebrating la fête nationale, but also its 10 years of existence in New York. Students, friends, and all Francophiles are invited to a block party in celebration. For four hours, teachers from the school will put on a show – most of them singers, actors, or dancers – and there'll be music too, with a gypsy jazz concert. You'll also be able to take advantage of gourmet stalls, with food from Murray's Cheese, Maman, and Michel & Augustin.
Coucou French Classes, NY Block Party, 253 Center Street, between 1pm and 5pm.
Pétanque in Brooklyn
Pétanque and Ricard have come to Brooklyn. Like last year, all generations are invited to throw la boule outside Winemak'Her Bar.
Winemak'Her Bar, 492 5th Avenue à Brooklyn, from 11am to 8pm. This event is free.
To the end of the night
What would Bastille Day be without Le Bal Français? Join us at Brooklyn Monarch, an East Williamsburg warehouse with a large outdoor patio. Two DJs will be playing the best French hits until very late, including Louise Attaque, Aya Nakamura, Stromae, 13'Organisé, Daft Punk, Indochine, and France Gall.
Le Bal Français, at Brooklyn Monarch, 23 Meadow St, Brooklyn, July 15 from 10pm. Tickets here ($22.66 per person).
Sunday, July 16th
Bastille Day at FIAF
It's certainly the biggest French celebration in New York, and one that New Yorkers are particularly fond of: Bastille Day, organized by FIAF in the streets of Midtown. Like last year, Madison Avenue between 59th and 63rd Streets, as well as 60th Street between Madison and Fifth Avenues, will be closed to cars to let you enjoy the festivities. The program includes concerts by Bobygroove, one half of the Cosmic Gardens duo, excerpts from "Moulin Rouge" on Broadway, family activities, a film screening and, of course, plenty of food and drink.
Bastille Day FIAF on Madison Avenue, July 16 from noon to 5pm. Info and reservations here.
Pétanque in the countryside
And for those who fancy a breath of fresh air north of New York, a pétanque tournament is being organized at All One One All Farm, owned by Alix Daguin (daughter of Ariane Daguin). All you need to do is form a team of three people – family or friends – register here, and come with your boules (if you forget, extra boules will be available, but on a first-come, first-served basis). Beginners can also take part in the tournament, and the rules will be explained before the competition begins. And if you don't fancy participating, you can always come as a spectator and cheer on the teams. And as the Daguins know how to celebrate, there will of course be plenty of local produce to sample.
Bastille Day Pétanque Tournament, All One One All Farm, 221 Craigville Road, Goshen, July 16 from 11:30am to 4:30pm.