Parents have been making the effort to launch bilingual programs in New York public schools. Now it's time for the Department of Education (DoE) to do its part.
This was the message conveyed by several speakers at the New York Bilingual Fair, which was held on Saturday, November 23 at Fordham University. Once again this year, this event, organized by French Morning, brought together hundreds of parents, schools and other multilingual education actors and activists, including Gale Brewer, President of the Manhattan borough, who came to close the day's events with the Italian consul in New York.
The elected representative took the opportunity to criticize the absence of a bilingual French-English program in Queens where "150 languages are spoken." The efforts of parents in this multicultural borough have so far met with the reluctance of the school district. "This stupid country is very monolingual. In Europe I have cousins that all speak three, four languages. It's just because people are comfortable and they need to understand the importance for being ambassadors for New York and at the same time for their own job prospects," said Brewer. "The Department of Education is frustrating on many levels, this is just one of them, but we're going to keep pushing. We need more funding for it, you can't do language without funding for good teachers and support."
Brewer was not the only one to accuse the City of not being up to the challenge. At the first of the conferences held during the day, multilingual city councillor Mark Levine, who represents the multicultural areas of Hamilton Heights, Morningside Heights, West Harlem and part of Washington Heights, noted that "25% of primary school students in Utah are enrolled in a bilingual program, compared to only 4% in New York. We can do better." (In the 2000s, Utah embarked on a very ambitious policy of developing bilingual education to increase its economic appeal).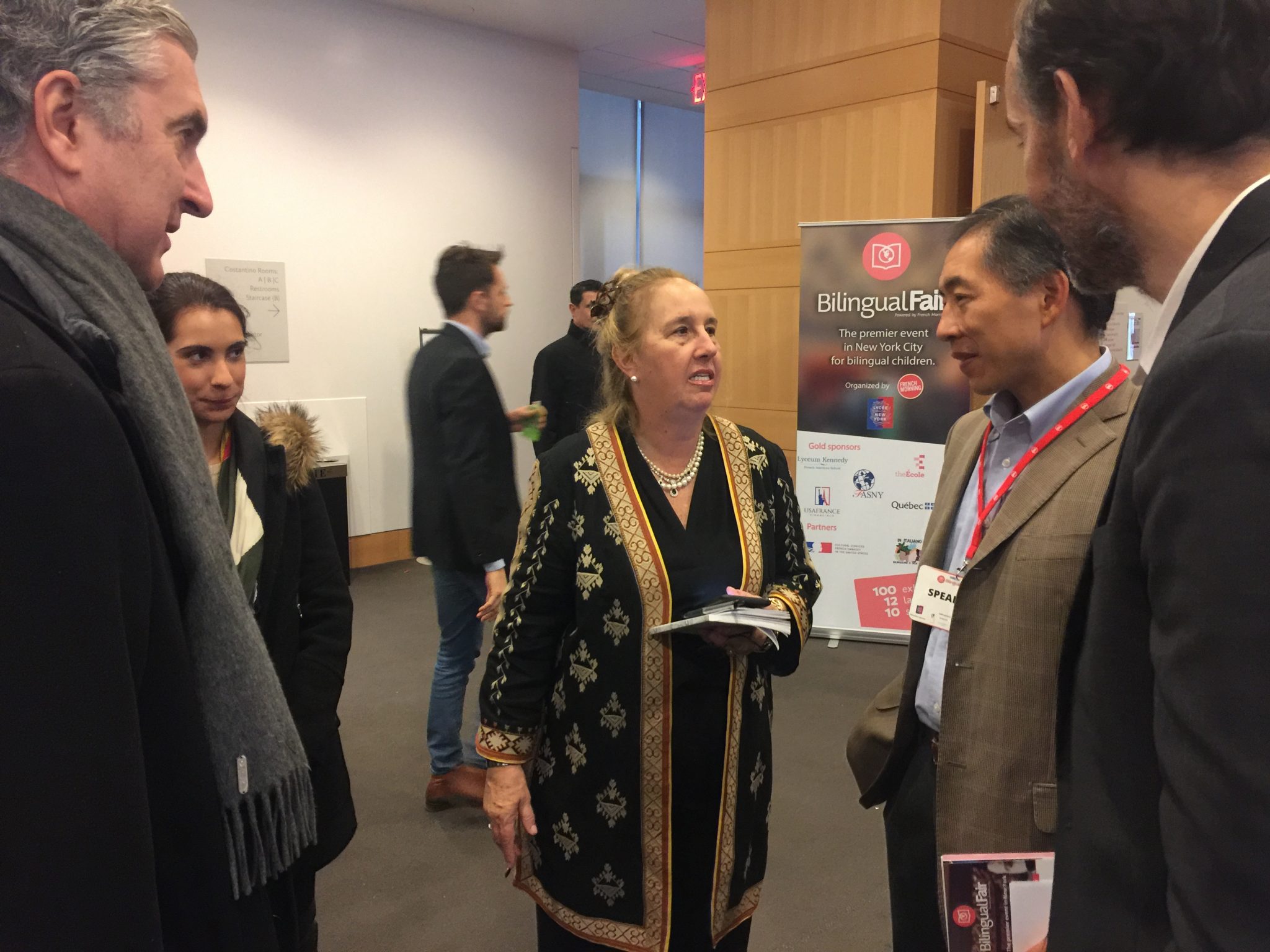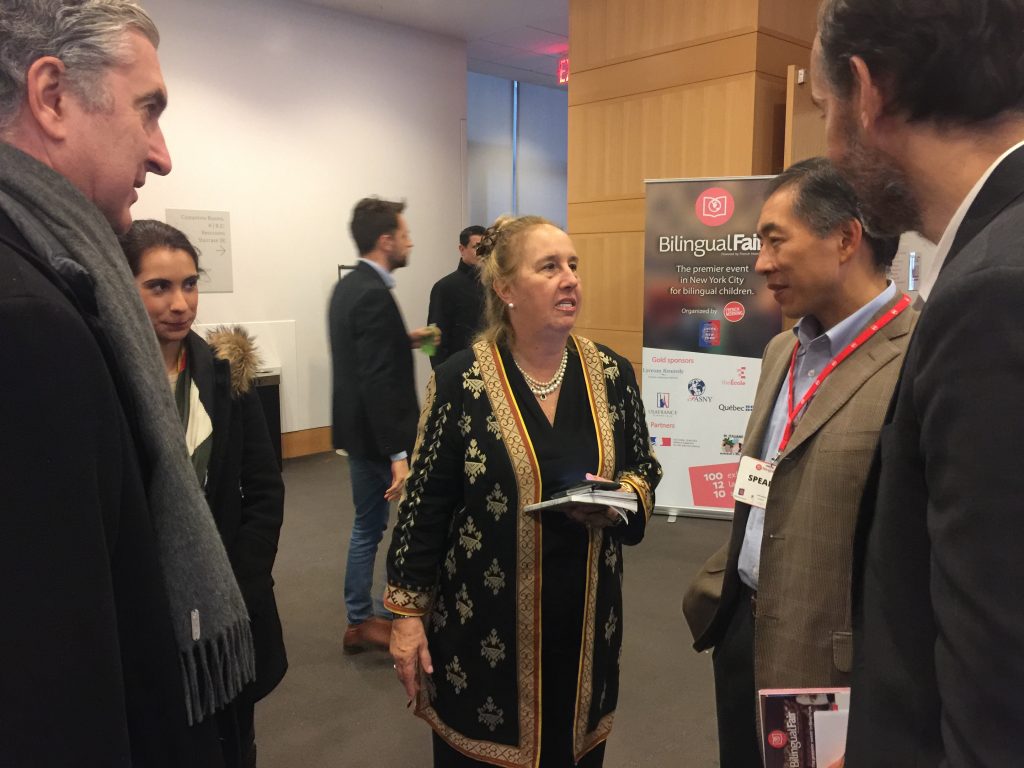 The elected official, who speaks fluent Hebrew and Spanish, among other languages, speaks of the "failure of our public school system" and questions perspectives of leadership and government bodies. "When I'm talking to leadership at the Department of Education, their frame is only, 'how do I help immigrant kids to learn English.' The notion that you would have a dual language program where at least half the kids weren't themselves acquiring english, it doesn't compute," he says. "The current School Chancellor [Richard Carranza], who himself is bilingual, a totally fluent Spanish speaker who really values bilingualism," he says  "There's a gap between his rhetorical support for multilingualism and the kind of infrastructure we would need to really touch 1.1 million [public school] kids."
Historically, in New York as in the rest of the United States, bilingual education has been based on the "transitional" model, the objective of which was to allow non-native speakers to gradually switch to English rather than to continue speaking in their native language. In recent years, bilingual immersion programs have developed in public schools under the guidance of parents concerned about preserving their language and culture. In these programs, classes are composed of native and non-native English speakers who teach traditional courses in both languages.
In February, New York Democrat Mayor Bill de Blasio announced the launch of 47 additional bilingual programs at the beginning of the 2019-2020 school year, bringing the total number of these programs to 103, according to City Hall. Among the newcomers are programs in Creole, Hebrew, Japanese and French.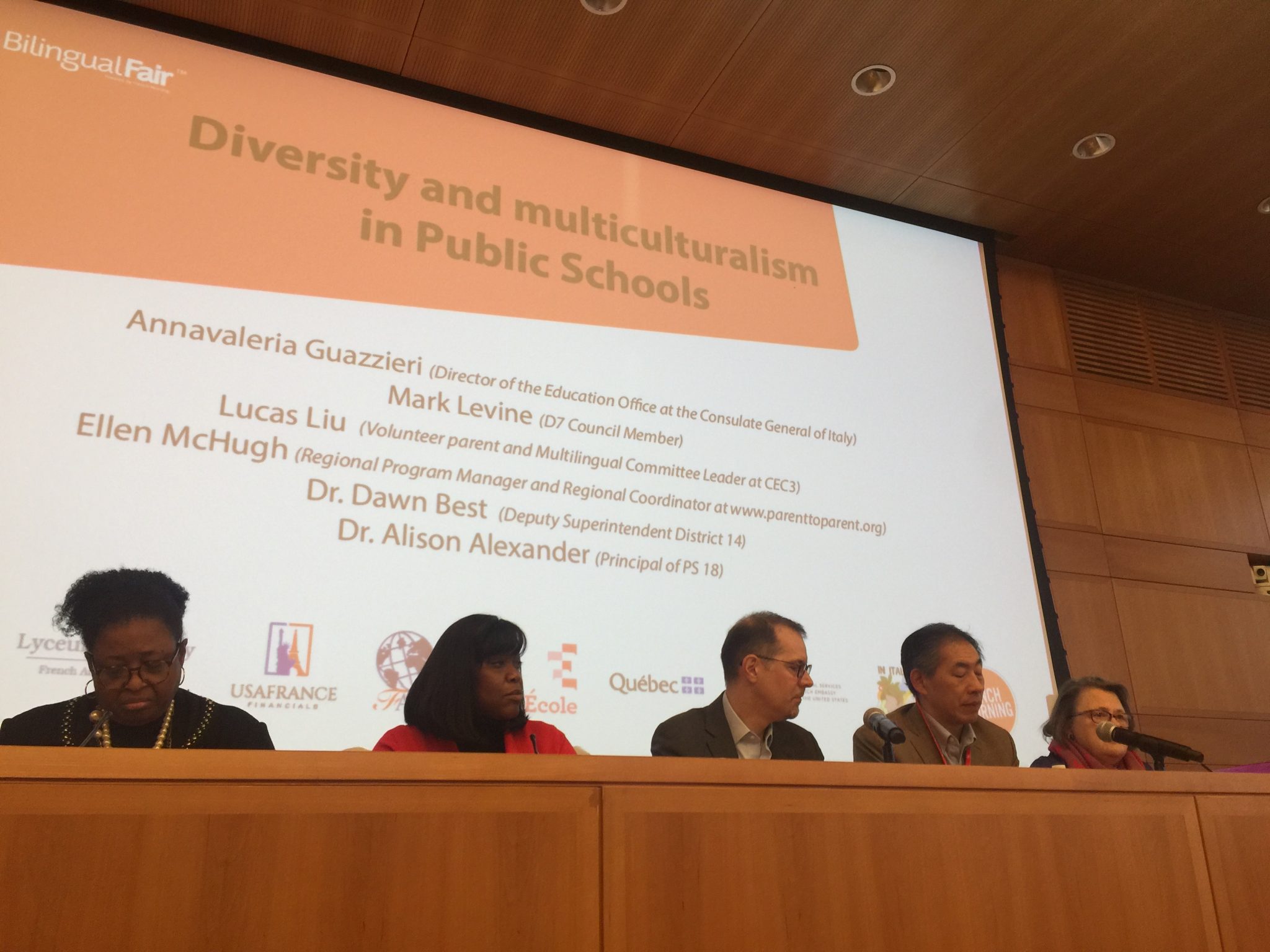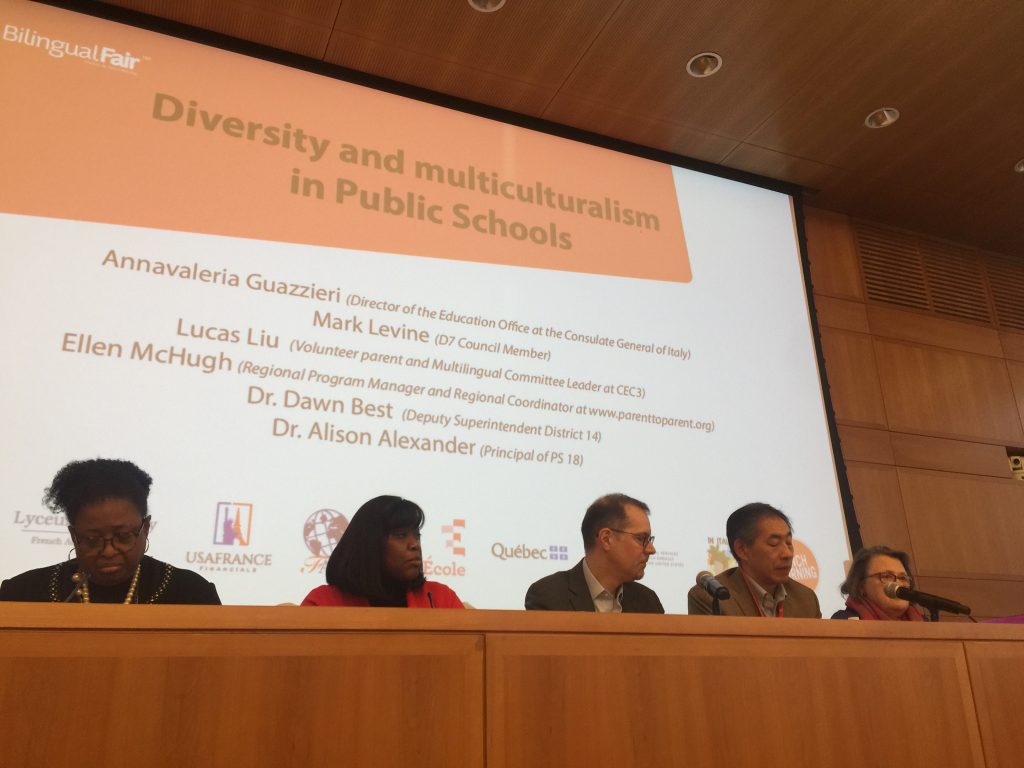 For Lucas Liu, a parent who sits on the Community Education Council for School District 3 (Upper West Side, Morning Side Heights, and Harlem), the City and State of New York should take action to facilitate the certification of bilingual teachers — a long and costly process — and provide adequate educational resources to schools. Additionally, DoE should do more to promote these programs, he said. "DoE should keep in mind that bilingual education is for everyone, not just immigrants who need to make the transition to English," he concluded.
Schools are also asking for help: many programs in New York and across the country lack qualified teachers. "The priority must be to hire teachers," said Tina Simon, a French teacher at PS 110, a public school in Greenpoint, Brooklyn that has a French-English immersion program. "There are many Francophones in New York City but the Department of Education needs to sponsor visas and work permits for Francophones if New York really wants to be an actor in this bilingual revolution. There are more and more teachers being trained, but that's not enough to keep up with the pace of program openings."
For Levine, the elected official from northern Manhattan, the solution will once again come from parents. "We need a movement of parents who are demanding that there be systemic support for this. We need parents to say, 'we don't want another generation of kids to lose this opportunity [for bilingualism].'"