Whether they have been involved in the fight for one year or twenty, all of them have a strong commitment to bilingualism. Six advocates for bilingual education in New York were recognized on Saturday, November 23, at the Bilingual Fair, organized by French Morning at Fordham University.
Before awarding these prizes, French Morning first called for nominations from Bilingual Fair participants and others involved in bilingual education. From these approximately 80 nominations, we chose five finalists for each category (only three for students). A jury of professionals selected the winners in each category. The jury was composed of: Andrew Clark, Head of the Department of Modern Languages and Literatures at Fordham University; Bill Rivers, Executive Director of the Joint National Committee for Languages in Washington DC; Annavaleria Guazzieri, Head of the Education Office of the Italian Consulate General in New York; Joy Peyton, Researcher at the Center for Applied Linguistics; Kate Menken, Professor of Linguistics, Queens College, CUNY.
The winners of this first edition of the bilingual fair awards are as follows.
1. Leader Award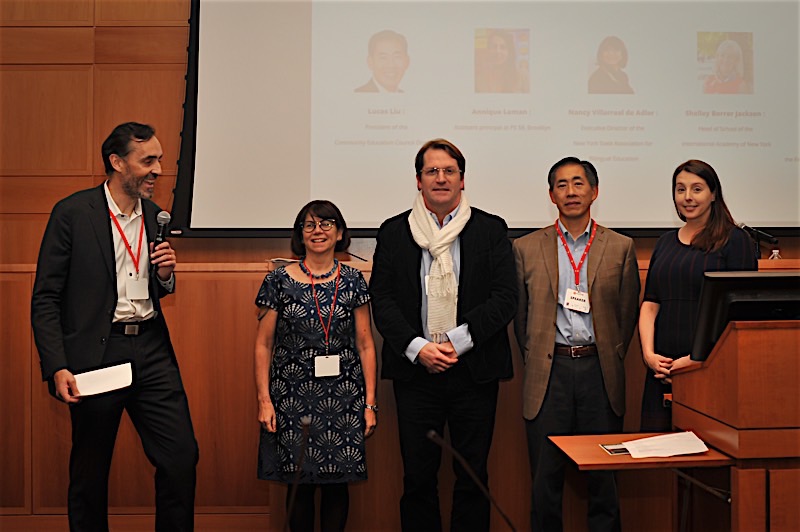 Fabrice Jaumont, Education Attaché at the Cultural Services of the French Embassy in the United States and the godfather of bilingual French-English programs. He received the Leader Award, given to an activist or leader of an organisation who has involved actors and created bridges between different cultures.
The other four finalists for the Leader Award: Shelley Borror Jackson, Director of the School of the International Academy of New York; Nancy Villareal de Adler, Executive Director of the New York State Association for Bilingual Education; Annique Leman, Principal Deputy at PS 58, Brooklyn; Lucas Liu, President of the Community Education Council District 3.
2. Trailblazer Award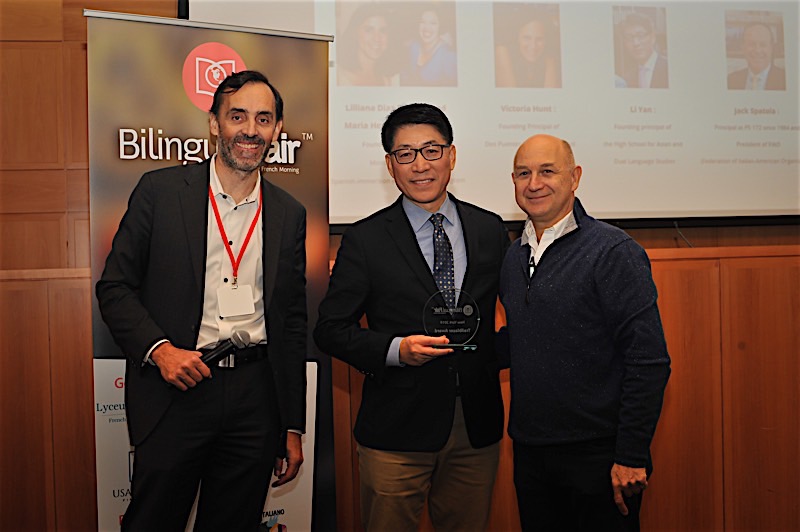 Li Yan, Director and Founder of the High School for Asian and Dual Language Studies, received the Trailblazer Award, for founders of bilingual or multilingual programs.
The four finalists for the Trailblazer Award: Lilliana Diaz Pedrosa and Maria Herminia Graterol, co-founders of Hola NYC, a Montessori-based, Spanish-immersion early education program; Victoria Hunt, founder and principal of Dos Puentes Elementary School; Jack Spatola, principal of PS 172 since 1984 and president of the Federation of Italian-American Organizations (FAIO); Madelia Bergeroo, founder of La Caravane FrancoFun.
3. Innovation Award
Mino Lora, director and co-founder of the People's Theatre Project, received the Innovation Award, for being the instigator of a new approach on bilingual content and teaching models.
The other finalists in the category: Maha Afifi, second grade Arabic teacher at PS/IS 30; Blake Ramsey, "French Dual Language Coordinator and Instructional Coach" at the New York City Department of Education; Elizabeth Czastkiewicz, Polish teacher at PS 34 (Greenpoint); Kayo Kudo, Japanese teacher at PS 147.
4. Student Award
Mariam Moustafa, a graduate of Fordham and a trilingual student (French, English and Arabic) with a Master's degree in translation at NYU. She received the Student Award for being active in the promotion of bilingual education.
The other two finalists in the category: Ibrahima Sow, one of the first two students to receive the New York State Seal of Biliteracy in French in 2017; Neige Auvray, Boerum Hill School, who will be the first student from a New York public school to receive the French bilingual diploma of the International Baccalaureate.
5. Parent Award
Maria Jaya, parent and co-director of Cypress Hill School, one of the oldest bilingual Spanish-English schools received the Parent Award, for being an actively engaged parent in promoting bilingualism.
The other finalists: Jont Enroth, Parent Liaison at PS 20 in Brooklyn; Marine Putman, parent and speech therapist at Boerum Hill School for International Studies; Stefania Puxeddu, co-founder of In Italiano, an association that promotes Italian in public schools in New York; Maria Kot, parent and bilingual education activist who helped create two Russian programs at PS 200 and IS 228.
6. Patron Award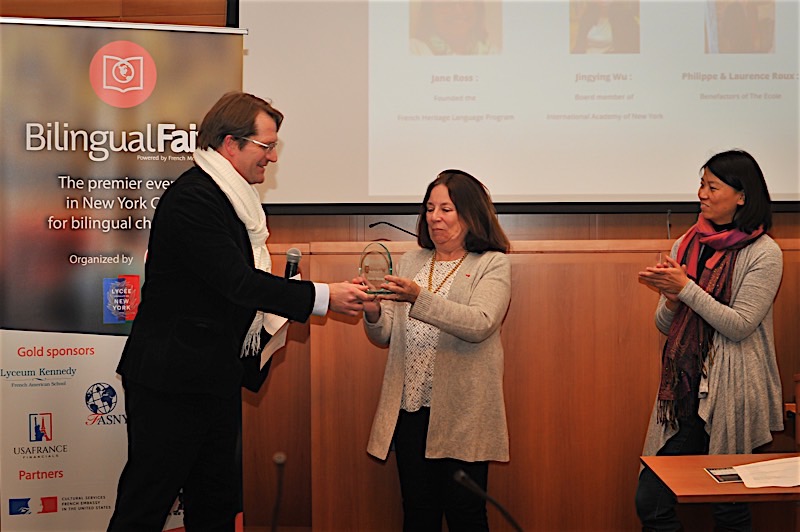 Jane Ross, founder of the French Heritage Language Program, received the Patron Award, given to a business or philanthropic figure who supports bilingual and multilingual education.
The other four finalists: Jingying Wu, member of the board of the International Academy of New York; Philippe and Laurence Roux, benefactors of The Ecole; Nancy Carin, director of the Business Outreach Center Network; Carine Allaf, Advisor at the Qatar Foundation International.