As delicious as it is beautiful, there is no pastry that compares to the French macaron.
Many places sell this delicate French pastry, but not all macarons are created equal. We know this, so after some thorough research, we tried macarons from 15 different bakeries across NYC with reputations for serving good macarons, from Brooklyn to the Upper West Side, in search of the perfect one — with only 9 making the cut as being worth your time.
What constitutes a perfect macaron, you ask? There are a few things. An exceptional macaron should have a crisp, uncracked top, uncracked feet (the sides of the macaron with the little pockets of air) and an even cookie-filling ratio. Any reputable bakery's macarons will meet those requirements, but there's one quality that makes all the difference: a balance between the crunch of the exterior and the soft chewiness of the interior. The crunch should be distinct enough to feel without being loud enough to hear. This balance is incredibly difficult to achieve, but proper execution is the thing that separates the good from the great. Here are the 9 places serving the best macarons in NYC:
The Best Macarons in NYC: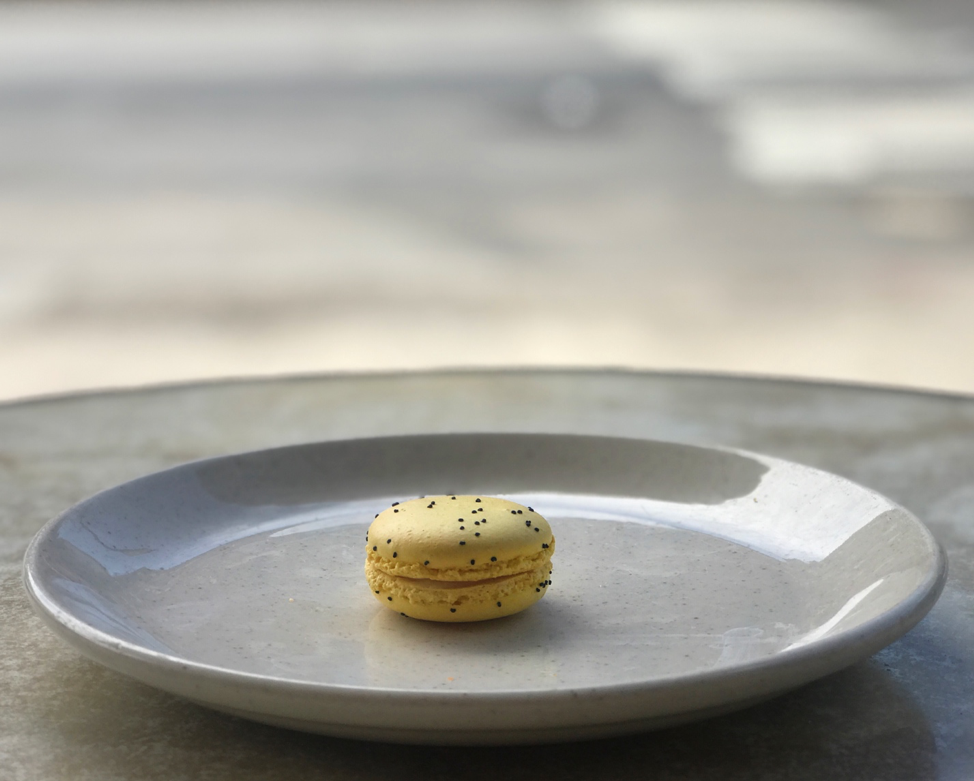 This little French bakery welcomes you with a decorative wooden heart with the word "Ouvert" painted on it. So far, so French. The flavors offered were pretty traditional — lemon poppy seed, pistachio, chocolate, strawberry, and vanilla. Despite its lack of unique flavors, this place is one of the best on our list. If you're looking for traditional, truly impeccable French macarons, stop by this authentic café.
14 Delancey St., (212) 274-9179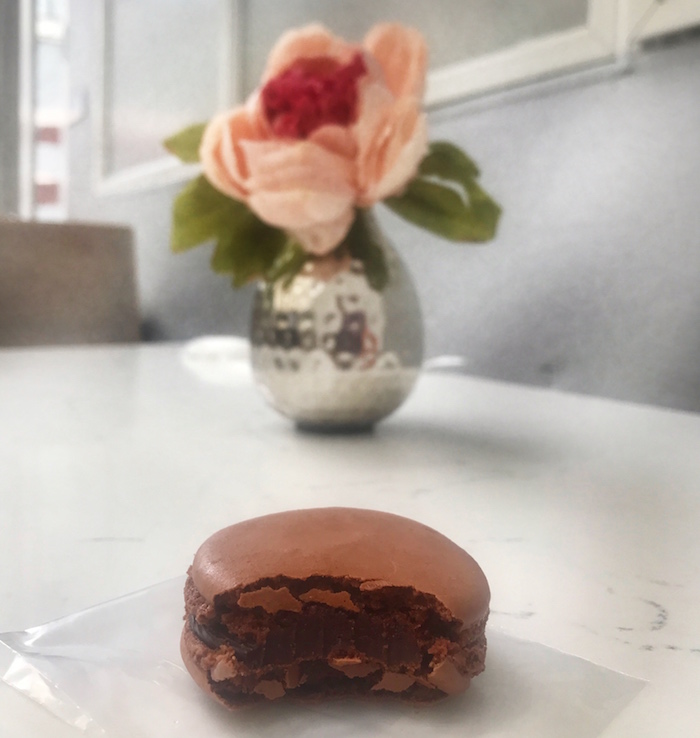 As founders of the cronut, you may only know this bakery for the innovative pastry, but they also offer a wide selection of macarons. Our eyes darted toward the almost-sold-out chocolate macarons, and like many other customers, we made the right choice. The center was dense and chocolatey, in a perfect contrast to its light and crisp exterior.
189 Spring St., (212) 219-2773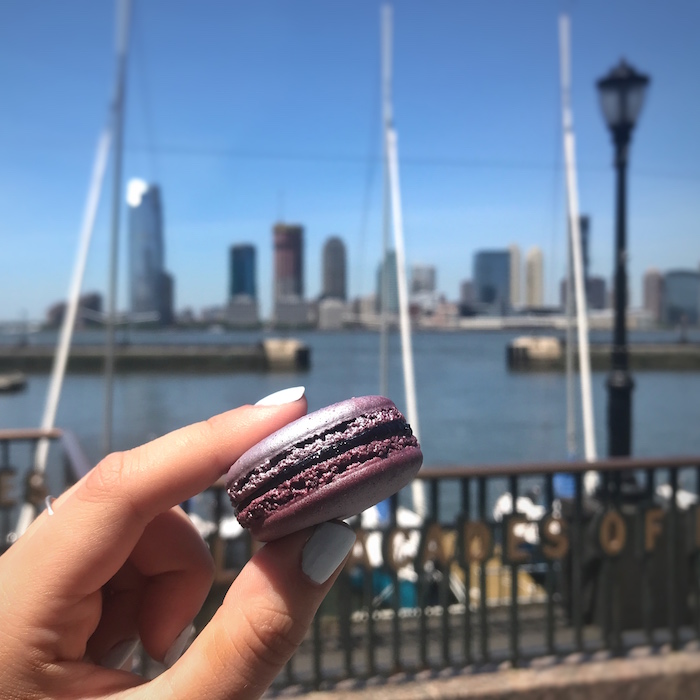 Le District is like the French version of Eataly — and it's as incredible as it sounds. A huge store on the waterfront overlooking the harbor, you can find French snacks, desserts, cheeses, wine and more. We made a beeline to the floating island bar of macarons that offered a mixture of traditional and exotic flavors, our favorite being Violet Cassis.
Brookfield Place, 225 Liberty St., (212) 981-8588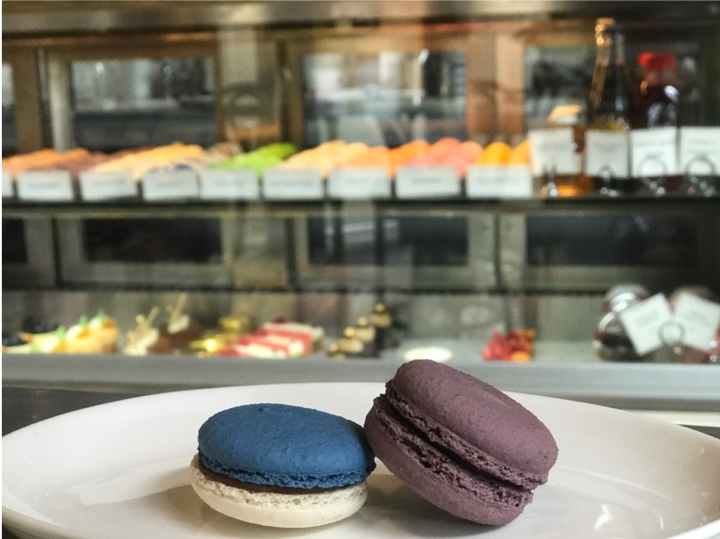 At Lafayette, you can sit in the dining area for a traditional French meal, or enjoy coffee and pastries in the café section of the restaurant. Because we have little self-control, we tried two macarons here — the Lafayette, a blue and white macaron with a unique bergamot and chocolate filling, as well as a tangy blackberry — both equally exquisite.
380 Lafayette St., (212) 533-3000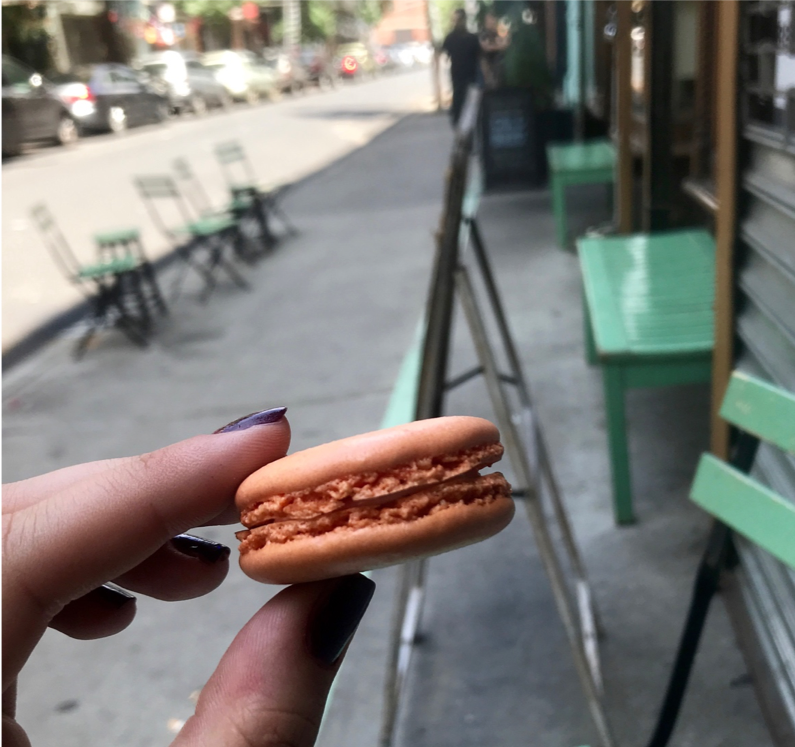 Even newbies to the macaron game know the infamous Ladurée — the French teahouse and international macaron powerhouse. If you want to introduce your friend to the French delicacy, this should be your first stop. They offer a blend of classic and unique flavors (we tried peach iced tea), all masterfully baked. We were hoping to make a list of cute mom-and-pop-shops to rival Laudurée, yet here we are.
398 W Broadway, (646) 392-7868; 864 Madison Ave, (646) 558-3157.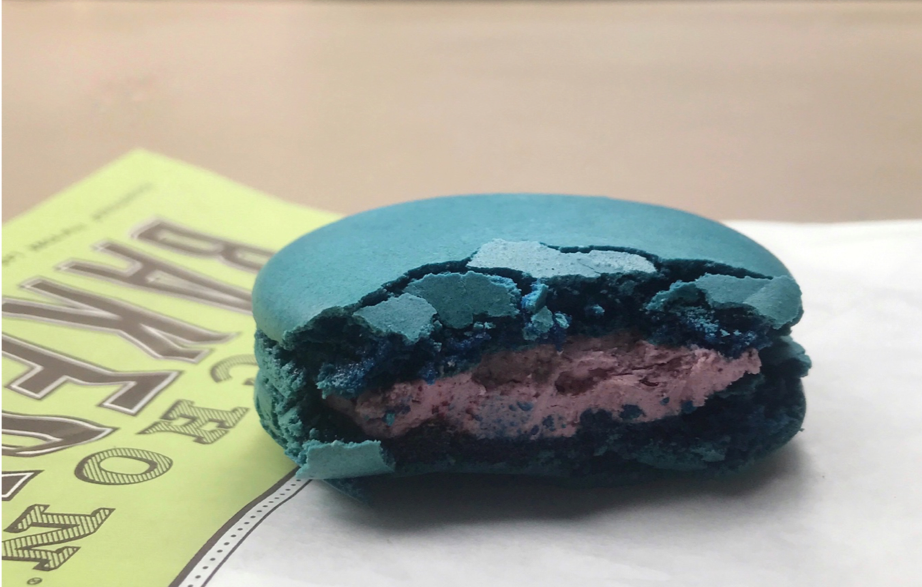 As one of our favorites on this list, the macarons at Bouchon Bakery really deliver. They're bigger than your average macaron, but you'll probably end up devouring it like we did. The blueberry flavor tastes as good as it looks, the cookie's subtle tang being complemented by the sweet, blueberry-cream filling. Located right in Rockefeller Center, this bakery gets busy, but the line is well worth the wait.
1 Rockefeller Plaza, (212) 782-3890; 10 Columbus Circle, (212) 823-9366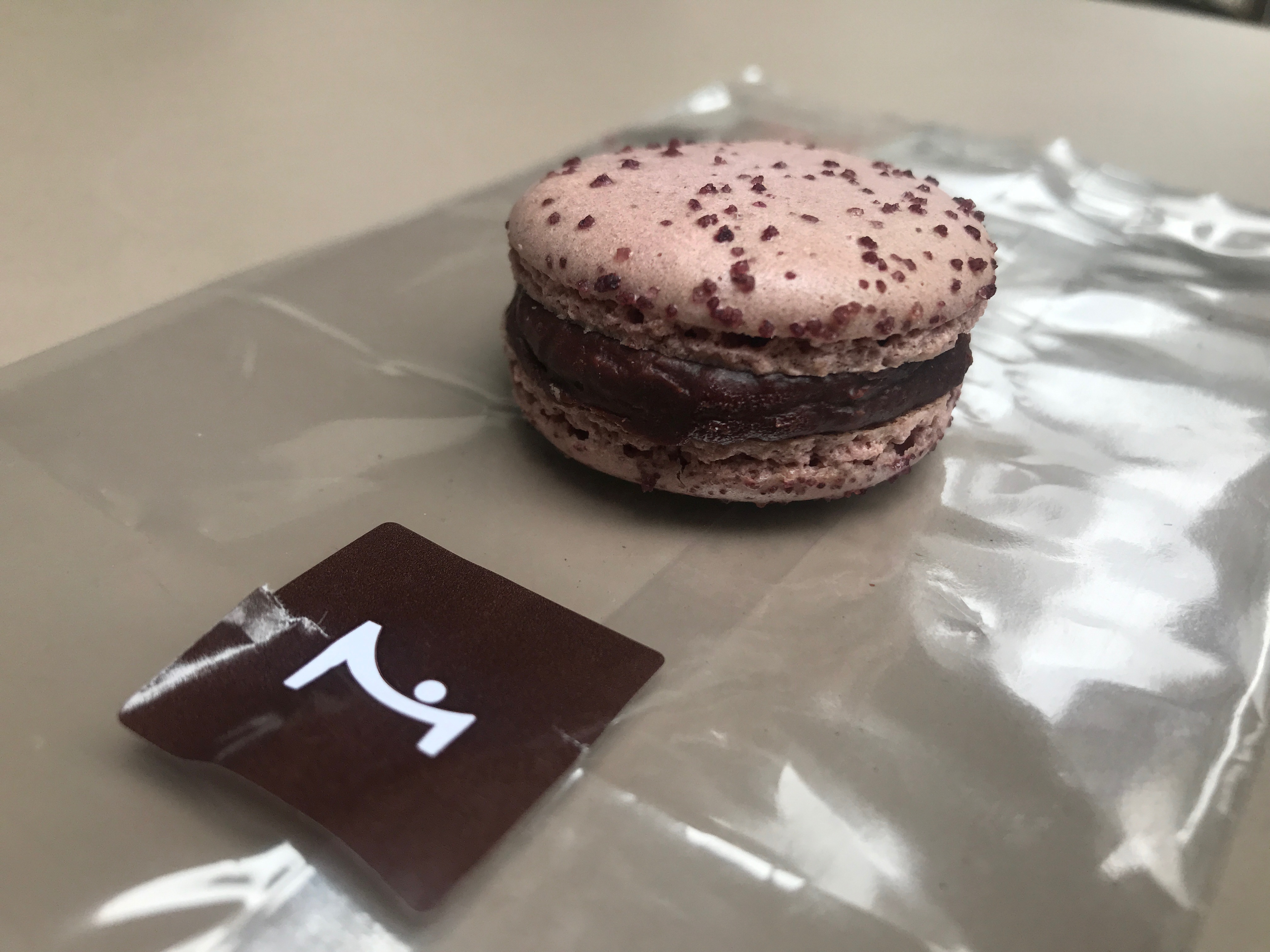 Just a few minutes walk from Bouchon Bakery, La Maison du Chocolat is the place for chocolate lovers, since all of the macarons are filled with rich chocolate ganache. Our favorite, the chocolate currant macaron, stood out for its beautiful coloring. The shop is as beautiful as its macarons, making the whole experience feel pretty luxurious.
30 Rockefeller Center 49th St., (212) 265 9404; Check website for other locations.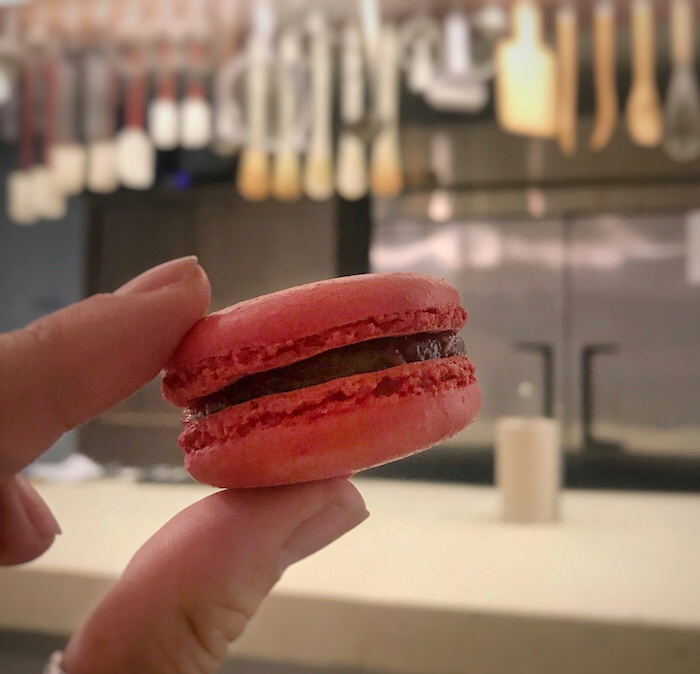 This little French bakery is as cute as they come. We tried the raspberry macaron, which embodied both the sweetness and the tanginess of the fruit. There's indoor and outdoor seating, making it a great spot to meet with friends.
552 Laguardia Pl., (212) 533-4698; 2175 Broadway, (212) 362-6261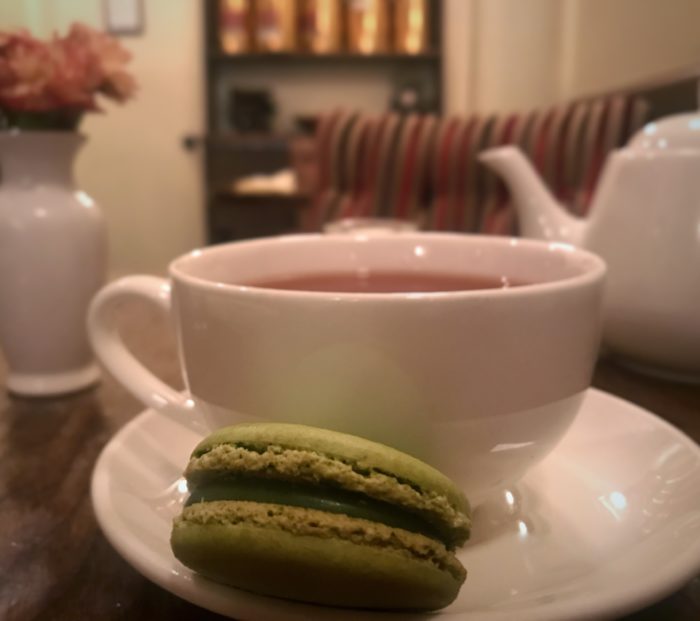 If you want to sip artisanal tea while enjoying a macaron, Bosie Tea Parlor is for you. We tried the Earl Grey tea with the pistachio macaron, which had a distinct but not overbearing flavor, with a perfect crunch-to-chewy ratio. With its warm lighting and cozy atmosphere, it's the bakery equivalent of a hug.
10 Morton St., (212) 352-9900