Strasbourg claims to be the "Capital of Christmas," a title that feels well-deserved during their famous Christmas market season. This Alsatian city sits just across the border from Germany and faced centuries of proprietary battles, taking turns over the years under the rule of both countries. The city thus has a distinctly Franco-German culture, architecture, and atmosphere, making it feel like you have one foot in either country. And yet it's a mere 2 hours and 20 minutes from Paris by TGV, making it easy to pop over for a day trip or a long weekend at any point during the holiday season and explore the famous Christmas markets in Strasbourg.
Table of contents
The Ultimate Strasbourg Christmas Market Guide
The Strasbourg Christmas market itself is composed of 300 chalets (wooden stalls) spread throughout the entire city center, among the charming half timbered houses. You'll want to make an effort to see the stalls throughout the day, as the cozy afternoon gives way to an enchanting nighttime experience when the sun sets and the city's ubiquitous Christmas lights take over. It's unlike anything you've ever seen at a smaller market, glistening with decorations and constantly buzzing with visitors. Oh, and there's also the twinkling lights of the giant Christmas tree, 100 feet tall, in the center of it all.
The Strasbourg Christmas market, known as the "Christkindelsmärik," boasts a rich history dating back to 1570, making it the oldest Christmas market in Europe. Nestled in the city center of the Alsatian city of Strasbourg, France, this festive tradition has played a pivotal role in shaping the region's holiday spirit. Its origins can be traced to the Christkind, an angel-like figure from Alsatian folklore who symbolizes the spirit of Christmas and brings gifts to children. Over the centuries, the market has evolved into a mesmerizing wonderland of festive lights, artisanal stalls, and local food products. What sets Strasbourg's market apart is its festive atmosphere and its emphasis on authenticity, featuring handmade crafts, local delicacies, and an ambiance steeped in the unique Alsatian culture. These markets have inspired similar celebrations all over the world, from France to New York, but Strasbourg is truly the heart of this particular style of celebration.
Strasbourg Christmas Market Dates 2023
In 2023, the Strasbourg Christmas Market will run from Friday, November 24, through Sunday, December 24, going out with a bang on Christmas Eve.
Strasbourg Christmas Market Hours
The Strasbourg Christmas market is open daily from 11:30am to 9pm. Exceptions are for Friday, November 24 (open 2pm to 9pm), and Sunday, December 24 (open 11:30am to 6pm).
Where is the Strasbourg Christmas market?
There are actually several Christmas markets in Strasbourg, France, and if you are visiting Strasbourg at Christmas, you should try to attend as many of them as you can to fully experience Christmas like an Alsatian. All the Christmas markets follow their own unique Christmas traditions, lit with twinkling lights and decked out in elaborate Christmas decorations. The city's official Strasbourg Christmas market guide (which you can consult here for more details) divides the markets into eight: Chrìstkìndelsmärik, Autour de la Cathédrale, Le Quai des Délices, Les Irréductibles Petits Producteurs d'Alsace, Le Marché OFF, Au Pied du Grand Sapin, Le Marché du Carré d'Or, and La Petite France, though there are smaller clusters of markets within each section.
Strasbourg Christmas Market: The 8 Strasbourg Markets
Strasbourg Christmas Market: Chrìstkìndelsmärik market
One of the best Christmas markets in Strasbourg, the Chrìstkìndelsmärik market takes its name from the Alsatian dialect (largely a mixture of French and German). This winter wonderland is the oldest Christmas market in Europe, with its origins dating back to 1570. In 1871 it settled in its current location, at Place de la Cathédrale (where the Cathédrale Notre-Dame-de-Strasbourg is located) and Place Broglie, where every year tourists and locals alike come to shop for Christmas decorations and delicious Alsatian specialties. You can't miss the market, as its famous arch, with "Chrìstkìndelsmärik" written out in bright lights, announces the market from far away. After shopping, stop in right next door at the Hôtel de Ville (Town Hall) to explore an exposition about the Strasbourg Christmas markets.
Location: Place Broglie
Strasbourg Christmas Market: Autour de la Cathédrale
At the foot of the Strasbourg Cathedral, which was home in the Middle Ages to the Klausenmärik (St. Nicholas Market) that predates the Chrìstkìndelsmärik, a group of historic market stalls sell gingerbread, Bredele, Christmas decorations, and anything else your heart could desire. These stalls at the Place de la Cathédrale have spread over the years to the Place du Château, the Rue des Hallebardes, and the Rue Gutenberg. While you're by the cathedral, climb to the first floor of Le 5e Lieu, which offers great views of the stalls below and houses a free permanent exhibition on Strasbourg's heritage. And you can't visit Strasbourg around the holidays without seeing the famous 60-foot long nativity scene inside the cathedral, which dates back to 1907 and which you can visit at no extra cost.
Location: Place de la Cathédrale & Place Gutenberg
Strasbourg Christmas Market: Le Quai des Délices
As its name might imply, the Quai des Délices markets are ideal for any food lover. The terrace of the Palais Rohan is the perfect Christmas market in Strasbourg to try regional Alsatian wines, while beer lovers should head around the corner to the Place du Marché-aux-poissons. This is a great place to go at night to watch the boats on the River Ill, and watch the nearly 400 stars hung between the Pont du Corbeau and the Pont Saint-Guillaume.
Location: Terrasse Rohan & Place du Marché-aux-poissons
Strasbourg Christmas Market: Les Irréductibles Petits Producteurs d'Alsace
Just a short walk from its former location at the Place des Meuniers, you will find the Small Producers of Alsace market (Les Irréductibles Petits Producteurs d'Alsace). Largely a food market, this is the place to go to find craft beer, fresh pretzels, foie gras, and other tasty treats local to the region. The market is right next to the Advent Village, which offers an entire program of workshops, theatrical shows, and concerts geared towards children.
Location: Square Louise Weiss
Strasbourg Christmas Market: Le Marché OFF
The OFF Christmas market (Le Marché OFF), located at Place Grimmeissen, is one of Strasbourg's more unconventional Christmas markets, dedicated to sustainability and solidarity. This is a great place to shop for Christmas gifts made from recycled materials, or ones that have been ethically sourced, and you can even barter or trade for gifts as part of this unique sharing market.
Location: Place Grimmeissen
Strasbourg Christmas Market: Au Pied du Grand Sapin
There is a small cluster of Christmas markets Au Pied du Grand Sapin (at the foot of the Great Christmas Tree): the Place Kléber, L'Aubette, and Village du Partage markets. While you will find many Christmas trees throughout the city, Place Kléber is home to Strasbourg's largest Christmas tree, the Grand Sapin. Brought in from the Vosges mountains and decorated with Christmas ornaments, the Christmas tree towers nearly 100 feet over the square and the Christmas market held there every year. In the same square is the Village du Partage, where 90 international solidarity associations raise awareness for various humanitarian causes. There is also L'Aubette, a great place to buy handmade souvenirs. Here you can find the Noël des Brocanteurs (a Christmas flea market) from November 24 through December 1, and the OZ craft market from December 9 through 23.
Location: Place Kléber
Strasbourg Christmas Market: Le Marché du Carré d'Or
The artisanal market at the Place du Temple Neuf, Le Marché du Carré d'Or, is a foodie's ultimate fantasy. Christmas in Strasbourg has never been more delicious as in the butcher shops, bakeries, and confectionaries in the Carré d'Or, where you can enjoy any delight you can think of, from chocolate to foie gras. Once you've loaded up on goodies, stop for a meal at one of the traditional restaurants on the edges of the market, Le Clou, Le Saint-Sépulcre, and Chez Yvonne, which have been in operation since 1873.
Location: Place du Temple Neuf
Strasbourg Christmas Market: La Petite France
La Petite France is always one of the most photogenic parts of Strasbourg, but at Christmas this well-preserved slice of the city becomes truly magical. It houses two Christmas markets, one at Place Benjamin Zix, and the other at Place Saint-Thomas. Both sell candles and Christmas ornaments alongside hot drinks and both sweet and savory snacks. Stop for a picture at the lock passage by Place Benjamin Zix.
Location: Place Benjamin Zix & Place Saint-Thomas
Strasbourg Christmas Markets Map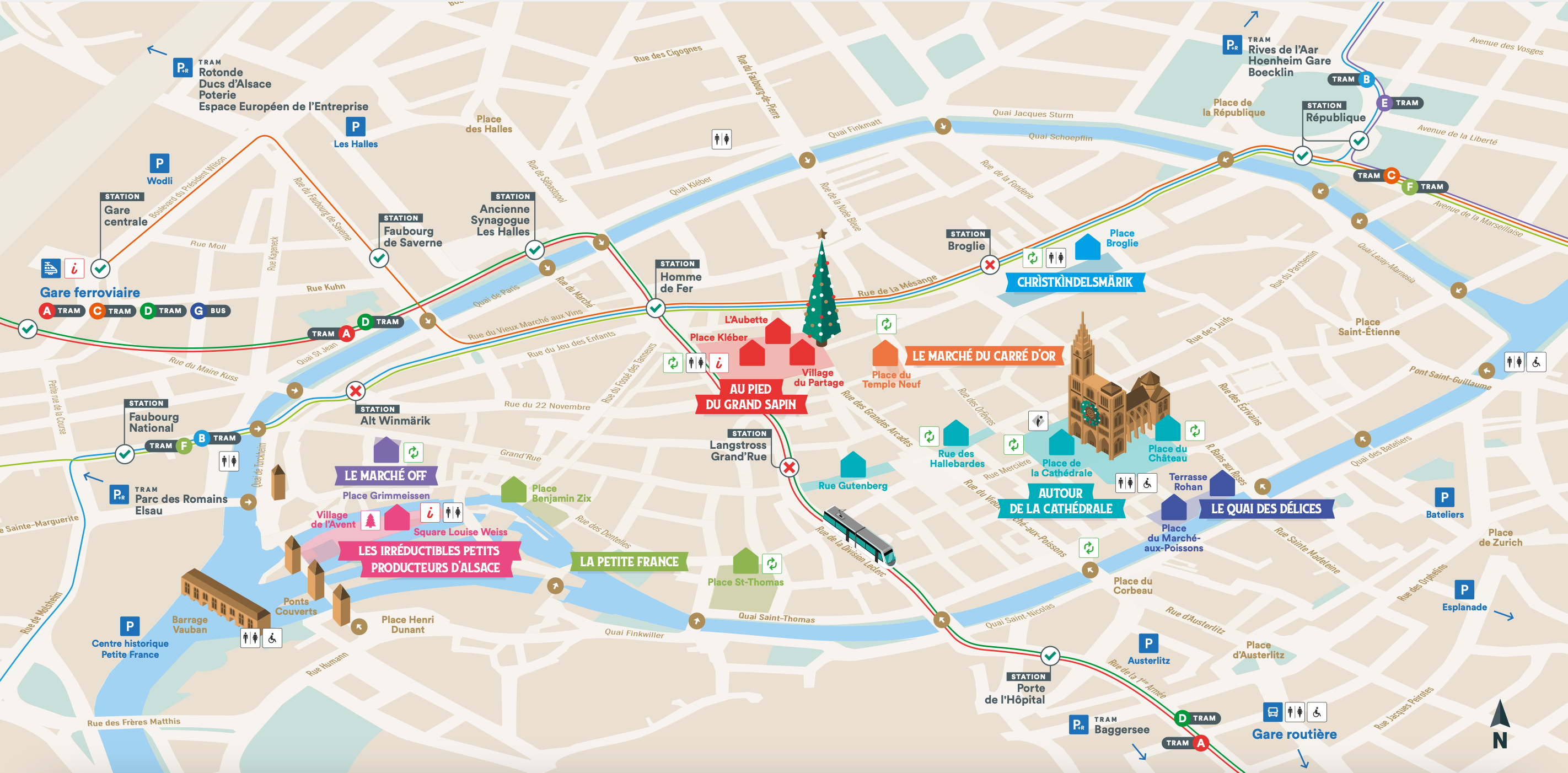 What to Eat At the Christmas Markets in Strasbourg
You'll find some familiar snacks at the Strasbourg Christmas market, like pain d'epice (ginger bread) and bretzels (or "pretzels," to us Americans). There's also an abundance of distinctly Alsace treats. If you're looking for something savory, try the Flammeküeche, known as Tarte Flambée in French, a flatbread oozing with crème fraîche and lardons. You can't miss the choucroute (sauerkraut), piled high on top of sausages, potatoes and a variety of other meats. And to finish off your noshing with a sweet treat, go for the regional Kugelhopf, a raison-almond cake, or some star-shaped Bredele (also spelled Bredle) cookies.
What to Drink at the Christmas Markets in Strasbourg
Indulge in some regional beverages at the Christmas markets, including a cold-weather favorite across all of France: vin chaud, or mulled wine (though it literally translates to "hot wine"). The first time you order a steaming serving of this delicious mulled wine, you'll pay a €1 deposit for a Strasbourg Christmas Market plastic cup. Return your glass the next time you drink, or pay another euro each time and start a souvenir cup collection. Keep a lookout for the stall that offers more than 20 varieties of mulled wine,made with both white and red wine.
You may also want to enjoy a cup of chocolat chaud, or hot chocolate, to keep you warm and toasty. In addition, Alsace has a variety of local wines that are definitely worth trying, notably their crisp, dry Rieslings and their highly regarded crémant sparkling wines.
Another Alsatian holiday beverage is Christmas beer, a specialty that dates back to the 16th century. Dense, hoppy, and spicy, you might have to befriend a brewer to find yourself a glass, but it's worth the extra effort.
Other Things to Do During Your Strasbourg Christmas Trip
While the Strasbourg, France Christmas market is the most famous and oldest market of its kind in the world, there are plenty of other things to keep you busy during a trip to Strasbourg.
Visit Grande Île, a UNESCO Heritage site
The Grande Île, situated at the historic center of Strasbourg, is a UNESCO World Heritage site and one of the most captivating areas in the city. Surrounded by the Ill River, this island is a living museum of medieval and Renaissance architecture, featuring a harmonious blend of half-timbered houses, charming canals, and elegant squares. The Grande Île is home to notable landmarks, including the Strasbourg Cathedral and the Maison Kammerzell, a the city's most well-preserved building from the Middle Ages. It serves as a hub for culture, history, and tourism, with its picturesque streets and quaint shops inviting visitors to explore the city's rich heritage and experience the enchanting atmosphere of Strasbourg's Old Town.
La Petite France Quarter ("Little France")
When visiting Strasbourg, it's hard to miss La Petite France, located on the southwestern corner of the Grande Île of Strasbourg. This fairy-tale-like preserved medieval village is characterized by its well-preserved half-timbered houses, cobblestone streets, and narrow canals, which are beautifully reflected in the water. Once the home of tanners, millers, and fishermen, the district has now been transformed into a delightful tourist destination with quaint restaurants, cafes, and boutique shops. Strolling through La Petite France is like stepping back in time, and its romantic atmosphere has earned it a reputation as one of Strasbourg's most alluring and photogenic areas, making it a must-visit for those exploring the city.
Strasbourg Cathedral (Cathédrale de Notre-Dame)
The Strasbourg Cathedral, also known as the Cathédrale Notre-Dame de Strasbourg, is a masterpiece of Gothic architecture and one of the most iconic landmarks in the city of Strasbourg, France. Construction of this magnificent cathedral began in the 12th century and continued for centuries, resulting in a stunning example of Gothic art and engineering with elements of the building's original Romanesque architecture. The breathtaking facade of the Strasbourg Cathedral features intricate sculptures and delicate tracery, while its famous astronomical clock, known as the Strasbourg astronomical clock, is a remarkable piece of medieval engineering. The cathedral's towering spire, which once made it the tallest building in the world, soars to a height of 142 meters (466 feet), offering panoramic views of the city.
The Covered Bridges
The Covered Bridges of Strasbourg are remnants from a medieval fortress, located at the tip of La Petite France. Though they lost their roofs in the 18th century and are no longer "covered," they are flanked by three 13th century towers in their original condition.
Wine Tasting
While a full on wine tour to a vineyard might not be feasible in December, you can still enjoy a plethora of wine tastings when you visit Strasbourg around Christmas. At the historic cave of Maison Zeyssolff, you can try five local wines for under $20, while the Cave Historique des Hospices de Strasbourg offers free entry and affordable tastings in their 600-year-old cellar.
Where to Stay in Strasbourg During the Christmas Holidays
Christmas in Strasbourg is a beautiful way to spend the holiday (whether or not you celebrate!). Stay for a few days at least to explore the beautiful city center and the Strasbourg Christmas markets, with their ornately ornamented Christmas trees and dazzling Christmas lights.
If you're looking for places to stay near the Strasbourg Christmas markets, you're in luck: Strasbourg is a relatively small and contained city, with a number of beautiful hotels within walking distance of La Petite France, Place Kléber, Place Gutenberg, Place du Temple Neuf, Place des Meuniers, and Place Broglie. Just keep in mind that you will want to book well in advance to make sure that you can lock in a good price before tourists begin to swarm to Strasbourg.
Hôtel Cour du Corbeau Strasbourg
This 4-star hotel, located in the heart of Strasbourg's historic city center, provides a luxurious and charming experience. Set in a beautifully restored 16th-century building, Hôtel Cour du Corbeau offers a unique blend of historical architecture and modern amenities. During the Christmas season, you'll be within walking distance of the city's enchanting Christmas markets. The hotel itself is adorned with festive decorations, creating a cozy and festive atmosphere.
Location: 6-8 Rue des Couples, 67000 Strasbourg, France
Régent Petite France & Spa
Nestled in the picturesque La Petite France neighborhood, this 5-star hotel offers a luxurious stay with views of the canals and historic buildings. The Régent Petite France & Spa features elegantly decorated rooms, a spa, a champagne bar, and a dedicated Christmas menu (complete with French Christmas dinner classics like foie gras, langoustines, and bûche de Noël, with options for an entirely separate vegetarian menu. Its central location allows for easy access to the Christmas markets and other holiday festivities. The hotel's festive decor and attention to detail contribute to a magical holiday experience.
Location: 5 Rue des Moulins, 67000 Strasbourg, France
Hôtel Gutenberg
Hôtel Gutenberg is a stylish 4-star hotel located in the heart of the city center, close to Strasbourg Cathedral and the Christmas markets. This historic residence has been operating as a hotel since the 16th century, and will make you feel that you have traveled back in time. The Hôtel Gutenberg combines modern comfort with Alsatian charm, offering well-appointed rooms and a welcoming atmosphere. During the holiday season, the surrounding area is beautifully decorated, and the hotel itself may feature festive touches. Guests can enjoy the convenience of being within walking distance of the main attractions and the festive markets.
Location: 31 Rue des Serruriers, 67000 Strasbourg, France