From every grandmother to every professional pastry chef, apples are a fruit that is mastered before all else. It only makes sense that before you make choux pastry, you should be able to make a proper apple pie.
French pastry chef, Christophe Adam, isn't one to make just a tarte Tatin. Instead, he came up with 60 recipes for apple-based desserts. First released in French in France with the title Pommes,  Apples: Sixty Classic and Innovative Recipes for Nature's Most Sublime Fruit, by Christophe Adam (Universe Publishing, 2018), is a compilation recipes and an homage to the legendary fruit. The book is beloved and iconic and withstands the test of time.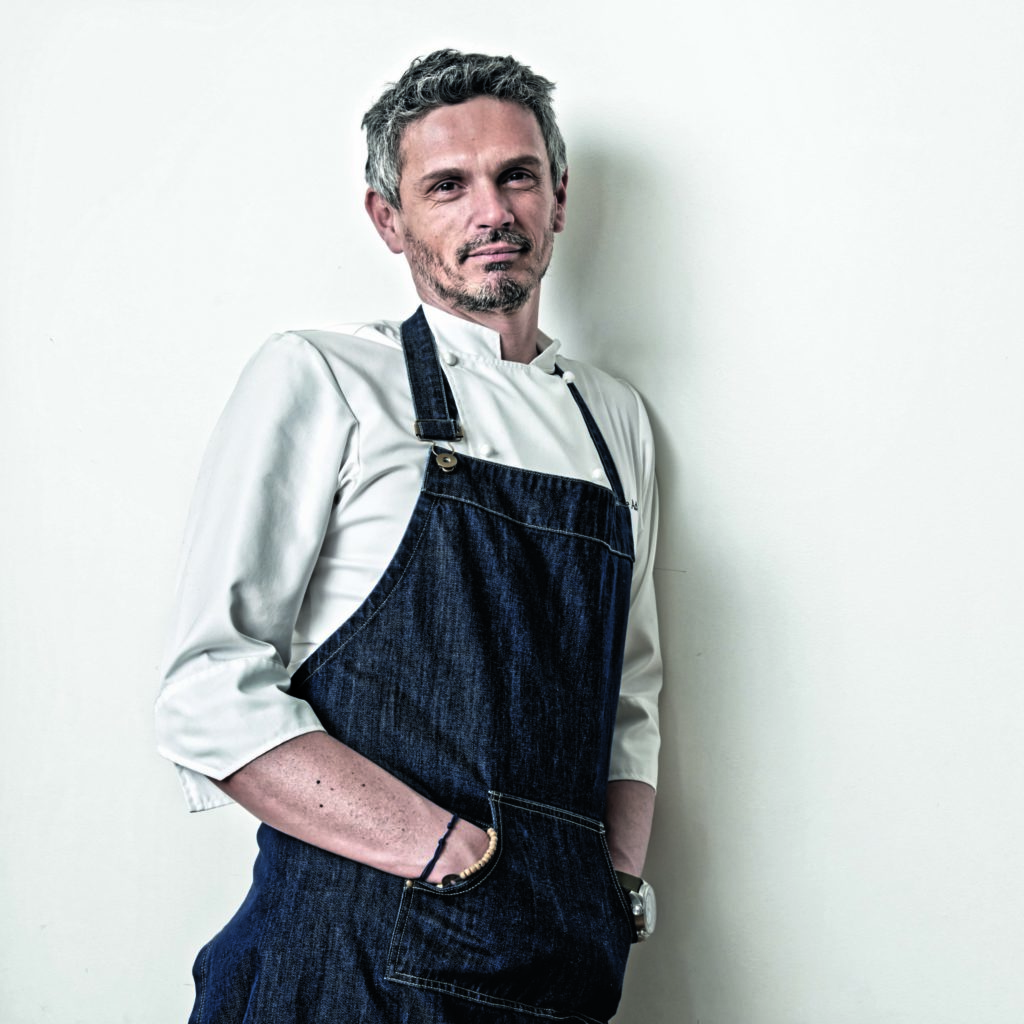 Known for his Insta-worthy eclairs, Adam started an éclair shop in 2012, L'éclair de génie. He then gained notoriety for his role as a judge on the famous television show Qui Sera Le Prochain Grand Patissier? In 2017 he added a restaurant, Dépôt Légal, to his resume of projects.
His passion for baking started when Adam was only 16 years old. He worked in a three-Michelin-star restaurant in London before joining the team at Hotel de Crillon in Paris. He then joined the Fauchon team at Place de la Madeleine, just before Pierre Hermé departed, and became head pastry chef and finally creative director of the brand. After opening international locations with Fauchon, he left on his own adventure: eclairs, books, and television.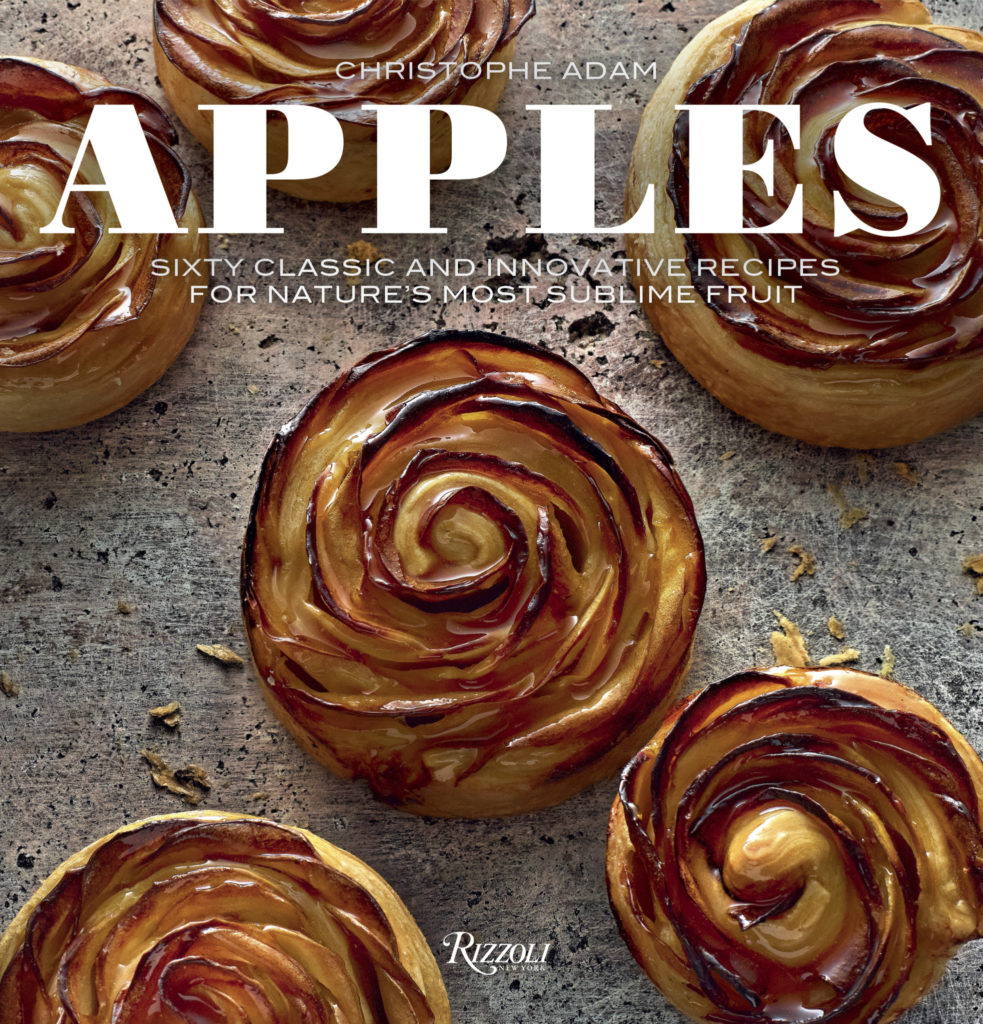 While most of what Adam does seems to be infused with a secret ingredient of pure magic, in Apples he present haut-desserts that almost anyone can make. The recipes are clear and simple enough to have you baking away your Sunday afternoon and munching on the sweet delights Sunday night.
Christophe Adam shares two recipes from his book:
APPLE CARPACCIO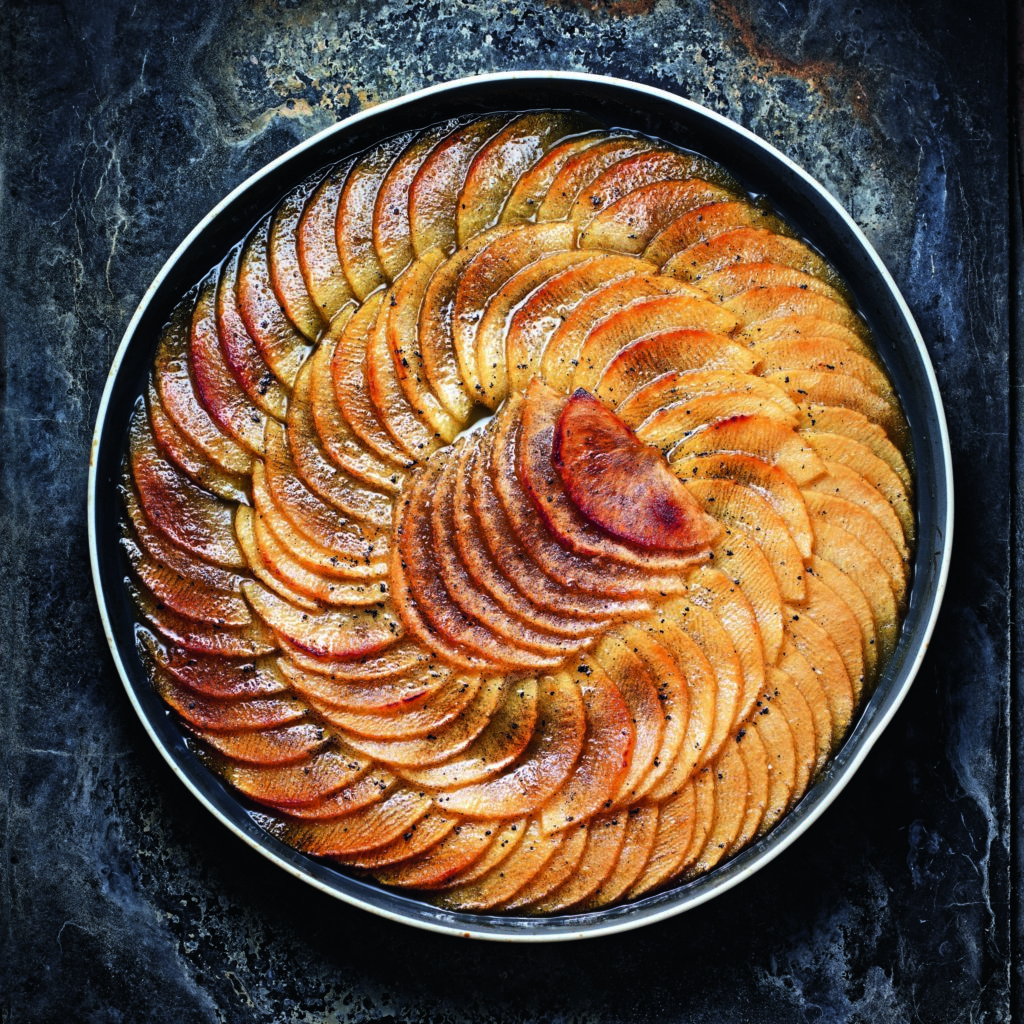 SERVES 2 TO 4
Accompany this apple carpaccio with a scoop of vanilla ice cream or a dollop of whipped cream. (Note: the original recipe includes optional fritters which we have removed here for ease.) For the carpaccio, you'll need apples that hold up to cooking, like Golden Delicious, Granny Smith, Braeburn, Rubinette, or Chanteclerc. The carpaccio may be served hot, warm, or chilled.
Ingredients:
– A little butter for the ovenproof dish
– 2 apples
– 2 ladlefuls apple stock, or enough to cover the apples while they bake, approximately 1 cup (250 ml)
Preheat the oven to 350°F (180°C). Butter an ovenproof dish. Peel the apples and slice them very finely. Arrange them in circles in the prepared dish. Pour in enough apple stock to just cover the slices. Bake for 45 minutes.
APPLE ROSES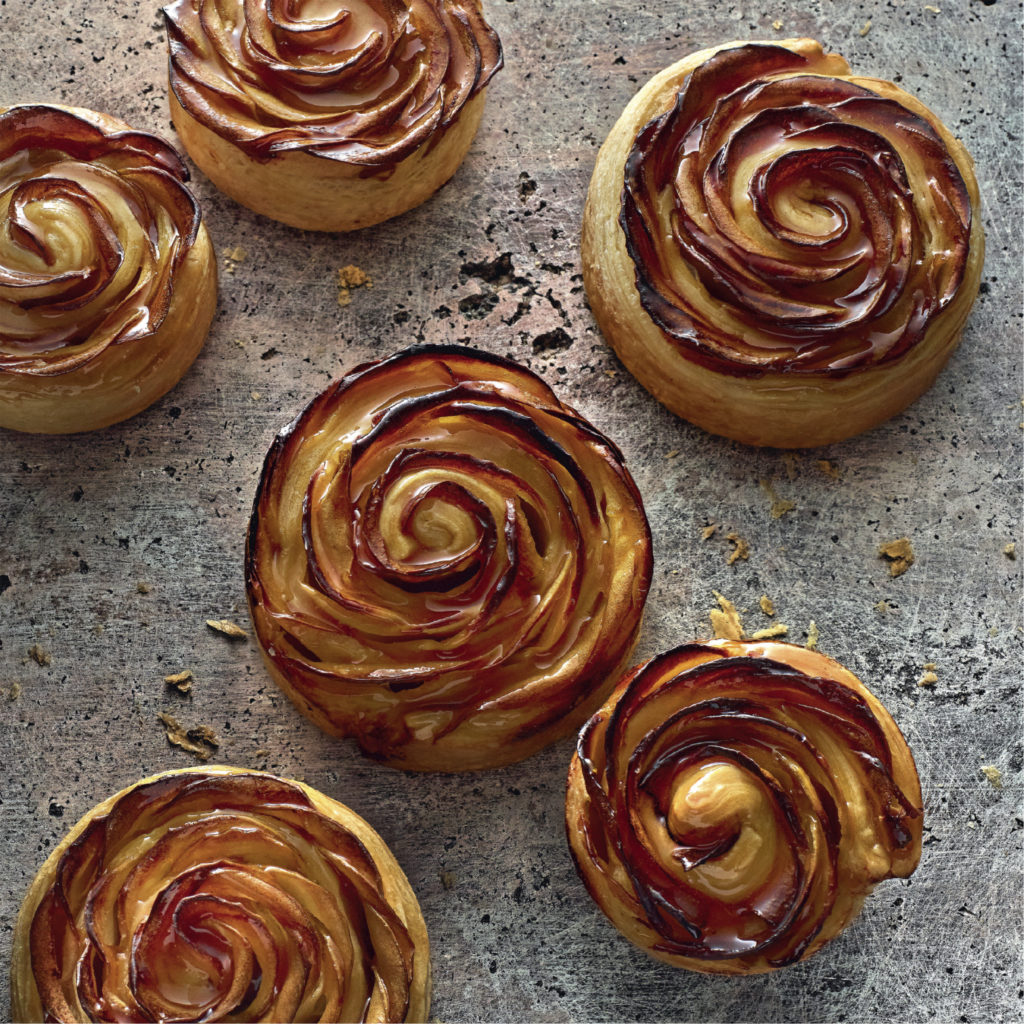 MAKES 10 ROSES
Ingredients: 
– 4 large apples of different colors
– Juice of 1 lemon
– 1 lb. (500 g) puff pastry
– 1 egg, lightly beaten, for the egg wash
– 7¾ oz. (220 g) applesauce, about 1 cup
– 7 tablespoons (3½ oz. / 100 g) butter, melted until lukewarm
– 5 ounces (150 g) quince jelly for the glaze
Core the apples but do not peel them. Cut them in half from top to bottom. Prepare a bowl of cold water ready with the lemon juice stirred in. Using a mandoline, slice the apples very thinly, dipping them immediately in the bowl of cold water and lemon juice so that they do not brown.
Place the bowl with the apple slices in the microwave oven on medium-high for 1 minute to soften them slightly. Drain and carefully pat the the slices dry. Sort them according to the color of their skins.
Preheat the oven to 350°F (180°C). Roll the puff pastry into a 16-by-25-inch (40-by-60-cm) rectangle and brush it with the egg wash. Cut the rectangle into ten strips, each 2 inches (6 cm) wide and 16 inches (40 cm) long. Using one color of apple per rose tartlet, place the apple slices along the strip of puff pastry, overlapping them like roof tiles. Leave just under ½ inch (1 cm) of apple—skin side on the exterior—overhanging on one side of the pastry strip. In the center of the apple slices, drizzle a line of applesauce from one end of the pastry strip to the other. Fold the strip into two, pressing down lightly on the end, and then roll it up in a spiral. Place each rose in a silicone mold with the visible part of the apples facing upward, and brush generously with the melted butter.
Bake for 40 to 45 minutes, checking regularly on how they are coloring. Remove them when the pastry is a lovely golden color. Immediately turn the roses out of the molds and allow to cool on a rack. Lightly heat the quince jelly and luster the hot roses with it to give them a nice sheen.