Will music radio in France disappear as a result of competition from new music streaming platforms, such as Deezer (a French music streaming service), Spotify or Apple Music? For several years now, their economic model has been suffering, even if they remain influential among French music tastes. The Médiamétrie Radio survey for the months of September and October, published on Wednesday, showed that more than a million people have abandoned the radio medium over the past year and that musicians are very affected by this movement.
Formerly in the running with RTL for France's most listened to radio station, NRJ has been downgraded to third place. In September and October, NRJ, Nostalgie, Skyrock, Fun Radio, RTL2, RFM and even France Musique all suffered a drop in their audience. "We can see that the model of music radio stations may no longer be sustainable in the long term, as the latest Médiamétrie figures have shown. It's a question that companies will have to address," says Aurore Bergé, a deputy for En Marche!.
Among the underlying trends, stations that aren't publicly funded have decided to increase the number of time slots for talk shows to attract young audiences. NRJ asked its star host Sébastien Cauet to start on the air one hour earlier, at 4 p.m., extending his show to a four-hour run time. (4 p.m. to 8 p.m). The same goes for Fun Radio, which belongs to RTL (group M6), and Grégory Vacher, whose show now also starts at 4 p.m. The success was immediate: both radios attracted new fans. But the "more talk" strategy has its limits. This is why NRJ and its affiliates want to use their core business, music, and are calling for a reform of the quotas for French-language songs on the radio included in the law that will regroup France's public medias into one company (more like the BBC), which will be debated in Parliament in early 2020.
The mess of quotas
Created in 1986, then revised successively in 1994, 1996 and 2016, the quota system is ultra-complex. So much so that the Conseil supérieur de l'audiovisuel (CSA) experts, who were responsible for checking the quotas, struggled to adapt and establish the laws each time. At the NPA Conseil-Le Figaro conference held on Thursday, November 21, Roch-Olivier Maistre, the president of CSA, spoke of a "sophisticated regime." The euphemism made the audience laugh.
So what are the quotas? Broadly speaking, broadcasting quotas require the content played by private radio stations to consist of 40% or 35% "French-language works" during peak listening hours (from 6 a.m. to around 10 p.m.), with a minimum percentage of "new talent." For its part, the public stations, and therefore Radio France, must meet a quota of at least 50%, according to its specifications, and a lot of new talent.
The consequences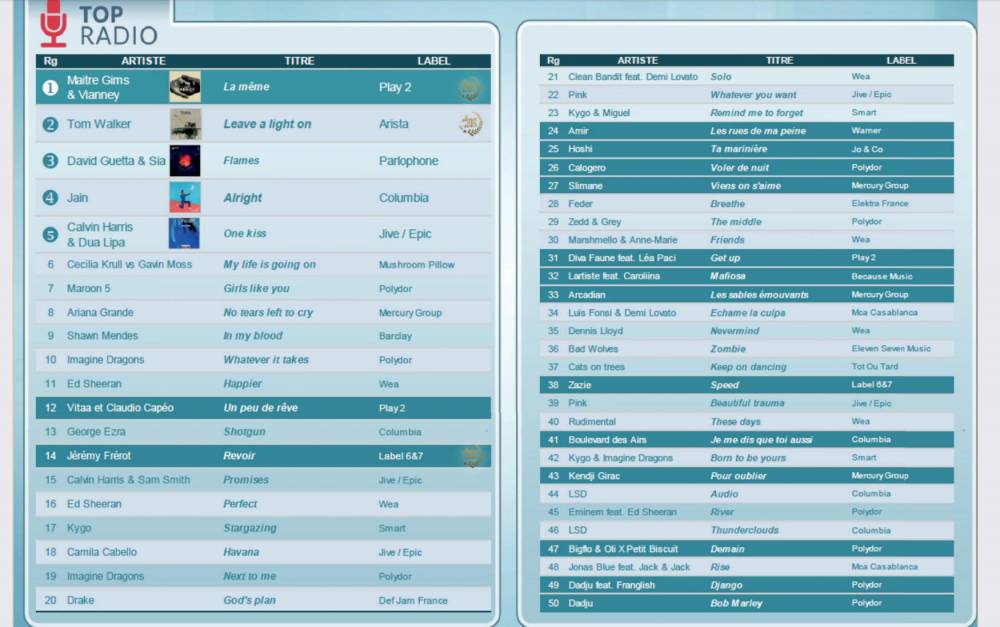 For French artists, the positive effects of this system, so criticized by private radio stations, are undeniable. A quick glance at the annual report of the record union (Snep) shows that in 2018 "artists 'made in France' made 19 of the 20 bestselling albums and occupy 80% of the top 200." On the radio, the song "La Même," by Maître Gims and Vianney, was ranked first in the top 100 with more than 75,000 plays. In addition, the radio stations' obligations to expose new talent have served their purpose. "Of the 200 bestselling albums last year, 48 were debut albums, including 40 produced in France," notes Alexandre Lasch, Snep's general manager, in the union's report.
"The quota system is working and has given new impetus to the French-speaking music sector," says Aurore Bergé, who brought a text on the subject to the Assemblée Nationale last year. With that information, Culture Minister Franck Riester rejected the idea of abandoning the regime. "Francophone music quotas are very pertinent, they get results, since we can see that there is a very significant emergence of new French artists," he said recently on Europe 1. On the other hand, the path of abandoning the rules of rotation on radios is making headway. "We can question the pertinence of this system, which is difficult to understand and apply, especially since it has not necessarily served the diversity and enhancement of French-language titles," continues Aurore Bergé. A "mission flash" of the Cultural Affairs Committee of the Assemblée Nationale is currently studying the subject.
The irregularities
The quota system creates some absurdities. For example, when French artists sing in a language other than French, they are not counted as Francophone artists for radio stations. This matters for established French artists, like Jain when she sings "Alright," or David Guetta for "Flames," but also — and this is more serious because it's about exposure — for new talents, like the Parisian rock band Rendez-Vous who sing in English, or Kompromat, a duo composed of Rebeka Warrior and Vitalic, who covers its own electro punk in German.
https://www.instagram.com/p/BkckX7CDr3h/
"Take Fun Radio, for example. It plays electronic music, often made by French people who don't sing in French and who don't fit into the quotas," says Régis Ravanas, in charge of the M6 radios (RTL, Fun Radio and RTL2). "This forces us to distort Fun Radio's genre and to play French rap songs, which makes no sense."
Generally speaking, one can assume that the quotas could have contributed to strengthening the influence of French rap, which is now grouped under the name "musique urbaine" (urban music), with artists such as Black M, Maître Gims, Soprano, and Bigflo & Oli.
How to face Spotify and Deezer
One of the key points of the upcoming audiovisual reform is how to deal with streaming platforms. "Music radio stations face an uneven playing field. They are hyper-regulated, while the actors in the music streaming industry do not face any constraints. It is urgent that we repeal the play quotas to allow French radio stations to compete on an even playing field against the world's biggest players," said Maryam Salehi, Deputy Director of NRJ Group, which owns NRJ, Chérie FM and Nostalgie.
Like the elimination of the rotation rule, in effect since 2016, seems to be looming, the debate is now focusing more on how to enhance the significance of French heritage on platforms such as Spotify and Deezer. With a revenue of more than 300 million euros (330 million dollars), streaming represents more than half of all recorded music sales in France. "What is not logical is that there is a discrepancy of equality, of equity, between radio stations and streaming platforms. So we are working on measures that will also require streaming platforms to better showcase French-language content," Culture Minister Franck Riester told Europe 1.
https://www.instagram.com/p/BycnPHUlZKW/
Don't touch my playlists!
But how is that done? Can France force Deezer to show its paying subscribers a minimum number of French songs in the playlists that the platform creates, even though the subscribers paid to have the ability to play whatever they want, even if that's just a Madonna song that plays on repeat 1,000 times? Could the country possibly intervene in the top secret algorithms? These issues are far from simple to resolve. For deputy of En Marche! Aurore Bergé, "it would be unrealistic and counterproductive to impose quotas on the playlists of the platforms that have helped the music market to get better. There are users who have become accustomed to these new practices and who pay for the right to choose. It's a question of how to promote French-language songs so that they are not at the bottom of the catalogue. We can imagine a system for checking for good exhibition on the home page, as can be done on the OCS TV channel, which has an obligation to show European works."
Should we go further and ask Deezer, Spotify and others for more transparency on their algorithms and data? The question arises for all foreign streaming services, whether in music or video. But resistance to the Gafa — from Americans today, from the Chinese tomorrow — must face a force stronger than just France (i.e., Europe needs to get on board).
This article was first published on Le Point.
Featured image: Stock Photos from Radioshoot / Shutterstock