Details
Best Baguette - Los Angeles 2019, presented by:
Air Tahiti Nui
Cacao Noel et Beurremont
Technobake
Château d'Esclans
The second edition of the Best Baguette Los Angeles was held on Saturday, February 16, at Le Petit Paris restaurant in Downtown Los Angeles. The event brought together more than 200 people — including the singer M. Pokora — who came to taste the breads of the five bakeries that received the most votes from Frenchly and French Morning's, namely Pitchoun!, la Parisienne, Michelina, Pandor and Normandie Bakery. For the event, the five bakeries made baguettes, of course, but also breads with olives, apricots, oatmeal, and multigrain.
Appearance, taste and texture, everything was examined by the jury of professional chefs, composed of Ludo Lefebvre (Petit Trois, Trois Mec), Vincent Samarco (Belle Vie in Brentwood), Lionel Pigeard (Palikao in Downtown) and Tony Esnault (Church and State in Arts District). They tasted, felt, smelled, smelled, and broke bread in pursuit of deciding the best. "There were two that stood out, the decision was close between these two competitors," assure the chefs. "Bread needs moisture. In Los Angeles, the climate makes it very difficult to prepare, the sourdough takes on less flavor. So it's more technical," admits Esnault, for whom the quality of the flour and the flavoring are very important. "It has to remind me of the baguette smells I used to buy in France with my grandfather," adds Lefebvre, who makes his own bread at the Petit Trois restaurant.
The award ceremony was somewhat disrupted by a vote counting error. The winners announced at the awards ceremony were not the right ones, but the vigilance of the jurors made it possible to set the truth straight a few minutes later and it was the Pitchoun! bakery that won the competition for the best baguette in Los Angeles. In addition to the Best Baguette and Best Speciality Bread award for its energy bread (dried figs, pistachio nuts, oats, grapes), submitted to the jury's expertise, Pitchoun! Bakery also won the audience's heart, which gave the bakery the Public Prize. Normandie Bakery headed by Chef Josette received the second specialty bread award and Pandor Bakery from Orange County came in second place for baguette.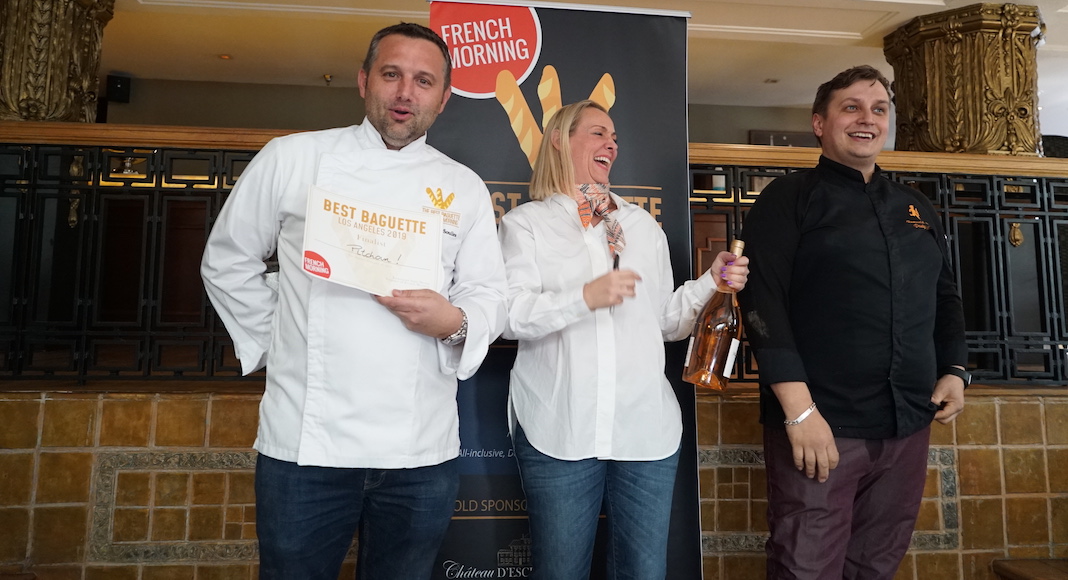 "We went to a lot of trouble. We work with passion every day, it's always great to have the recognition of the public and professionals," said Fabienne Souliès, head of Pitchoun! which has a bakery location in Downtown and the Beverly Center. "Our savoir-faire, our team, like our baguette, are very French." It's a great award for this family of bakers from Nice who say they've multiplied their recipe testing in recent weeks to create the perfect baguette. "The whole team worked on it, we've truly refined the leaven," said Romuald Guiot, who manages the production.
Details
Best Baguette - Los Angeles 2019, presented by:
Air Tahiti Nui
Cacao Noel et Beurremont
Technobake
Château d'Esclans