A few curious people stopped in the still deserted parking lot, while inside the store, employees were busy installing one giant screen here, another one there, and the foam floor where weight training equipment will soon be added. This is the beginning of the first Decathlon store in the United States. For the opening of the sporting goods and outdoors store in Emeryville, California, three days of festivities have been planned for opening weekend, from April 12 to 14.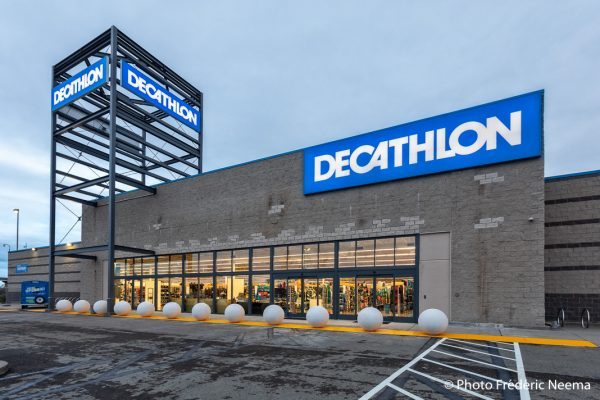 Fifteen months after the opening of a first store on Market Street in San Francisco, the starter space takes on the intended shape in this large store: "If the San Francisco store is more like a laboratory to observe local consumption habits, here our products will be displayed in more than 4000 square meters. You can test the feel of a paddleboard, practice your golf swing, or test the tents you can put up in two seconds or those that go up in three minutes," says Michel d'Humières, CEO of Decathlon USA, as he walks through the store's departments. "The important thing is that customers can see the products, try them out, and ask for advice."
The location of the store was carefully chosen: "We are next to a Best Buy, a Target and a Home Depot, three brands that are doing very well. Ikea is not far either, so we should benefit from this flow of traffic."
If California has established itself as a potential Eldorado for Decathlon, it's because outdoor activities are a lifestyle. The Bay Area was preferred over Los Angeles for the diversity of opportunities that the region offers: "Los Angeles is more 'mono-sport' than here. In San Francisco, people go hiking, skiing, cycling, yoga, running or work out. In addition, we wanted to be close to start-ups, at the heart of innovation to explore new opportunities."
First new feature at the Emeryville store: the absence of checkout counters. Payments are made to the sales teams using a system of mobile scanners, placed in different parts of the store: "All you have to do is present your basket, it's scanned completely, and the prices are displayed on an iPad. All that's left is to pay with your phone, or by card, because the store doesn't accept cash." In addition, screens throughout the store allow you to search for and order items that are not available on site, or to consult the technical specifics sheets for different products.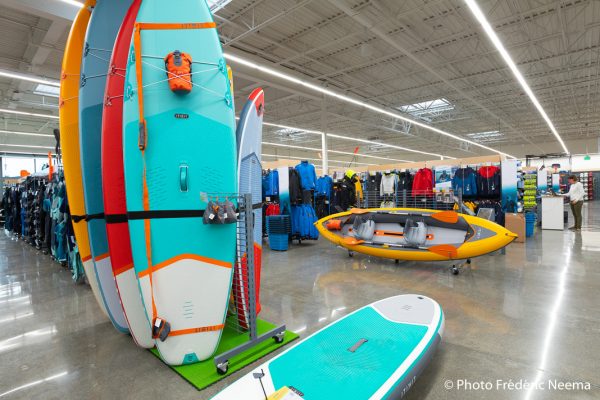 With the experience gained over the 15 months with the Market Street store, d'Humières is confident of the success of the Emeryville store: "Market has allowed us to measure the acceptance of our products, with all the reservations we could have had with such a small store. The products that work best are equally successful all over the world: the backpack, the diving mask, the tent." Confident in the brand, already present in more than 40 countries, and its savoir-faire of the sports world, the CEO of Decathlon USA remains discreet about the brand's expansion prospects in the United States: "It's not a race: we'll have to make adjustments, some products will work, others will not. That said, our ambition is to develop in the United States, and we will not wait ten years to make it happen."