With profit margins on the line and investors to please, large companies may have been the last group you expected to see involved in sustainability. And yet here they are, big and small, many of them leaders of the movement, collaborating between industries and inspiring others to reach higher.
On May 13, the French American Chamber of Commerce (FACC) is hosting the Sustainability and Innovation Forum. Representatives from major French and American companies, including LVMH, Fairtrade America, L'Oréal, and Lyft, will be there speaking about how to effect positive change for a more sustainable future, in addition to events like eco-fashion shows, sustainable tasting booths, and high-level networking. Noémie Bauer, Head of Sustainable Business at Pernod Ricard, will be participating in a panel. She spoke with Frenchly ahead of the forum about how companies are leading the sustainability movement.
Frenchly: In the last 10 or 20 years, how have French companies' relationship to sustainability changed?
Noémie Bauer: A lot of regulations have passed in France that have forced companies to report on non-financial issues like sustainability. The big one was Loi Grenelle II, and since that law passed there have been more. All of those new laws created a new compliance mindset. Companies now understand that they should embed sustainability into their businesses not only because it's a legal requirement but also because it's important for their businesses.
Besides through legislation, is there pressure coming from other places that's effecting change?
The French public took a long time to actually get interested in sustainability issues, but I think that has significantly changed in the past two or three years. More so I think sustainable development goals have really sparked something in investors' heads, that companies have a role to play.
Do the public or investors have power in influencing companies?
The general public will make marketing and sales departments aware of what's not right in the eyes of the public and what should be changed. But that's not necessarily the right entry point to pressure businesses to make change, because then there's a risk of greenwashing. When investors put pressure on a company, it's going directly to the top management, so the changes will come from the top.
You used the term "greenwashing." What does it mean?
Greenwashing is when companies will claim sustainability without really changing their business model. At Pernod Ricard, since I joined eight years ago, we have preferred as a company to not talk about the sustainability measures we are taking rather than risk being accused of greenwashing. Greenwashing is the biggest fear a company should have.
Despite the fact that the United States isn't signed on to the Paris Climate Agreement, cities, states and companies are actively setting their own sustainability goals. What's the significance of that?
I think today we have no choice, we need to address climate change, so the more the merrier. I remember seeing the mayor of Pittsburg at a conference at the UN two years ago. I think it's exemplary what cities are doing in a country where the federal government has removed itself from the Paris Climate Agreement.
On May 13, FACC is hosting the Sustainability and Innovation Forum about how to effect positive change for a more sustainable future. What is the importance of the FACC Sustainability and Innovation forum?
I think that companies' levels of maturity and development are so different that we need organizations like the FACC to actually share best practices, inspire others, and really motivate our peers to act. There are going to be companies setting great examples in sustainability, Danone for example, presenting and speaking during the forum. I hope that hearing how leading companies have actually embedded sustainability into their business will inspire others.
What kind of change can companies make by coming together in collaboration as opposed to working individually?
The issues we are facing today are so big. When you look at global warming, when you look at social exclusion, right now these issues are really affecting all kinds of companies in every way. But it's not one company that can change things, it's everyone together. That's really why the UN's Sustainable Development Goals (SDG) are the perfect language and mindset, saying that everyone has a role to play. I think the SDG passing was the first time that heads of state realized that it's not just governments that can affect change, it's about everyone having a real role to play and being a part of the solution. I think for companies it's the same: we're all different businesses and we can have different impacts, so if we collaborate together we can make biggest changes.
The FACC Sustainability and Innovation Forum is on May 13, from 12 p.m. to 8 p.m. at 225 Liberty Street, New York. Five panels will be held throughout the day, including four about what different groups and industries are doing (the U.S. and French government; food, beverage and hospitality; transportation and energy; luxury, fashion, and beauty) and one about what action individuals can take. The keynote will be given by Lise Kingo, CEO and Executive Director of the UN Global Compact.
The event is open to members and non-members. Frenchly readers get a 20% discount on non-member tickets with code FRENCHLYNETWORK. Get tickets here.
The FACC is a private organization promoting trade and investment between the USA and France. They provide members with opportunities for professional development and networking. Membership gives you access to a directory of contacts in your area, events, and personalized introductions with business partners. Learn more about membership here.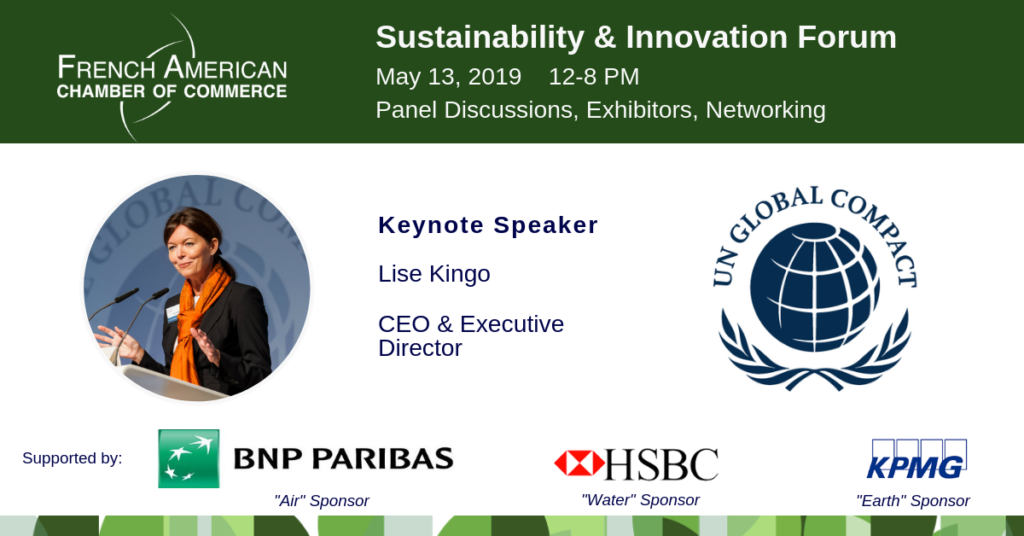 –
Note: Sponsored articles do not belong to the editorial team at Frenchly. They are provided or written at the request of the advertiser, who determines the content.