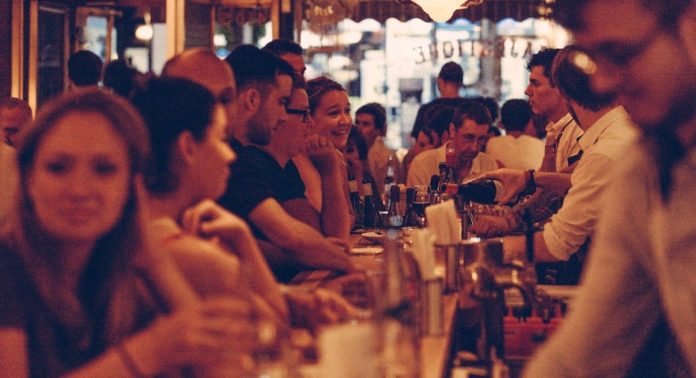 There's nothing more Francophone than a wine bar, so you'll definitely need to hit one up while in Montréal. Here are our favorite wine bar addresses by district, where you can sip delicious vintages accompanied by small savory dishes.
1. Plateau – Le Majestique – 4105, boulevard Saint-Laurent
A real cabinet of curiosities ideally located on La Main, Le Majestique is where you can have a good time around a plate of fresh Canadian oysters and a glass of bubbly.
We also like Rouge-Gorge and Lili co on the Plateau. M. Mme and Larry's  are excellent over in Mile End.
2. Quartier des spectacles – Cadet – 1431, boulevard Saint-Laurent
Planning a cultural outing? Cadet is your go to for a sophisticated and highly delicious experience!
We also like the Labo Culinaire and Pullman, on the edge of downtown.
3. Little Burgundy – Vin Papillon – 2519, rue Notre-Dame Ouest
Designated as 8th in Canada's 100 Best Restaurants 2018, it's in this intimate establishment that you'll find the best cooked vegetables in town and very good wine. It's an excellent address where there's always a crowd. (There are no reservations, it's first come, first serve.)
We also like the vegetarian bar Magdalena and also Ludger in Saint-Henri.
4. Little Italy – Cul sec – 29, rue Beaubien Est
Both a wine cellar and a canteen, this neighborhood mini-cave of wonders offers natural and organic wines, as well as an attractive menu (try the braised squid!). And what makes it one step above the rest? You can leave with the bottle of your choice, with the purchase of a meal.
We also like La femme à la fontaine and Vin Mon Lapin.
5. Outremont – Boxermans –

 1041, avenue Van Horne
Une perle d'adresse esthétiquement soignée et aux petits plats délicats et plein de saveurs. Idéal pour un rendez-vous doux.
A pearl an address, Boxermans is aesthetically pleasing, with small, delicate dishes packed full of flavor. Ideal for a date!
We also like Les Fillettes (which takes reservations!).
This article was originally published on Maudits Francais.