We know you're jumping for joy: terraces are back in Los Angeles. California has authorized restaurants to put in place outdoor seating, with respect to the rules of social distancing (6 feet minimum separating tables) and by requiring mask-wearing when customers get up from their tables. Another rule has been added: no more than 6 people at a table (and they must be from the same household). Several French restaurants have complied in order to be able to serve meals "al fresco."
Pasjoli in Santa Monica
Pasjoli, an upscale French restaurant in Santa Monica, will be offering meals on their terrace from February 10. They have 8 tables on the sidewalk, and 5 on the patio. Chef Dave Beran has concocted a caramelized onion ragout, chicken liver, a Rouennaise duck, pork loin, and finally a pear financier. Note that the seating times are limited: an hour and forty-five minutes for two people, two hours and forty-five minutes for 6 people. Reserve in advance online. Pasjoli, 2732 Main St, Santa Monica. Open from 5pm to 8pm on Wednesday, Thursday, and Sunday, and until 10:15pm on Friday and Saturday.
Loupiotte Kitchen in Los Feliz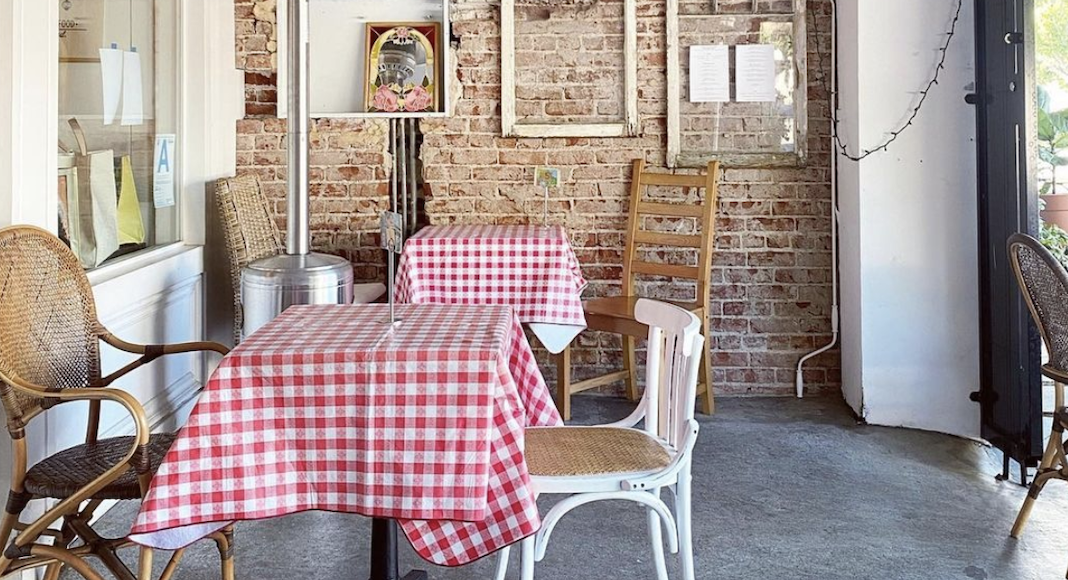 Red-and-white checkered tablecloths have been deployed in front of the restaurant of Sarah Bessade and Antoine Blandin. Relieved by the loosening of restrictions, Loupiotte Kitchen now has seating for 20 outside (at 11 tables). This return to service also signifies the return of their beloved dishes, like onion soup, French toast, roasted butternut squash, and creamy mushroom polenta. In the evening, reservations are recommended, but walk-ins are also accepted, though you may have to wait 15 minutes on the weekend. Inside, while awaiting the reopening of indoor dining, has transformed into a grocery. There you will find favorite French products like Chocapic, caramba, or Chipsters. Loupiotte, 1726 N Vermont Ave, Los Angeles. Open until 9:30pm from Tuesday through Sunday.
Perch, Downtown
And if you want a little height? The rooftop of Perch, with 34 tables separated by twelve feet on the 15th and 16th floors of a Downtown building, is the ideal solution with its outdoor stoves. The restaurant offers cuisine inspired by modern French bistrots, with mussels, baked brie, filet mignon au poivre, boeuf bordelaise, bouillabaisse, and crème brûlée. Each meal is limited to an hour and forty-five minutes (6 people max per table), a measure taken by many restaurants to permit the greatest number of guests. To reserve, put in a request online. Perch, 448 S Hill St, Los Angeles. Open every day until 1am.
Zinqué in West Hollywood
The patio of Zinqué, the franchise of restaurants created by Emmanuel Dossetti, was already getting mobbed before regulations limited service, with its colored tiles, shrubbery, and beautiful wooden tables. And it's even more so now. On the menu, you will find classics like pâté de campagne, ratatouille, croque-monsieur, quiche lorraine, pain-bagnat, and steak frites. Despite a good number of seats, you'll probably have to wait in line on the weekend. Think about making a reservation! Zinqué, 8684 Melrose Ave, West Hollywood. Open until 11pm on Sundays, Mondays, and Tuesdays; until 12am on Wednesdays and Thursdays, and 2am on weekends.
Perle in Old Pasadena
Opened just before the pandemic, Perle has no rival for ingenuity when it comes to satisfying Pasadena clientele. Notably, this includes the installation of an adorable tavern-style terrace, illuminated by garlands of lights, and kept warm with external heaters. In addition to putting the spotlight on different regions of France in his menus (like Lyon, Burgundy, the Loire Valley…), chef Dean Yasharian prepares a steak tartare, an époisse de Bourgogne cheese, sole meunière, their very Instagrammable truffle pasta, chocolate soufflé, and cannelés. We recommend reserving your seat in advance, especially on weekends (the wait can go on forever). There is also the option of ordering for takeout. Perle, 43 Union St, Pasadena. Patio open from 4pm to 9:30pm, Thursday through Sunday.
Petit Trois in Sherman Oaks and Hollywood
Good news: the two Petit Trois restaurants of chef Ludo Lefebvre have both reopened their doors since the rollback on dining restrictions. They offer tables straight out of a French bistro outside, on the sidewalk at Sherman Oaks and in the Parking lot in Hollywood. An opportunity to rediscover (in the open air) French gastronomic classics like onion soup, Burgundy escargots, a Boursin omelette, or steak-frites. The restaurant also offers the option of delivery via Caviar or Doordash for those not ready to take the plunge into outdoor dining. Petit Trois Hollywood (718 N Highland Ave, Los Angeles, open Wednesday through Sunday from 12pm to 10pm) and Sherman Oaks (13705 Ventura Blvd, Sherman Oaks, open Monday through Friday from 12pm to 10pm, and Saturdays and Sundays from 8am to 4pm).
Le Figaro in Los Feliz
Not far from Loupiotte Kitchen, you will find an institution: Figaro, the ultimate rendez-vous spot for the French community of LA. The terrace has been extended onto the street to welcome forty guests, and is equipped with heaters. The menu, like the prices, have not changed. Salad with chèvre chaud, ratatouille niçoise, beef carpaccio, coq au vin, and duck breast with rosemary have been delighting the tastebuds for years. The crowd also goes wild for their pastries, like chocolate eclairs and millefeuille. Come early if you want to get a table. Le Figaro, 1802 North Vermont Avenue, Los Angeles. Open until 10:30pm during the week, and 11:30pm Fridays and Saturdays.
Meet in Paris in Culver City
The restaurant of Brittany's Sébastien Cornic, Meet in Paris, is well-reputed for its selection of moules-frites that will drive you to envy (marinière, roquefort, mustard, truffle, provençale…), and it's all-you-can-eat on Tuesdays and Wednesdays ($29 per person). Go quickly to enjoy their large terrace, equipped with tents, lighting, and heaters, which welcomes forty guests to its wooden tables (4 person max per table). You may also succumb to other dishes like their onion soup, escargots, duck confit tacos, burgers, or chicken dijonnaise. Meet in Paris, 9727 Culver Blvd, Culver City. Terrace open every day until 9pm.
Air Food L'Appart, Downtown
Marc Moubarak's restaurant will bring back its intimate terrace starting February 15. To be the most cautious they can be, Air Food will take the temperature of all clients upon entrance to the patio. To maintain the experience, the French team has installed heaters, and put in place a little tent. Since the pandemic began, the menu has been purged to concentrate on the essential: croque-monsieur, beef bourguignon, gorgonzola Mac & Cheese, Caesar salad revisited with Ossau Iraty, and a molten chocolate cake. The new thing: pizzas will also be available to clients, cooked before your eyes on the patio. Maximum duration of seating will be one and a half hours. Air Food L'Appart, 130 E 6th Street, Los Angeles. Open until 10pm, except on Fridays and Saturdays when the patio stays open until 11pm.
Taix in Echo Park
Even though it is about to leave its original location (where it has been for 90 years), Taix is living its last moments to the fullest (the restaurant will be replaced by a residential building). They are offering service in their parking lot, where they have installed umbrellas and greenery. A bucolic setting for enjoying onion soup, moules marinières, salade niçoise, frog legs, or steak-frites. Taix, 1911 Sunset Blvd, Los Angeles. Open Friday through Sunday until 9pm.
FYI: The Chinatown restaurant Oriel and Le Petit Paris Downtown are temporarily closed. Belle vie Food & Wine has permanently closed its doors in Sawtelle, and so has Coco Queen in West Hollywood.