Whether you've paid for an international phone plan or not, while traveling abroad most people prefer to get on a wireless internet connection when they can. Though it's no New York, where free, un-password-protected wifi emanates from every restaurant, hotel, bar and store, there is a lot of free wifi in Paris. You just have to know how and where to find it.
Thanks to the presence of Starbucks on every corner and a chain store or restaurant on every block, Americans in major cities can usually find wifi without needing a password. In Paris, most restaurants, cafés and bars have wifi that's password protected.
The main issue you'll run into while trying to procure free wifi is thinking that a connection is free when it's not. Several wifi networks in particular that are ubiquitous throughout the city fit that description. The network FreeWifi, for example, is not free; it's a French service provider that's called Free. The wifi networks Orange and SFR, though at first glance they don't require passwords, are also not free. You have to have an account with these service providers or else purchase a wifi plan to use their network. Orange does have the option to log on to the connection with your own provider, but the only compatible providers are Aicent partners, BT, Boingo, China Telecom, IPASS, and T-Mobile Germany.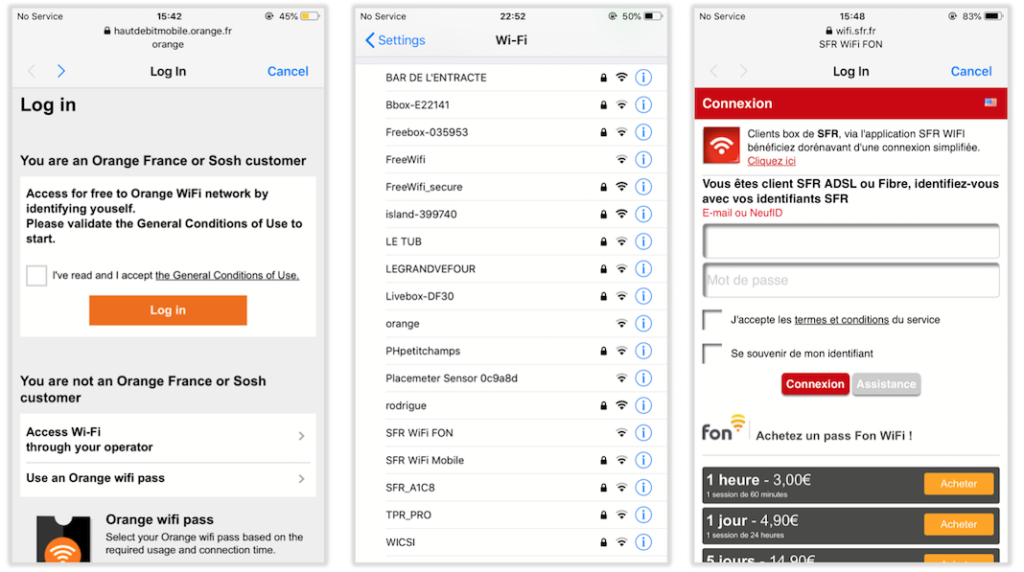 There are essentially four free wifi providers in the city: the city of Paris, a café, restaurant or bar, a train station, a store or hotel.
The city
The city of Paris has 400 wifi hotspots in 260 municipal locations. These are places like parks, mayors' offices, libraries, public pools, and Paris museums. You'll be able to connect to this wifi from 7 a.m. to 11 p.m., or during the hours of the public place (e.g., if the library closes at 10 p.m., the wifi will stop working at 10 p.m.). Several places in the city have 24-hour wifi, like the Champ de Mars and the square in front of the Hôtel de Ville.
To connect to the city's wifi, open up your phone's wifi settings. The city's wifi will be called PARIS_WI-FI_ and then be followed by a number identifying the wifi point to which you are connecting. Select that wifi network. A pop-up window should appear to accept the terms and conditions and fill out some personal information. Once you've done that, click "me connecter." (If the pop-up window doesn't appear, open your internet browser and type in any web address. The next page that loads will ask you to accept the terms and conditions of using the wifi and ask for your information.) You're now set up to surf the internet for two hours, after which you'll be asked to log back in using the same information you gave when you first logged in.
Keep in mind, the city's wifi is far from perfect. Sometimes the connection is poor, and sometimes it isn't working at all. Sometimes there are too many people already using it, in which case you'll get an error message: "le nombre de connexion est atteint" (the number of connections has been reached).
However, there are a few reliably good wifi connections in the city. The Champs de Mars, underground at the Metro station by the Musée d'Orsay, and Les Halles can be trusted to be working. Here's a map of the city's wifi hotspots.
Cafés, restaurants and bars
Gone is the era of needing the black "free Wifi" sticker in the window: most everywhere has wifi now. If you want to double check, just open wifi on your phone to see if the location has a connection (the network name is usually the same as the name of the establishment). Once inside the restaurant, café or bar, the wifi password is often written on the menu or the wall. If not, you can ask your waiter for the password.
Train stations
SNCF offers free wifi at all the Paris train stations. A selection of Metro and RER stations have wifi provided by the RATP (the website lists 15 stations, but it's unlikely it's a full list because we know for a fact that the RATP offers wifi at Saint-Michel which isn't on the list of wifi-connected stations). To use the SNCF wifi connection, you have to create a username and password. Do not forget these, you'll need them again to log in. No information is required to use a RATP connection.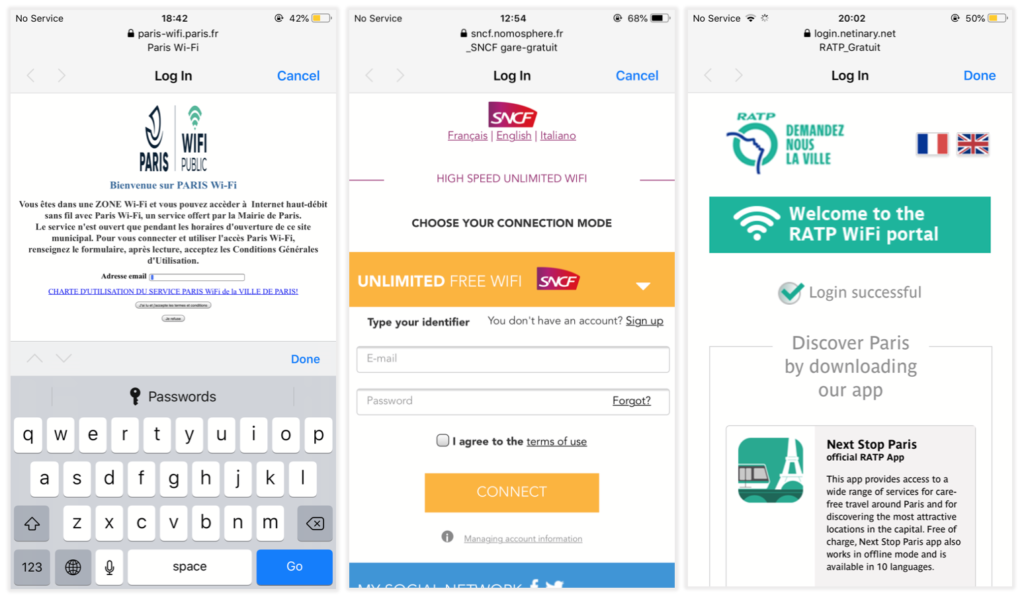 Hotels and chains
The most reliable, password-free connection you'll get will be with a hotel or in a store. Most hotels have password protected wifi but some don't. AccorHotels don't have passwords on their connections, and hotels that invite people to come in and work there (Hotel Parister, The Hoxton, for example) also don't. If you stand outside one, you'll get the connection just fine.
The French stores that reliably have wifi are either department stores or chain stores and restaurants. Among the department stores, you'll find free, no-password wifi at Galeries Lafayette, Printemps, Le Bon Marché, BHV and Fnac. For chains, KFC, McDonalds, Burger King, H&M, and Starbucks (the wifi connection for Starbucks is often called Q-Spot).
Finally, when you do need to ask for a password, the French vocabulary around wifi is very simple. Wifi in French is pronounced wee-fee. To ask for a wifi password, the phrase is "c'est quoi le mot de passe pour le wifi?"
Featured image: Stock Photos from LDProd/Shutterstock