There's no girl's closet like the French girl's. It's a closet of neatly folded vintage jeans, from Tommy Hilfiger to Levi's and random flea market finds, and stacks upon stacks of the white tees. The ultimate French-girl uniform is the white t-shirt paired with a pair of flattering jeans and sneakers (usually these Stan Smith Adidas religiously).
The usual white shirt has now been upgraded to simple, crisp white button-downs and logo-mania shirts. Or even better, to fight gender stereotypes, an over sized male tee (perfect for sleeping in as well). With so many options, it isn't hard to remain unique even in a society that can feel like a school where uniforms are mandatory.
A french tee has its own character; each has something it is trying to say, explicitly or not so much. Ultimately, it's a conversation starter or a casual piece for blending in, but always one that requires careful choosing.
Here's our compilation of a few French-approved tees.
The Patriotic Tee :
Paname is the sweet namesake of Paris, and this tee evokes both the city and the famous Jean-Luc Godard film "Breathless" where the actress wears a New York Herald Tribune Tee written in the same font.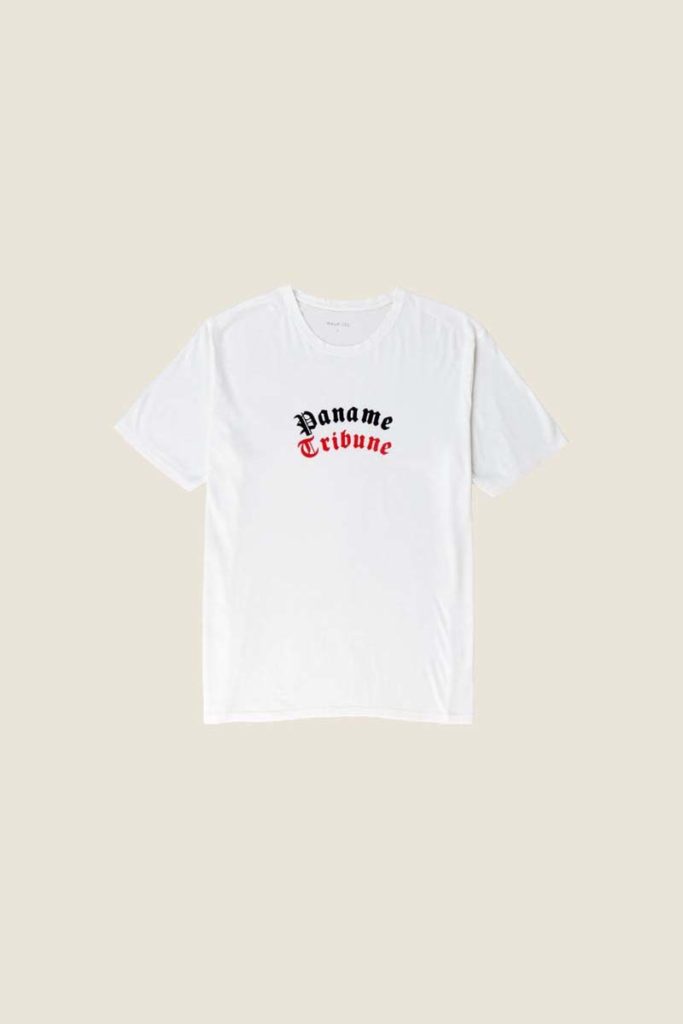 Paname T-Shirt, 15€, LBD Paris. Available at LBDParis.com. 
Classic Americana: 
Lucky if you can score a vintage Levi's, but a new option works just as well. Levi's is Paris' late summer / early fall trend.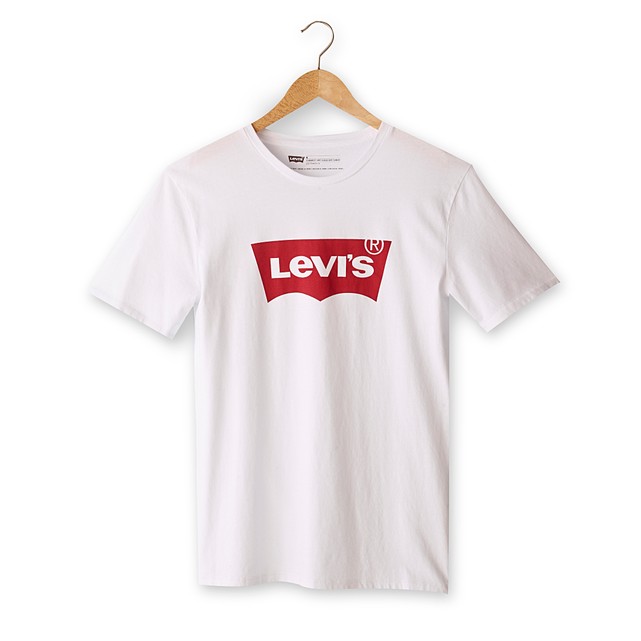 Levi's® Perfect Logo Tee Shirt, $25, LEVI'S. Available at Levi.com.
Summer Dreamin : 
Nation-favorite Monoprix always has some stylish options outside the food aisles. This one in particular is a postcard from the French Riviera and couldn't be any more perfect.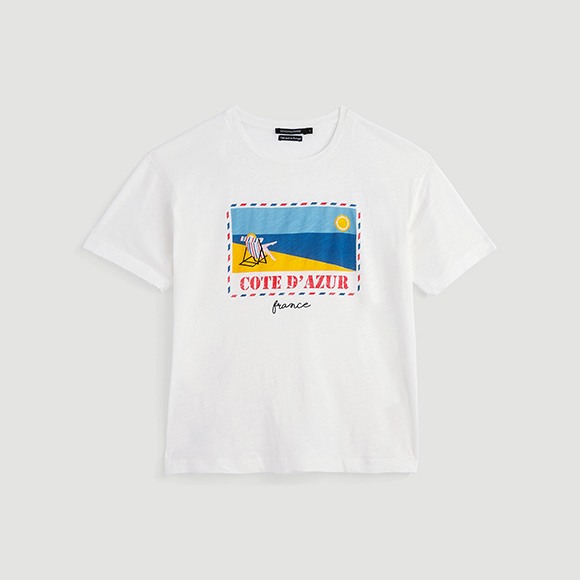 Tshirt manches courtes, 15,99€, MONOPRIX. Available at Monoprix.fr.
Paris In Love :
Surely love is overrated and cliché, but the French girl still loves love and isn't afraid to show it.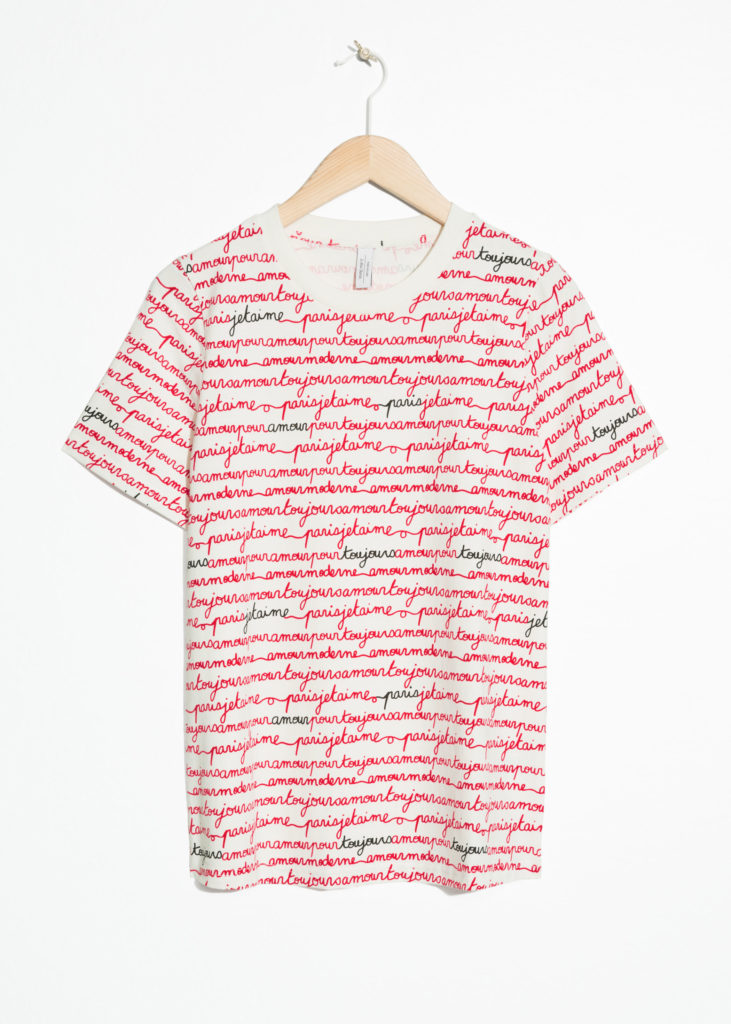 Allover Parisian Calligraphy Tee, $29, & Other Stories. Stories.com. 
Message Tee : 
In case you forgot to say something, your tee can.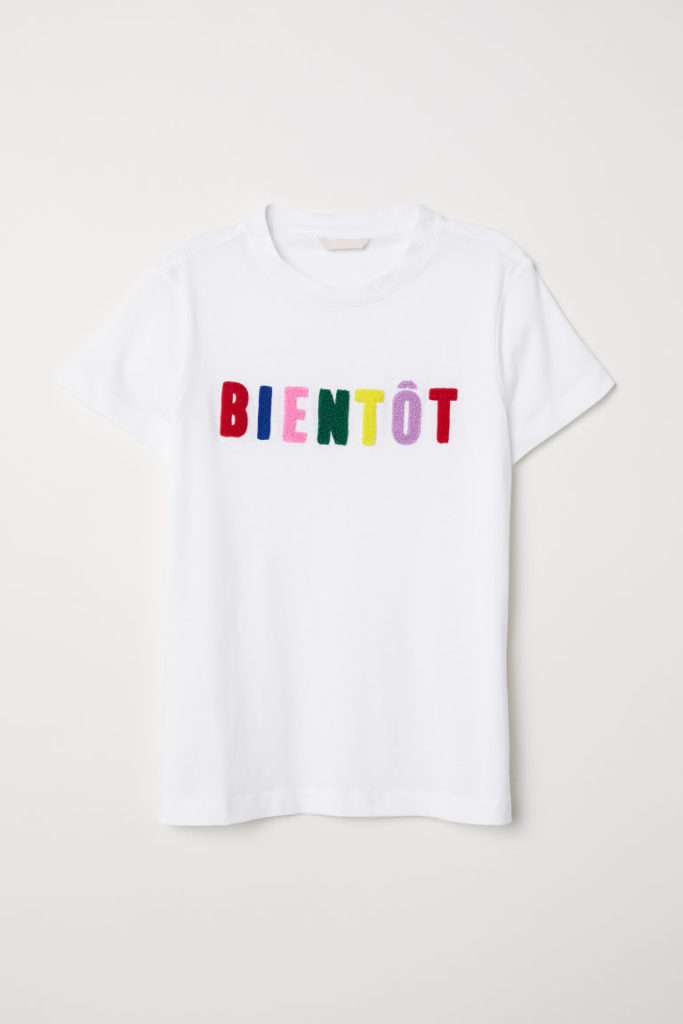 T-shirt with Motif, $19.99, H&M. Available at HM.com.
Insta-Famous Tee : 
This tee has made more Insta-appearances this summer than any other.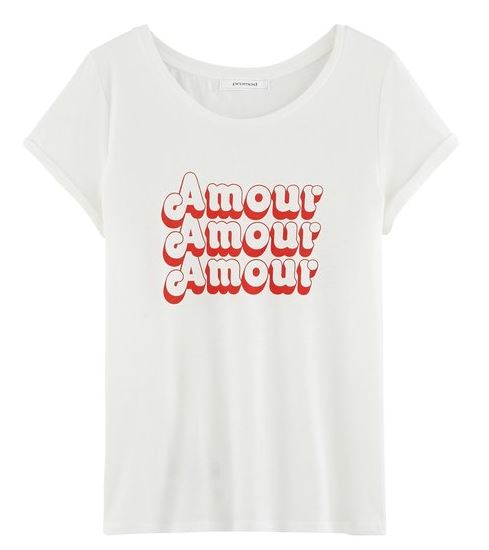 Slogan T-shirt, 9.95 €, PROMOD. Promod.eu.