He may have won the World Cup, but he still keeps his feet on the ground. The forward of the French national team and London's Chelsea, Olivier Giroud is still himself. "It will certainly remain one of the happiest days of my life, along with the birth of my children. I will never forget the emotion we experienced as teammates, we are so proud," says the Frenchman to French Morning London, before laughing, "the Cup is in my living room, and every time I see it, it reminds me of all those good moments, like the crossing on the Champs-Elysées with the Patrouille de France over our heads. But to think about it every day, maybe not."
A fervent believer who isn't afraid to talk about his faith
What he doesn't forget, however, even while standing on the top of the world, is to give to others. He's participating in a charity gala on Sunday, May 19, at St Barnabas Church in Kensington, in West London, where he'll auction some of his best soccer jerseys, including the one celebrating the centenary of the French Football Federation, to benefit migrants and the North African church. It's no coincidence that he chose this church, since it's now his own. He found out about the place of worship through his sports chaplain, Joël Thibault, who introduced him to the French pastor of St Barnabas, Reverend Jean-Luc Sergent. "I've shared many moments with him since we met," confesses Giroud.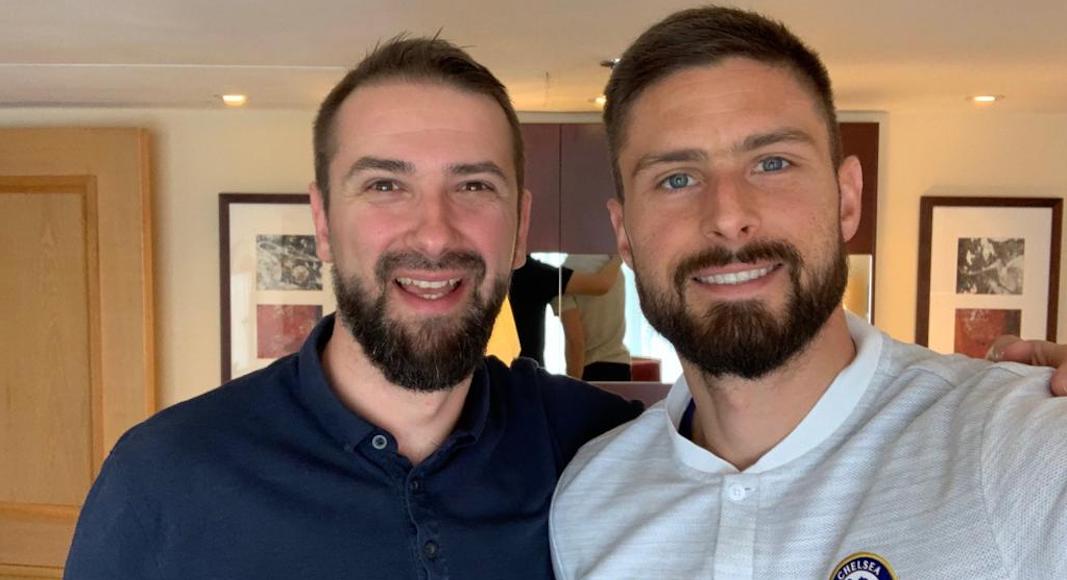 Together, they meet regularly to read the Gospel. The French world champion is a fervent believer and isn't ashamed to say so. "Why should I hide it," he says, although he can understand that some other athletes may react differently to their faith. He has been immersed in evangelical Christianity since childhood, after being introduced to it by his mother. "I pray daily, I read Jesus's psalms, which are for me a real breath of fresh air," says Giroud. If asked about his faith, he responds. "As soon as I can talk and raise awareness among people who ask me questions, I am happy, but the most important thing is still for me to have this belief deep inside me, to cultivate what I believe in, because it helps me in my everyday life, I really need it."
His faith helps him, for example, to put "a lot of things into perspective." "When I see the difficult journey that Jesus lived, it brings me back to a certain humility and at the same time it gives me the mental strength to get through the most complicated moments," admits Giroud. It's a philosophy that he applies both on a personal and sports level. In addition to giving him humility, his faith also guides him to give back what life has given him. That's why he said yes immediately to the St Barnabas charity gala.
This isn't the first time that the footballer has invested in charities; he sponsors associations such as the Monaco Collectif Humanitaire, which allows children, particularly children in Africa suffering from heart disease, to be operated on and monitored in Monegasque hospitals. Everything is taken care of, from travel to getting back on your feet. "I'm a dad, so everything about children touches me."
Lead by example and give back what has been given to him
For Giroud, it's his duty to set an example for the youngest. "It's important to reach out to others, and then it's something that's inside me, something I've always loved doing," says the Frenchman. "People who know me well often say that I'm a generous person. In any case, I find it normal to support people who need it," and doing it without shouting it from the rooftops, without seeking glory, flowers, or compliments, he adds. "I am fortunate to be healthy, to have a healthy family and I am so grateful to Jesus Christ for that. I have to share what I have, I feel like I have this mission. There is one up there who must be proud of me, and my family too, and that is the most beautiful gift."
It's therefore with an honest enthusiasm that Olivier Giroud will be at St Barnabas Kensington Church on Sunday, May 19, for this charity gala. He hopes that French people from London will be present. That's something else that's also important to him. Although he has not yet had the opportunity to see videos of the fervor that his French compatriots in the English capital expressed on Sunday, July 15, 2018, at the end of the World Cup final, he knows he could count on their support throughout the competition. "It's always nice to know that the French abroad are so supportive of the team. The emotions that day were strong, only football can provide this kind of emotion by bringing so many people together. It is an extraordinary social agent."
He also sometimes misses France. "In particular, I miss my family and close friends," admits Giround, who adds with a laugh, "but also the sun in the Rhône-Alpes, boulangeries, and of course good bread!" He really does like his life in London though, in the city where he feels free to do what he wants, where it's possible to eat foods from all over the world and where diversity is one of the city's strengths. "It feels good here," Giround concludes.
This article was first published on our sister site French Morning London.