You missed Black Friday. And Cyber Monday. And Giving Tuesday. But you can still order all of these presents in time to surprise the Francophile in your life.
For Your Mom
Nothing says home for the holidays like a hot cup of tea. Impress any Tetley drinker with a box of Mariage Frères Earl Grey French Blue Tea, available now on Amazon.
For Your Sister
If you've got a special someone in your life who likes to watch beauty vlogs non-stop, get them something from the Poppy Sauvage collection from Estée Lauder, designed by French makeup guru Violette.
For the Bartender
This gift comes in a bottle so pretty you won't want to open it, stamped with the motto, "La Vie Parisienne en Bouteille" ("The Parisian Life in a Bottle"). St. Germain, a French elderflower liqueur, is all the rage among mixologists in the know, and it's a sweet way to spice up any cocktail.
For the Bookworm
They've probably got the ubiquitous New Yorker tote. But they don't have one from this famous Parisian bookstore, marked with an image of Shakespeare & Co.'s interior, which bears the slogan, "Be Not Inhospitable To Strangers, Lest They Be Angels In Disguise."
For the Wannabe Parisian
How To Be Parisian Wherever You Are contains the funny, glamorous, and often self-effacing advice of four incredible parisiennes as they clue you in on the secrets to #frenchgirlstyle.
For Your Ami(e) Français(e)
Paris versus New York started as a way for a fascinated Parisian to express his wonder at a stroll through New York City. But the doodles of graphic designer and artist Vahram Muratyan soon became a massive project on "details, cliches, and contradictions" surrounding the two monumental cities. And no matter where you are, this box of 100 postcards will remind you and whoever you're writing to about the silly differences that decide where we live.
For the Coffee Snob
Though Nespresso is a Swiss brand, it's hard to go anywhere in France and not find the nifty pod-based espresso coffee makers. A gift for anyone nostalgic about that particularly French dark roast sensation of a morning at the grind paired with a slight twitch.
For Your Boyfriend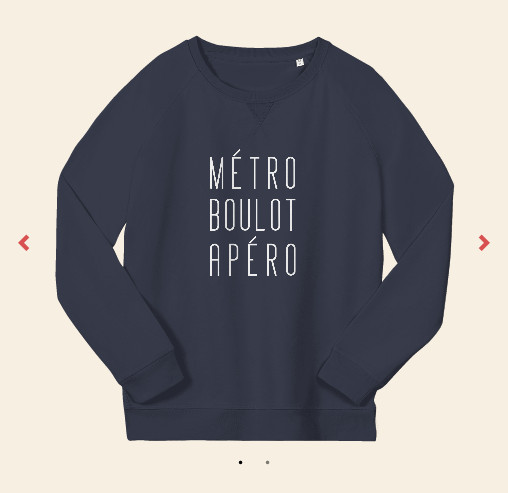 "Subway, Work, Happy Hour." Get cozy in this sweatshirt from Les Petits Frenchies that you definitely won't steal back within the week. Because you might not have a French man, but at least you can outfit him like one.
For the Foodie
Incredible French foods like cheese and charcuterie are hard to bring back to the States, but luckily the Brooklyn shop Les Trois Petits Cochon (or Three Little Pigs) has a solution. The company sells a variety of gorgeous products including this Holiday Gift Basket with truffle mousse, dried sausage, paté, and cornichons. Bon appétit!
For the Music Buff
Oh, you haven't heard of Yelle? What, do you live under a rock? …are all things your friend with a turntable will probably say to you unless you get them this sick double vinyl edition of French electro-pop singer Yelle's album Safari Disco Club. Because it just sounds warmer.
For the World Traveler
Don't Be A Tourist In Paris is the eternal life spirit of author and anti-tourist Vanessa Grall, also known for her YouTube series, MessyNessyChic. It's also a great read for anyone bored with monuments and museums, but never bored with Paris.
For Your Dad
Does Pops love his new iPad, but you know he'll probably drop it? Get him the Le Foulonné iPad case from Longchamp.
For the Sweet Tooth
Ladurée makes the best macarons. But aside from picking up a box before you hop on a plane at CDG, it's hard to bring them back. Luckily, while Ladurée works on a US e-store, you can still buy and ship boxes of macarons through their Goldbelly affiliation.
For Your Girlfriend
She may not want a gold ring but she'll definitely take a pair of gold shoes. Check out this stunning pair of gold pumps from on of Paris's chicest up-and-coming fashion brands, Sézane. (Or literally just get her anything from Sézane.)
For the Beauty Fanatic
Clarins, Europe's leading luxury cosmetics company, shares the French secrets of great skin through packages like this Holiday Rituals gift set.