If you've spent any time on the Parisian metro, you've likely heard someone begging for a ticket restaurant or ticket resto. But, what exactly is this mysterious restaurant ticket?
In a nutshell, it's a piece of paper or a plastic card that serves as a food and beverage voucher. Restaurateur Jacques Borel introduced the restaurant ticket to France in 1962 as a way to reel in customers to L'Auberge Rouge restaurant and in 1967 the French government declared the ticket a "social advantage for employees."
Though it may seem like a U.S. food stamp, it's not. Thanks to the high place of food in French society, companies with more than 25 employees are required by French labor code  to provide their employees with a cafeteria. Companies that don't have the means or space to construct one abide by this law through restaurant tickets.
Employers with a minimum of one employee can purchase restaurant tickets from four major vendors: Natixis (which sells Chèque Apetiz), Chèque Déjeuner (which sells tickets of the same name), Sodexho (which sells Pass Restaurant), and Edenred (which sells Ticket Restaurant). Note that saying you have a ticket restaurant doesn't mean you have Edenred, it's just become the sort of generic name, like Kleenex for facial tissues.
Restaurant tickets are usually worth between 7 and 10.50 euros. Employers subsidize 50% to 60% of the restaurant ticket and employees finance the rest. This means, for example, that you'd pay 2.80 to 3.50 euros, taken directly from your salary, for 7 euros worth of food.  It's in the best interest of employees to take advantage of restaurant tickets because the amount pulled from their salary for restaurant tickets is deducted from taxable income. (Pretty good, right?)
Employees can accrue one restaurant ticket for every day of work. To use it, you simply present it like you would cash, a debit card, or a credit card. If the ticket is paper, the vendor will keep the ticket.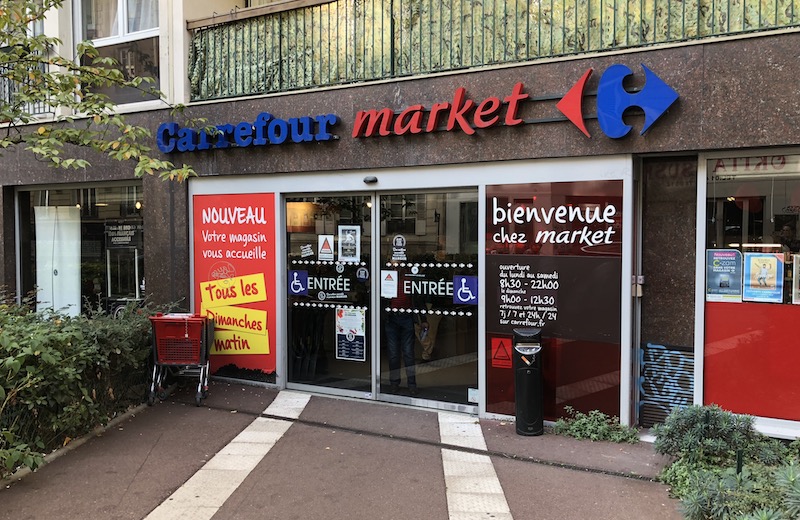 Grocery stores and many but not all restaurants accept restaurant tickets (the amount of paperwork and fees involved dissuades some restaurants from taking them). At grocery stores, you're able to use a ticket to purchase prepared meals, salads, sandwiches, fruit and vegetables, frozen meals (re: Picard), and dairy products. Yet not all alimentary products are on the table. Meat, viennoiserie, pastries, alcohol, and things like pasta and rice can't be purchase (and, of course, non-food items). Both supermarkets and restaurants have the right to select which of their products are and aren't eligible for purchase with a restaurant ticket. If you're the lucky beholder of Edenred's ticket resto, you can even use the ticket to pay for UberEats!
Since the purpose of the ticket resto is for employers to subsidize employees' lunch, they're some restrictions to using them. You may only use up to two tickets per meal or a total of 19 euros per day in the département where you work and its environs. Also, unless you're working, you can't use restaurant tickets on Sundays or on holidays. (Though some restaurants s'en fouent and will accept them anyway.)
Plus, restaurants and grocery stores are prohibited from returning any unused portion of a ticket in the form of cash. For example, if you use a 7 euro ticket to purchase a 3 euro coffee, the unused 4 euros could go down the drain. Some establishments provide you with an avoir (receipt of credit) to apply towards your next purchase, but don't bank on it.
Frugal Frenchies (or Francophiles working in France) should be careful when holding onto their restaurant tickets: they're only valid for a year from the date they were manufactured (usually written on the ticket). So, if you haven't used them by the end of the year, you must either request replacements or donate them. Non-profits such as "Action contre la Faim" or "La Croix-Rouge" accept the tickets.
Looks like there is such a thing as free lunch (well, partially).