Eating baguette and jam for breakfast with French radio on, buying bagfuls of fresh produce at the Marché Bastille, inviting friends over for an apéro: this is how we imagine going to Paris — the perfect trip, with your Parisian apartment as your home base.
In the sharing economy, staying in an apartment while traveling has meant using platforms like AirBnb. But a stranger's apartment has no guaranteed cleanliness, amenities or sense of home. The better choice is Paris Perfect, which offers apartment rentals with hotel-style amenities. They have nearly 100 apartments all over the city, available to rent for just a night or several weeks. Most importantly, the apartments don't make you feel like you're a guest in someone else's home; you're simply home.
The Vibe: Apartments are decorated in a modern take on classic Parisian style. Everything feels luxurious. It's as if the 18th-century apartments of the French bourgeoisie received a modern update to match today's technology and the trendy, not-too-showy Parisian décor.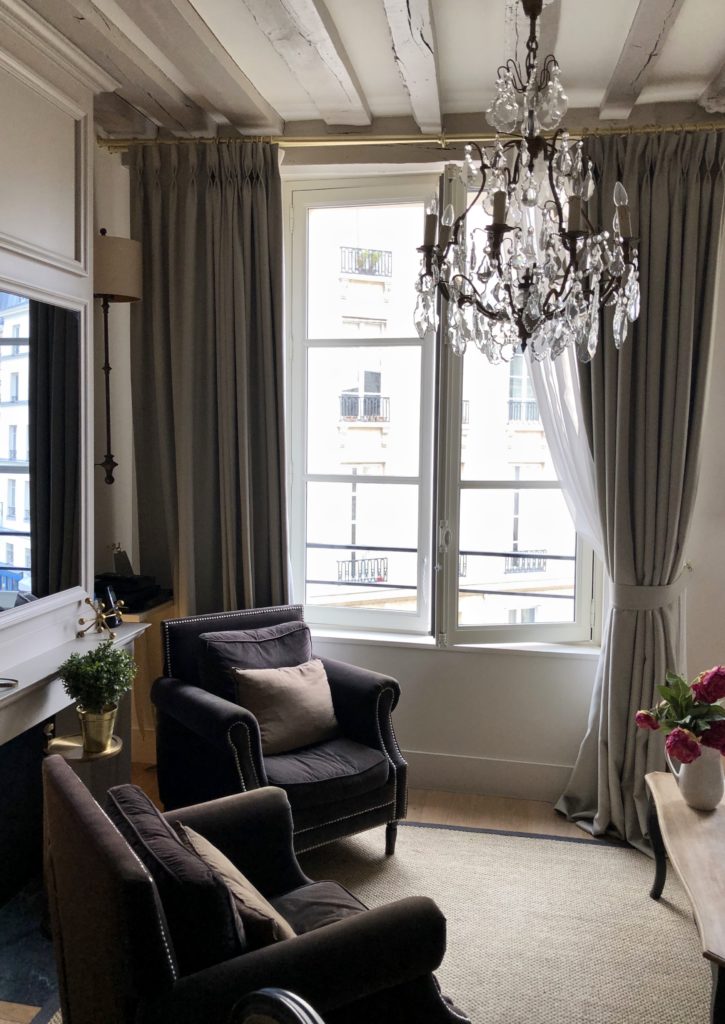 The Rooms: One of their apartments is the Castillon, a one-bedroom located on the mythical place Dauphine on Ile de la Cité. The two armchairs in the living room, large and perfect for socializing, provide the best view of the square below. An extra-wide queen bed piled with pillows resides below a chandelier that matches the one in the living room. The kitchen has state-of-the-art appliances, and a table with two chairs provides the setting for dinner. Four-hundred-year-old beams run parallel to each other on the entire apartment's high ceilings — a reminder at just how historic the space is.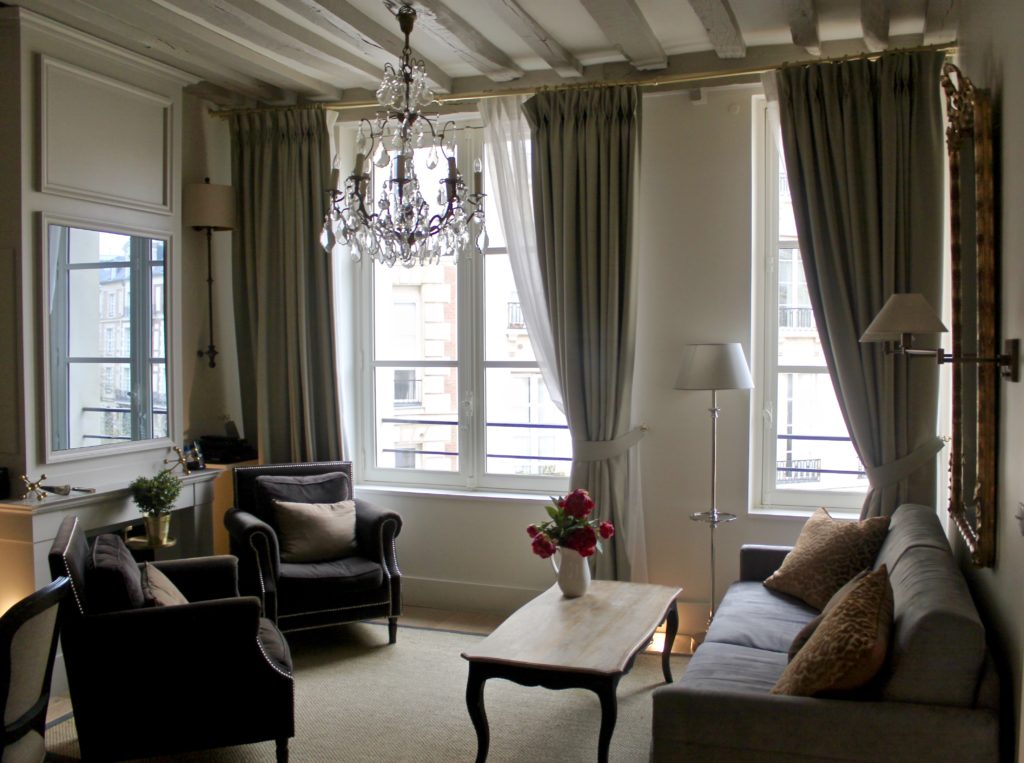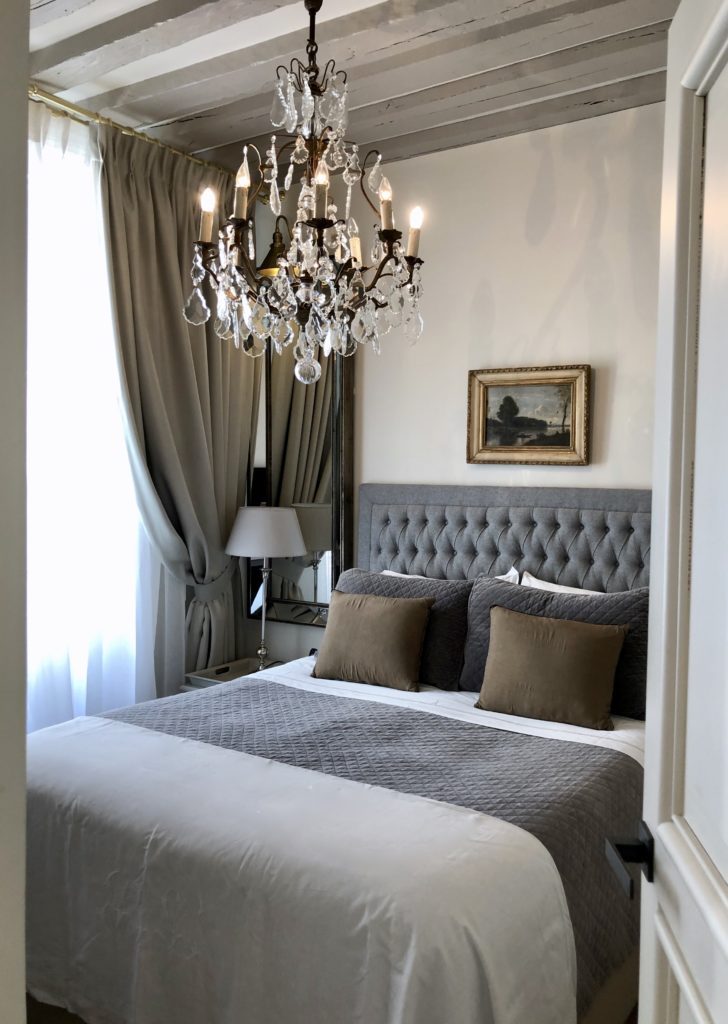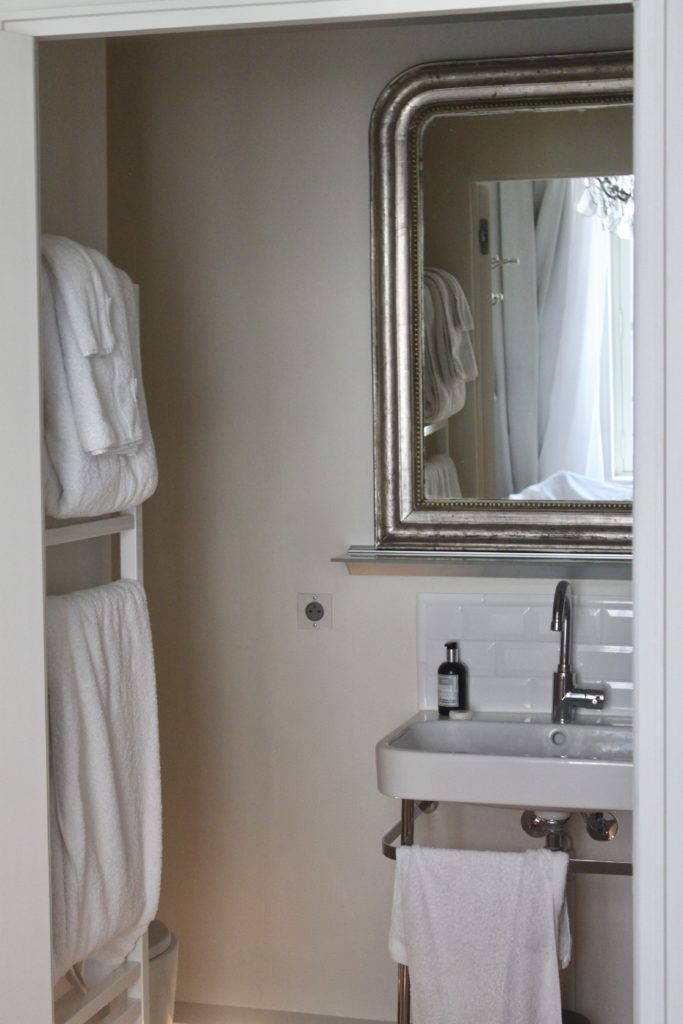 The Food & Drink: Besides the bottles of wine and sparkling water, juice and milk, Nespresso cups, tea, madeleines and jams in the kitchen when you arrive, and the fresh baguette downstairs every morning, Paris Perfect doesn't provide food and drink. Instead, they provide what you need to cook. You may think that you'll never eat in, but dining out is expensive and sometimes you need a relaxing night in after long days of exploring.
Each Paris Perfect apartment's kitchen is outfitted with a fridge, Nespresso, coffee pot, kettle, dishwasher, stove, and touchscreen microwave and oven. There's silverware, dishware, glasses, serving dishes, bakeware, pots and pans, knives, cutting boards — everything you need to cook is there. Even the basic cooking supplies (olive oil, salt, pepper, etc.) has been stocked in the cabinets.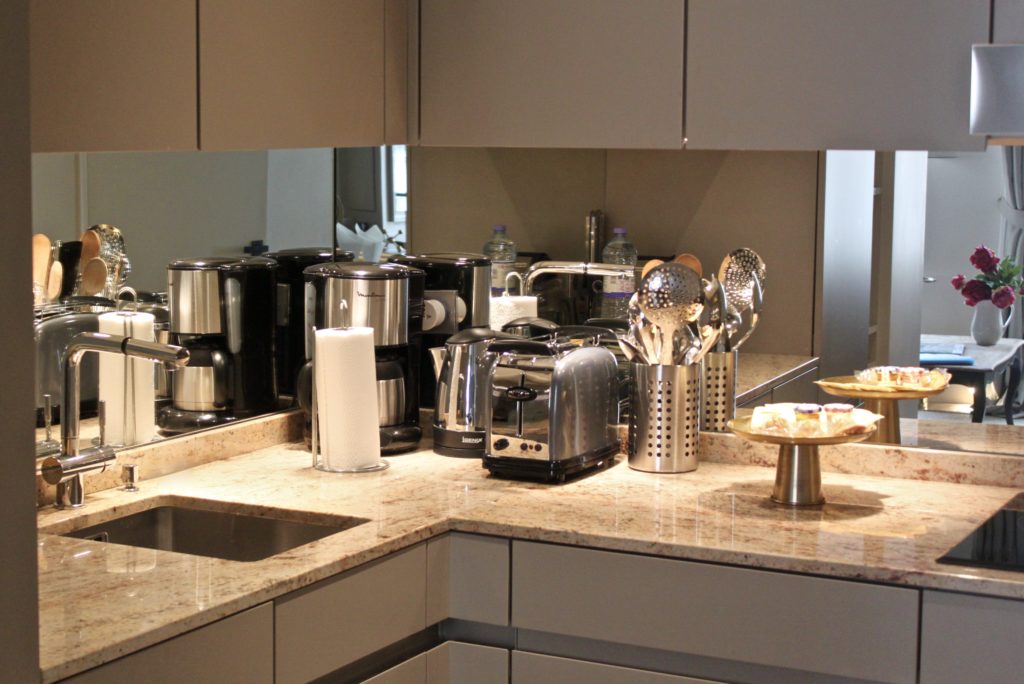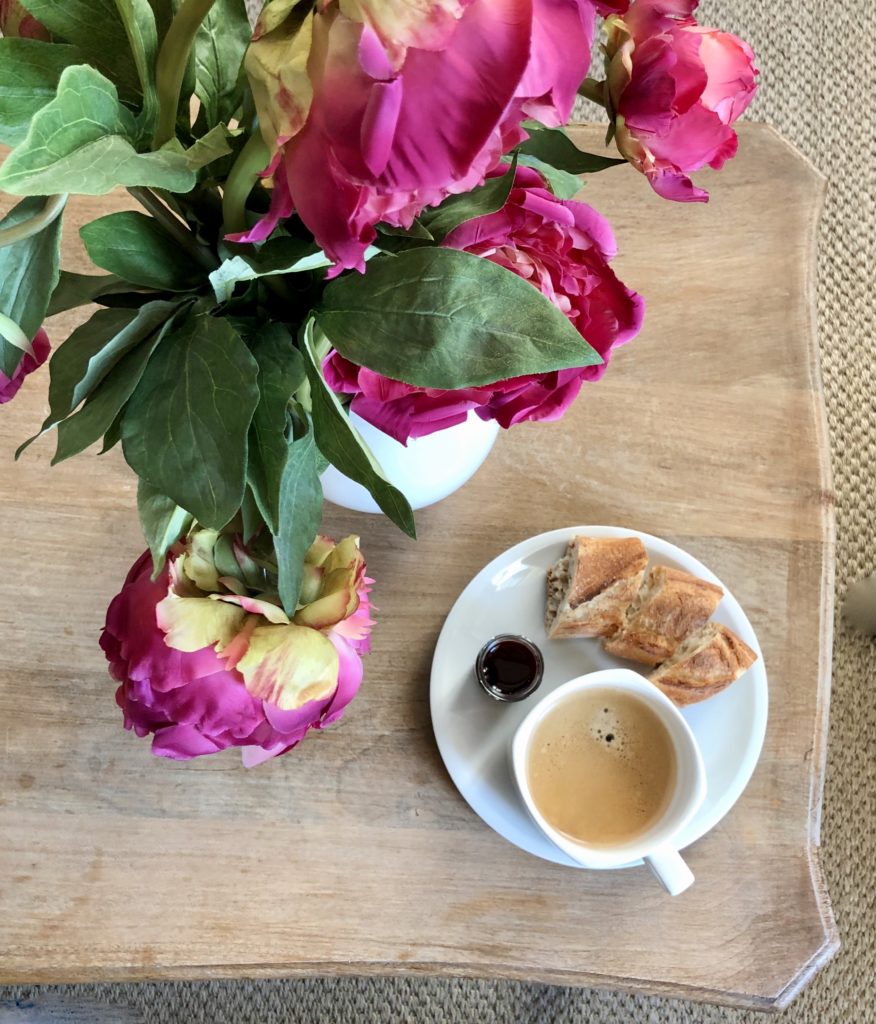 The Amenities: Paris Perfect apartments have the amenities of a hotel. Every door is operated via key code. Paris Perfect owns the building at 25 place Dauphine, so the first floor is a lobby with a computer, printer, luggage storage and coffee. A spacious elevator takes you up to your apartment.
There's cable, high speed wireless internet, free international calling, bluetooth speakers and a TV concealed in a mirror (for maximum aesthetic appeal). The shower has shampoo, conditioner, soap and lotion, and a towel warmer beside it. Central heating and cooling, an iron and ironing board, a hairdryer. And best of all, there's a washer-dryer. The apartment is even stocked with laundry detergent and dish soap.
The Location: Paris Perfect has studio, one-bedroom, two-bedroom and three-bedroom apartments, all well located so you never have to choose between location and quality. The Castillon is on place Dauphine, which was built in 1610. Perfectly situated between the Louvre and the lively Saint-Germain-des-Prés, the Castillon allows easy access to both the Right and Left Banks. From Pont Neuf, you have a perfect view of the sunset.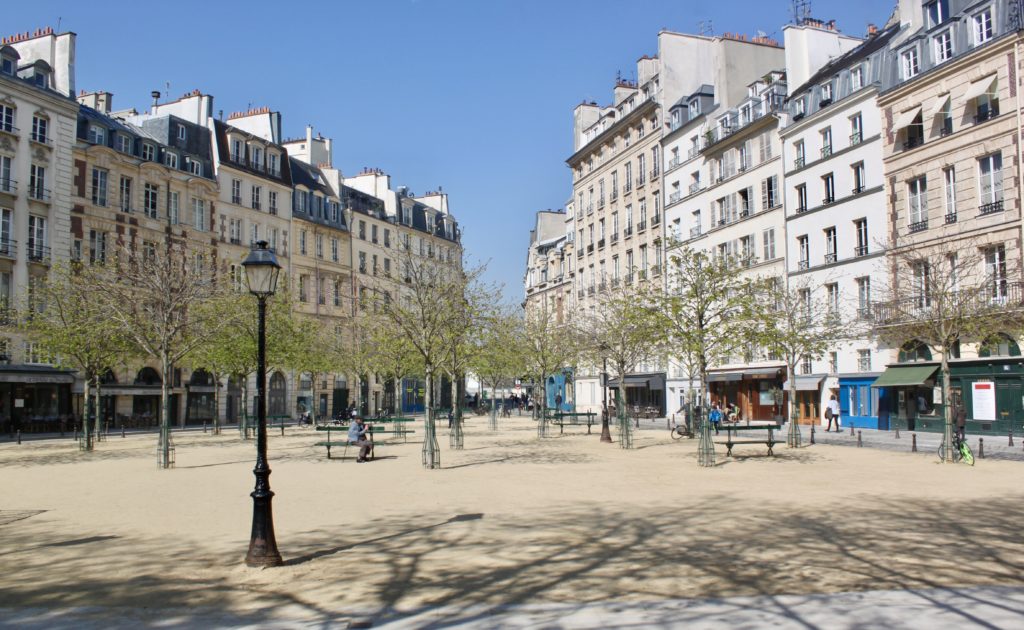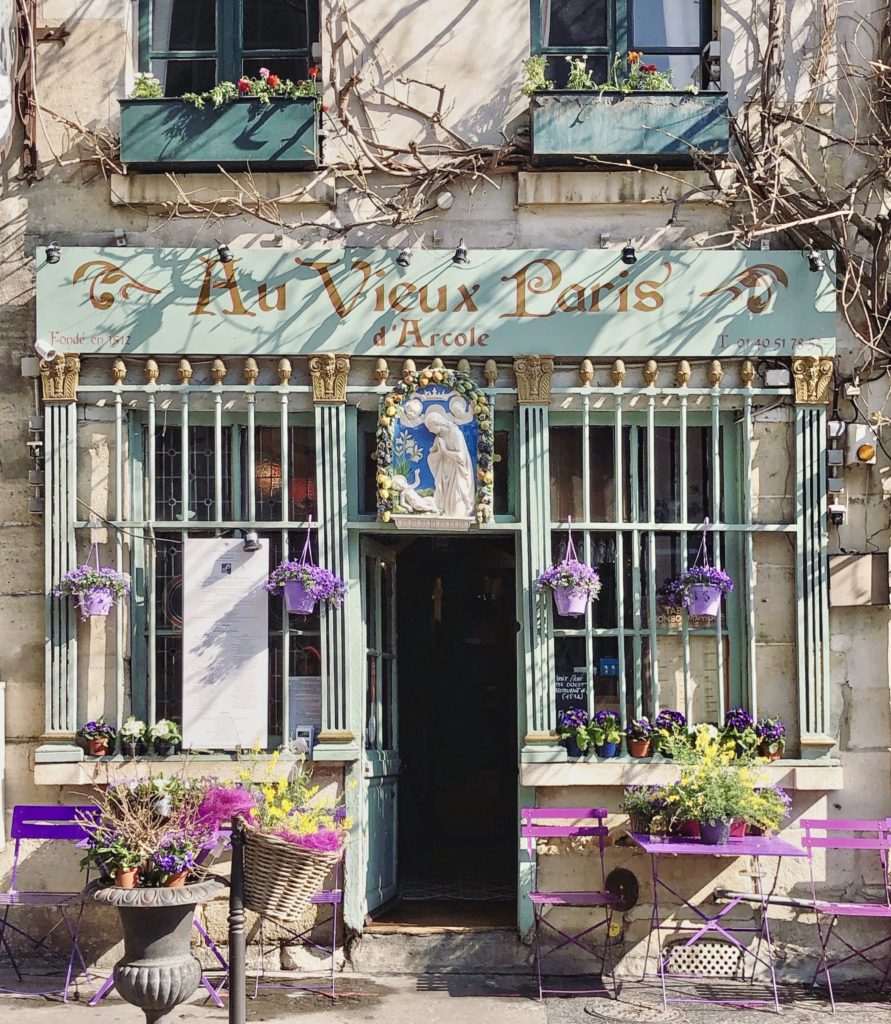 The Service: Once you book, you'll receive access to a personal reservation page with information not just about your reservation but also the apartment, access, and the neighborhood. You'll be contacted to coordinate your arrival time so a greeter can meet you at the apartment. You can reach out to them at any time by email or phone with problems.
One special service that Paris Perfect provides is the ability to actually own part of a Paris apartment with Paris Perfect Shared. Through the program, you can own an apartment without any of the hassle that usually comes with owning property. It's not a time share, the apartment is actually deeded to you and you can resell it or pass it on to others (it's called fractional ownership). The only costs are your share and the small annual fee, which covers everything else from maintenance and taxes, which Paris Perfect Shared and their lawyers take care of for you. There's nothing else you have to do for the property other than enjoy it for your four weeks of the year. The first apartment available for fractional ownership sold quickly. Now, the Beaune apartment, a two-bedroom on the Right Bank, is available.
The Reason to Go: One of the most exhausting things about traveling is that you can never really stop, rest and feel at home somewhere. In a Paris Perfect apartment, you're at home with your comforts. You can play music on the bluetooth speaker, have a night in with Picard and a film, or host your closest friends for an apéro. The space is entirely yours. Once you stay in a Paris Perfect rental, you'll never want to stay in Paris any other way.
Paris Perfect
Website here
Tel: 1-888-520-2087 (Toll Free, English available)
Email: [email protected]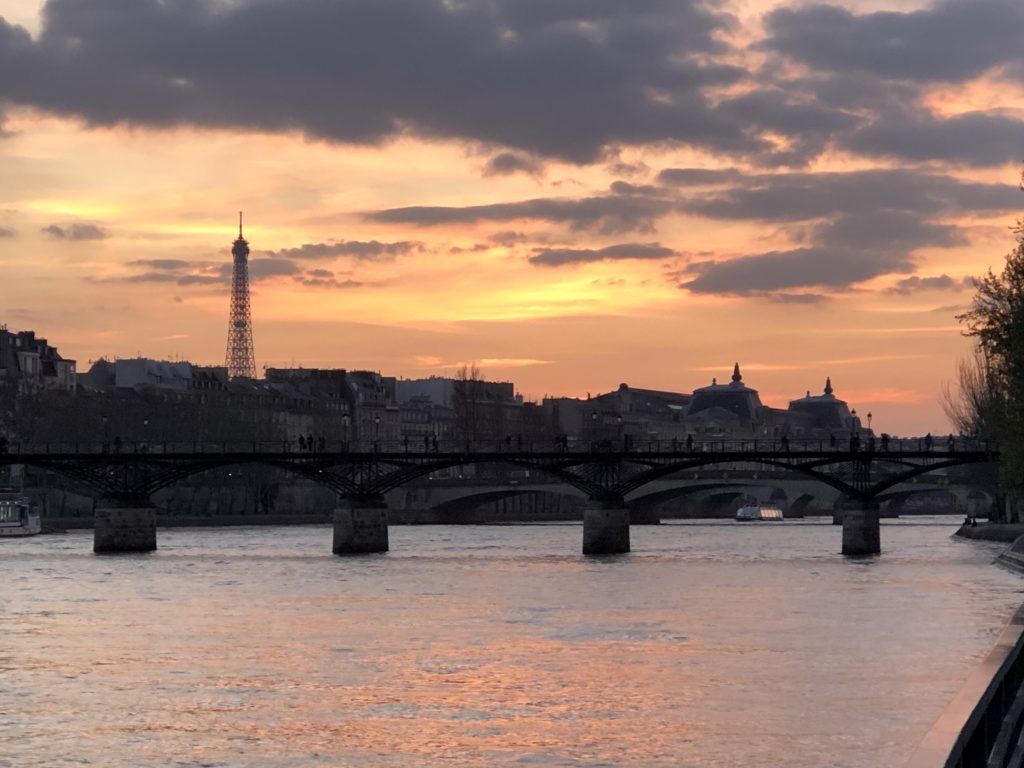 This post was written in partnership with Paris Perfect. All opinions are solely those of the author. All photos are ©Frenchly unless otherwise indicated.