You liked those hidden Eiffel Tower views from the ground, now how about a view from the air?
From May 29 to June 2, a giant zip line, organized by Perrier, will be taking brave fools down from the second floor of the Eiffel Tower to the ground. Riders will go from 115 meters (377 ft) up in the air down to the Champs-de-Mars at a speed of 90km per hour (56 mph).
The good news is that it's free. The bad news is that everyone in the world wants to do it, so only 147 people can do it. To win this ride of a life, head to the organizer's Twitter page from May 20 to 26 during one of the "game sessions." During these sessions, you have to tweet as many times as possible with #SmashPERRIER. The three people that tweet the hashtag the most during that time are the winners and will be contacted by Perrier to schedule the ride.
Game sessions, happening from May 20 at 11:05 a.m. to May 26 at 6 p.m., will be open from 11 to 11:55 a.m., 12:00 to 12:55 pm, 1:00 to 1:55 p.m., 2:00 to 2:55 p.m., 3:00 to 3:55 p.m., 4:00 to 4:55 p.m., and 5:00 to 5:55 p.m. (those are all Paris time). Keep up with this tweet to see when the next game session window opens.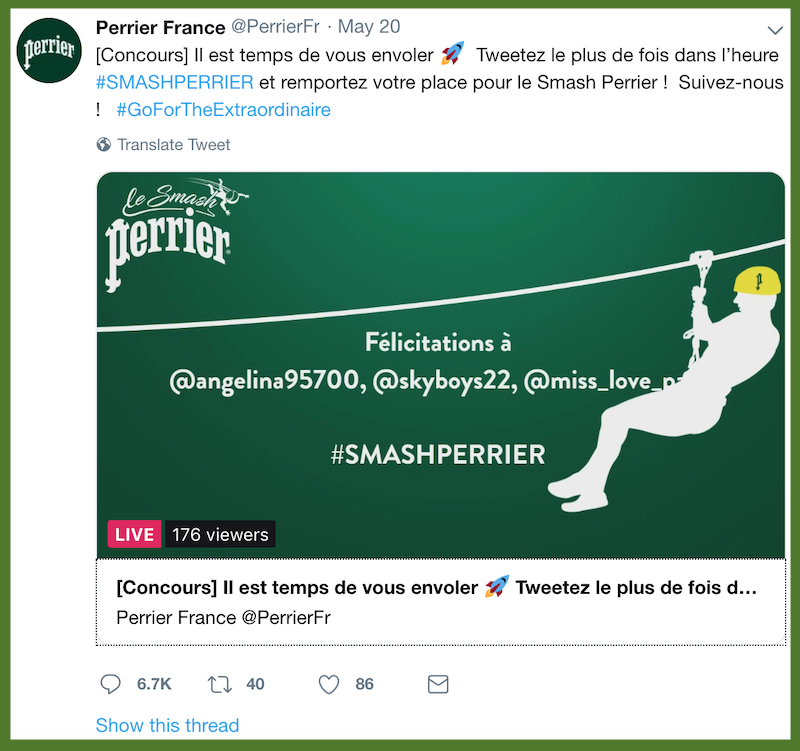 If you miss those windows, a second random drawing will be held at the location of the event from May 29 to June 2 on the official Instagram page.
As for the rules to participate (because we read the fine print in French for you), you must:
-have a Twitter account
-be 1m45 (4'9″) and weigh a maximum of 100k (220lbs)
-be in good physical shape
-not be pregnant
-be in good psychological health and not get vertigo
-be at least 18 years old
-reside in the metropolitan area of France (which includes Corsica)(Frenchly has reached out to Perrier to find out how long you have to be in metropolitan France to qualify as someone who "resides" there)
Catch a preview of the ride of your life here.