"I present, the new Airbnb," announced Mohamed Haouache, co-founder of Storefront. The French expat later received loud applause from an audience of 500 entrepreneurs, investors, and other executives gathered for the final of the Startup Tour 2018 on Wednesday, September 26, at the Pierre Hotel in New York.
Haouache's successfully convinced the twelve-member Franco-American jury through his pitch that Storefront should be awarded First Prize at this second edition of the competition, organized by BNP Paribas and the French Founders network.
"Reaching 500 top executives in this way, it's gold," said the entrepreneur, with his giant check for $100,000 under his arm. "We have already seen interests in partnerships and signs of interest from investment funds," said the winner, who "didn't expect" this victory "at all."
The start-up, dedicated to the rental of commercial spaces, won the first round of the competition in New York in June before competing against the other five finalists from local competitions in Miami, Los Angeles, San Francisco, Montreal and Paris. During the competitions, start-ups each had three minutes to pitch their concept, followed by three minutes for questions from the jury.
"France is back," said Jean-Baptiste Lemoyne, Secretary of State to the Minister for Europe and Foreign Affairs, who came to attend the final. "The French Tech ecosystem has never been so dynamic. There are 200 start-ups in New York City. French Tech has become the city's first foreign ecosystem," he remarked in English.
The Association des anciens des grandes écoles françaises (AAGEF) also awarded a prize to the American company Bubble, which offers a simplified interface for software development. The startup Oto, which generates an automated intelligent voice, was awarded the Fan Favorite prize, given to the startup that receive the most votes online.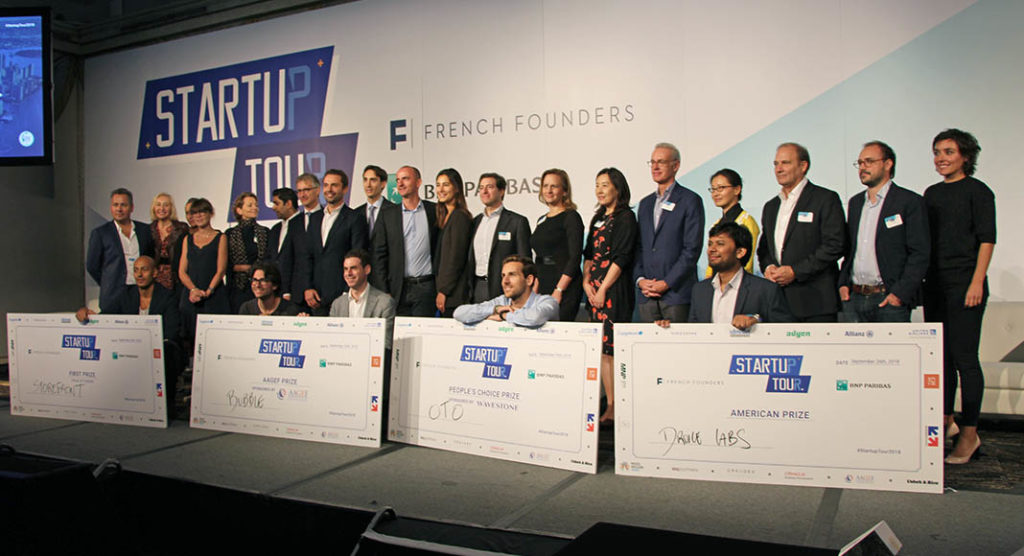 A new feature of this second edition of Startup Tour, three American startups planning to set up in France also competed for a special prize. Droice Labs, which uses artificial intelligence to assist doctors in their treatment prescriptions, took home that prize.
"It usually takes months to get in touch with all these people and get this feedback," observed Mayur Saxena, the 29-year-old founder of Droice Labs. "In an event like this, you can do it in a few hours, which is more valuable than any prize."