"JR is so brave. He has a vision, he has an ideal," declared Alicia Keys from the improvised rooftop stage at the Perrotin gallery on Wednesday, June 27. A surprise guest at the VIP opening of the JR exhibition, the singer, who's in the middle of recording an album, gave her French friend a few hours of her time.
With his hat settled on his head and his sunglasses on his nose, JR was dressed as he usually is: a photographer with a secret identity, world-famous for his monumental and engaging works. At the party, JR inaugurated his first New York exhibition, called "Horizontal," on the Lower East Side of New York, open from June 28 to August 17.
"I wanted to express this idea of horizontality, of discussion at the same level between everyone, because that's how all these works were created," explains JR, a few hours before the gallery's opening to the public.
On two floors, the artist offers a glimpse behind the scenes of his works, often spectacular and flirting with legality, such as with "Kikito," a 21-yard photo of a Mexican boy. It was installed last September peering over the border wall that separates Mexico and San Diego. It reappears in miniaturized version on the walls of the Perrotin gallery.
https://www.instagram.com/p/BkQB0NTAa6D/?taken-by=jr
"Since I never show my studio, I'm able to show all my 'blueprints,' all my 'sketches,' instead to show how the works are made," explains JR, who moved to New York eight years ago. "People can only see the finished work when, in fact, we go through all these full-scale tests outside or in the studio," continues the artist, creator of the worldwide participatory art project "Inside Out," underway since 2011.
"The idea was also to connect projects that are sometimes ten years apart, but that remain on the same axis, in the same linearity," the artist continues. For example, a model ship mirrors a gigantic collage he made in 2014 on a 5,000 square meter container ship.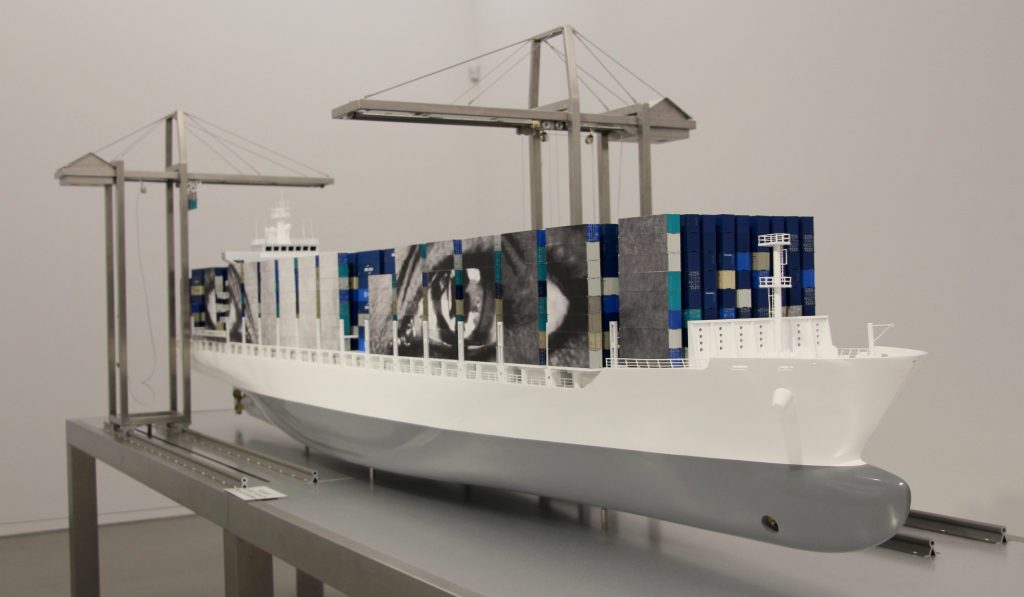 In addition to the small-scale versions of his art, the French street artist is displaying two gigantic works outside the French gallery where his work is debuting: a mural photograph on Perrotin's red brick façade and a huge eye — JR's trademark — displayed on the floor of the rooftop.
https://www.instagram.com/p/Bklft66gKS6/?taken-by=jr
"We almost wanted to set up a museum exhibition," says JR. "All over the world that dimension is always in my exhibitions. The idea is also that people can come spend time here and discover the works."
https://www.instagram.com/p/BkgAJgVgywc/?taken-by=jr