Though France and the United States certainly aren't at war, their presidents might be.
At the United States General Assembly meeting, the two countries' respective leaders gave speeches within a few hours of each other. While American president Donald Trump pushed isolationist policies that emphasize the sovereignty of individual nations — "America first" — French president Emmanuel Macron preached the importance of creating a global coalition.
Giving his speech just several time slots after Trump's, Macron's words had the semblance of being a direct rejection of Trump's. From Iran to climate change to socialism, the two leaders were opposed. Framing his entire rejection of Trumpian policies was the premise that the failing global order needed to be replaced with a new balance of three values: upholding sovereignty, enhancing regional cooperation, and providing robust international safeguards.
Retaining sovereignty was the main point of Trump's speech. "We will never surrender America's sovereignty to an unelected, unaccountable, global bureaucracy," declared Trump, who mentioned sovereignty 10 times in his 35-minute speech. "The United States will not tell you how to live, work and worship. We only ask that you honor our sovereignty in return."
Far from denying sovereignty — "Friends, I deeply believe in the sovereignty of people," — Macron focused on making the distinction between sovereignty and nationalism. Countries can be sovereign, as should their people, but their leaders cannot just be self-interested, he explained. "Nationalism always leads to defeat," warned Macron. In a barely veiled reference to Trump, he criticized the "brandishing [of] sovereignty as a way of attacking others." "Only collective action can preserve the sovereignty of people and countries," he explained.
Trump, in his speech, claimed Americans "reject the ideology of globalism" in favor of "the doctrine of patriotism." Macron meanwhile declared, "In the 21st century, we should only triumph through bolstered multilateralism." The Paris Climate Accords and the Iran Nuclear Agreement are the two best case studies for how Macron and Trump diverge on cooperation. On the Paris Climate Accords, an agreement to avoid raising the global temperature by 2 degrees Celsius, which Trump withdrew the United States from in June 2017, Trump was silent. In fact, he never mentioned climate once. Macron, who has emerged as a leader in the global fight against climate change, announced from the podium that France will no longer accept "commercial agreements" with countries that do not "respect" the Paris Climate Accord. (The US and Syria are the only two countries not in the agreement.) Without mentioning the US or Trump, Macron put pressure on other governments to isolate America as punishment for leaving the coalition, and perhaps push it to rejoin.
Macron also criticized the US's refusal cooperate with international coalitions through the Iran Nuclear Accords, which delay Iran's achievement of nuclear arms capabilities. At the podium, Trump referred to it as "the horrible 2015 nuclear deal," and urged other countries to completely isolate Iran. In stark contrast, Macron held up the 2015 accord as an example of international cooperation working: "What will bring a real solution to the situation in Iran and what has already stabilized it? The law of the strongest? Pressure from only one side? No! We know that Iran was on a nuclear military path but what stopped it? The 2015 Vienna accord."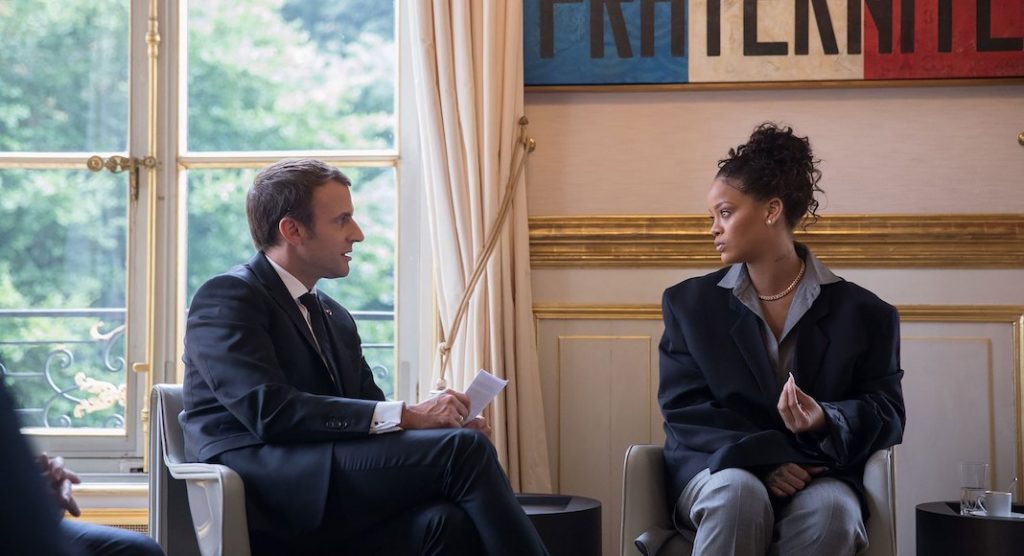 Both Trump and Macron spoke of creating safeguards for people, but Macron expressed intentions to implement them on a global scale while Trump focused on what's happening within US borders. "We will not allow our workers to be victimized, our companies to be cheated, and our wealth to be plundered and transferred. America will never apologize for protecting its citizens," Trump said in defense of his recently implemented trade tariffs on China.
According to Macron, we need international safeguards to fight everything from climate change to the pay gap to poverty to terrorism. He claimed that inequality is at the root of many of the world's problems, including nationalism. "It's not acceptable to not have the same chances," stated the centrist president, in the midst of a string of declarations about the importance of making sure girls can go to school, children in sub-Saharan Africa can eat, women have access to contraceptives, and everyone living in poverty not starve. "We don't negotiate anything on our universal rights," assured Macron, urging the world's leaders to collaborate in fighting injustices.
Covering all three principles, and perhaps the biggest hot-button topic of the day, was migration. Trump said the US respects other countries' migration policies, and expects them to do the same. "Ultimately, the only long-term solution to the migration crisis is to help people build more hopeful futures in their home countries. Make their countries great again," remarked Trump, who also announced in his UN speech that the US will only provide foreign to "those who respect us, who frankly are our friends."
Macron is far from an open-armed Angela Merkel in his immigration policies, but he's no where close to Trump. The French president said that while he doesn't believe in complete openness when it comes to migration, he also doesn't believe in closing borders. The migration crisis can only be addressed if we look at the root causes of it, emphasized Macron. He reiterated his support for the UN migration pact, which every UN member is a part of except for the US and Hungary, and emphasized the importance of "the unconditional protection of those seeking protection."
This isn't the first time the French president has stood at a podium and refuted Trump's remarks. Speaking to Congress in April of this year, Macron rejected the Republican president's positions on Iran, climate change, trade, and multilateralism, repeatedly eliciting applause from Democrats. Just a month after his own election, Macron set up the "Make Our Planet Great Again" website, offering grants to scientists interested in coming to France to study climate change.
Throughout his approximately 45 minutes at the UN podium, Macron's speech oozed a sort of moral globalism: "I don't believe in generalized or empty globalization. I don't think this can be a reality. But I believe in universal values. That's what should guide us." He acknowledged frustrations with the UN and EU, but urged the nations' leaders to reject isolationism. The French president took a place of moral high ground, explaining to his fellow leaders, "All of [these problems] happen because we turn our heads and remain complacent."
"Don't accept our history unraveling," Macron warned. "Our children are watching."
To his plea for global cooperation, the hall of world leaders responded will applause.
Featured image: Stock Photos from Drop of Light/Shutterstock