Pretentious, expensive, full of Top-40 hits. Nightlife in New York always seems to miss the mark. French expat Maxime Aubin, who moved to the city nearly three years ago, recalls having high hopes: "At first you're so happy to be here, you go to all the fancy parties you can find — rooftop parties, amazing DJ sets." But the scene grew repetitive, pricey and unfriendly, leaving him nostalgic for French parties.
Tired of waiting for the perfect party to appear, Aubin, a journalist at French Morning, and his friend Valentin Delouis, a graphic designer and French expat, are organizing their own French party in New York, Le Bal Français, on Saturday, June 1, at 5th&MAD in Midtown.
Free to attend (RSVP on Eventbrite or Facebook), the party will feature French classics from the 80s and 90s and a few recent hits from the 2000s and 2010s. Think chart toppers by Aya Nakamura and Vegedream, but also French classics by Yannick ("Ces Soirées là"), Justice ("D.A.N.C.E.") and MAGIC SYSTEMS ("Magic in the Air").
"I was doing more and more parties at my place with my friends, listening to good French music," instead of going out, the expat explains. Organizing a party for all the French people in New York was a logical next step for Aubin and Delouis, who will be DJing. And as for how to make an anti-New York nightlife party, the duo looked to their roots.
"Le bal français" (the French ball) is a typical party from the countryside of France. "You have a big tent that can fit like 500 people, and you just bring a DJ in," explains Aubin, who hails from Saint-Etienne, a small city in the Loire. "Friends, alcohol, a tent, and a DJ from the village. You dance and sing classic French songs, songs that everyone knows, and just having a really good time with close friends and people that you like. It's a great atmosphere."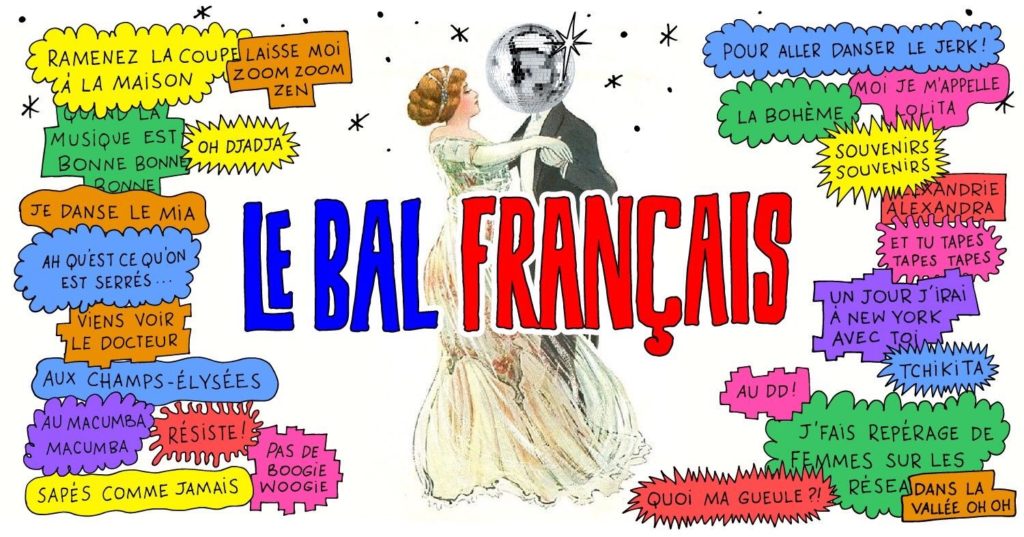 Another French expat has previously organized French parties in New York, Une Nuit Française, which drew crowds of younger French expats. Aubin and Delouis are hoping to have a wider range of ages at Le Bal Français. "I'd love to have people who are like 50, 60, 70, and 21," exclaims Aubin.
This age range would be reflective of a bal français in France, which draws an all-ages audience thanks to a playlist of classics. Just as the United States has trans-generational hits, like "September" and "Bohemian Rhapsody," France has songs that bring everyone to their feet. It's this warm, familial atmosphere that Aubin and Delouis seek to recreate at their Manhattan bal français.
For Americans, Le Bal Français is not only a welcome break from the usual New York nightlife scene, it's also a chance to experience a new aspect of French culture. "It could be surprising to Americans because sometimes French people seem like we aren't very outgoing, like we're arrogant," suggests Aubin, who attests that when the music and mood are right, the French will enthusiastically sing and dance to their favorite tunes.
As for what's next for the party planning duo, "we're just starting something to have fun," explains Aubin. "But if it works, we might do other parties. Maybe like a French R&B-rap party. We'll see, we'll see."