Since November, thousands of people known as gilets jaunes (yellow vests) have blocked roads and marched through cities to demonstrate against the government of French President Emmanuel Macron. What began as a protest against a gas tax quickly metastasized into a general protest against rising inequality, lack of economic opportunity, the elitism of the French ruling class, and more.
The demonstrations were peaceful at first but have since become marred by violence, drawing a sometimes-violent reaction from the police. In response, President Macron has cancelled his gas tax, made other economic concessions and launched Le Grand Débat, a national debate to discuss problems in France and what to do about them. Attendance at the weekly protests has declined over time, from maybe hundreds of thousands across the country at the start to just a few tens of thousands more recently.
So what do the French think of the gilets jaunes? France's leading pollster IFOP's most recent report can tell us.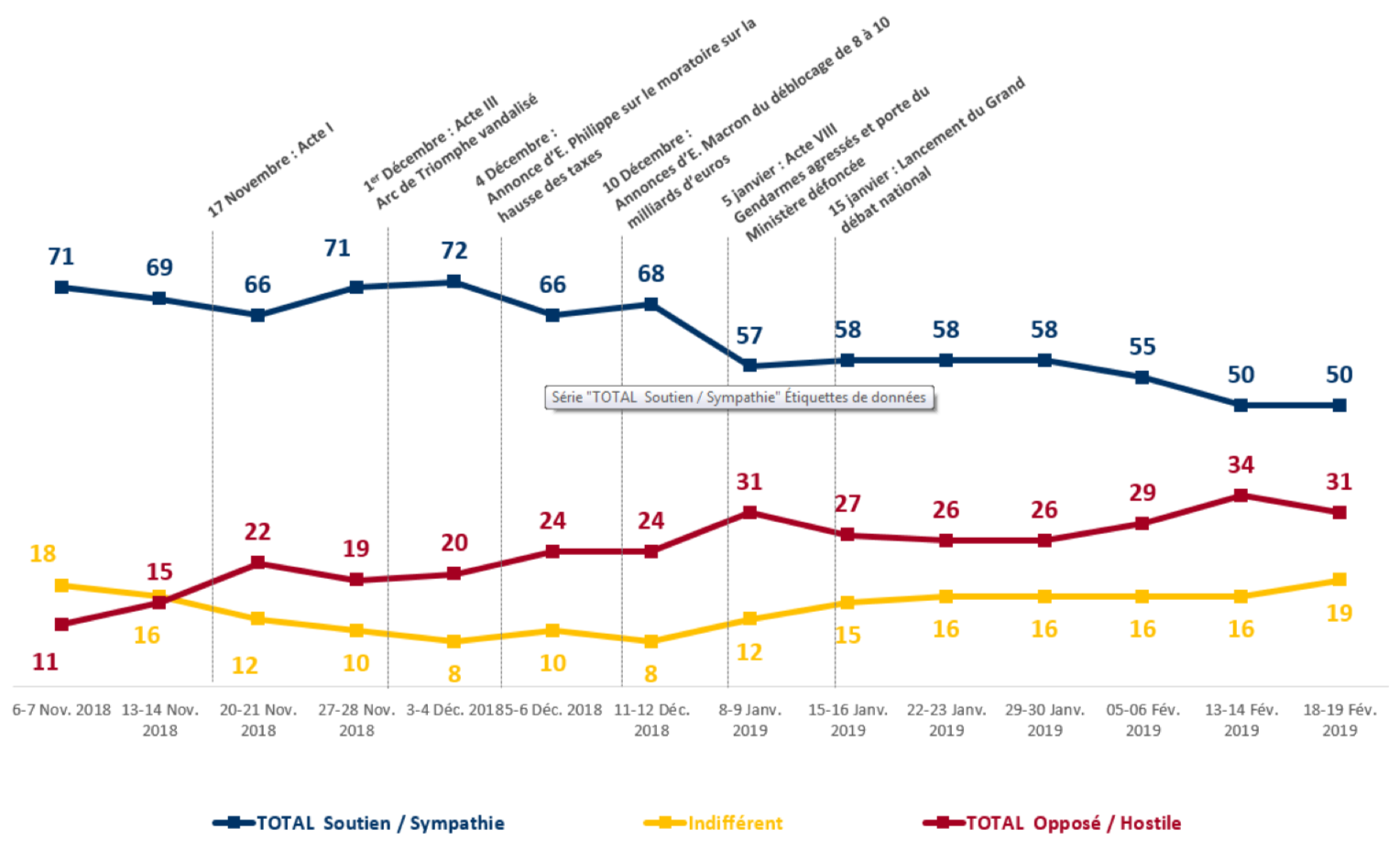 Initially, support was strong during the first weekend of protests, with nearly three in four French people supporting the movement and just one in ten opposed (and about two in ten indifferent). But due to Macron's response plus fatigue with the violence of the protests, between the mid December and early January support began declining. Now exactly half of the French support the gilets jaunes, while a third are opposed and a fifth are indifferent. These numbers have stabilized recently but the longterm trendline is not in the gilets jaunes favor.
Politically, support is strongest at the extremes, with a 77% approval from members of the left-wing populist La France Insoumise party, led by Jean-Luc Mélenchon, and 74% from the right-wing populist Rassemblement National, led by Marine Le Pen. By contrast, the more centrist parties La Républic en Marche, started by Macron, and Les Républicains give the gilets jaunes only 9% and 35% support, respectively.
But support for the movement does not necessarily translate into support for its demonstrations and all those blocked roads. In December, 59% of those surveyed believed that the gilets jaunes should continue their protests, but today only 35% do. And the number of people believing the protests should stop has risen from 31% to 54%. So there is a big difference between supporting the goals of the gilets jaunes and supporting the disruption that their protests cause.
What's next? Maybe the demonstrations continue to lose steam and eventually peter out. Or perhaps the dwindling number of protesters is due to cold winter weather and the movement will roar back to life in the spring. Only time will tell.
Featured image: Stock Photos from Mo Wu/Shutterstock