Paris' Italian food renaissance continues with the opening of Eataly Paris Marais this weekend. Crowds gathered to visit this impressive 4,000 square meter (26,000 square foot) food hall, located in the center of the Marais. Featuring seven eateries, eight deli counters, a grocery store, an outdoor produce market, and Paris' largest Italian wine cellar, there is no shortage of delicious Italian treats.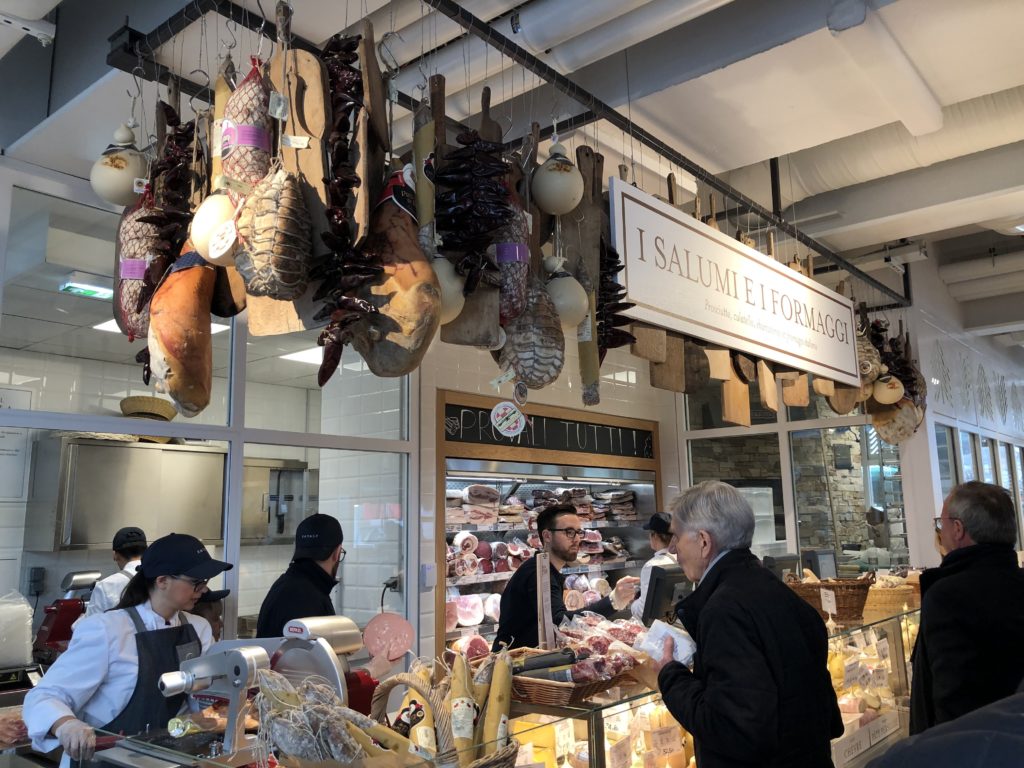 Given the success of the Big Mamma group, whose massive food hall, La Felicita, and six Italian trattorias around Paris are known for impossibly long lines, it is no surprise that the entrepreneur behind Eataly, Oscar Farinetti, chose Paris as the international brand's 39th location. As recently as five years ago, although there were plenty of reliably good Italian restaurants in Paris, they were not particularly innovative and generally featured old-fashioned décor and stereotypical Italian folk music. Today, Italian dining is synonymous with trendy, Intagrammable spaces and hard-to-get tables — in short it's become cool.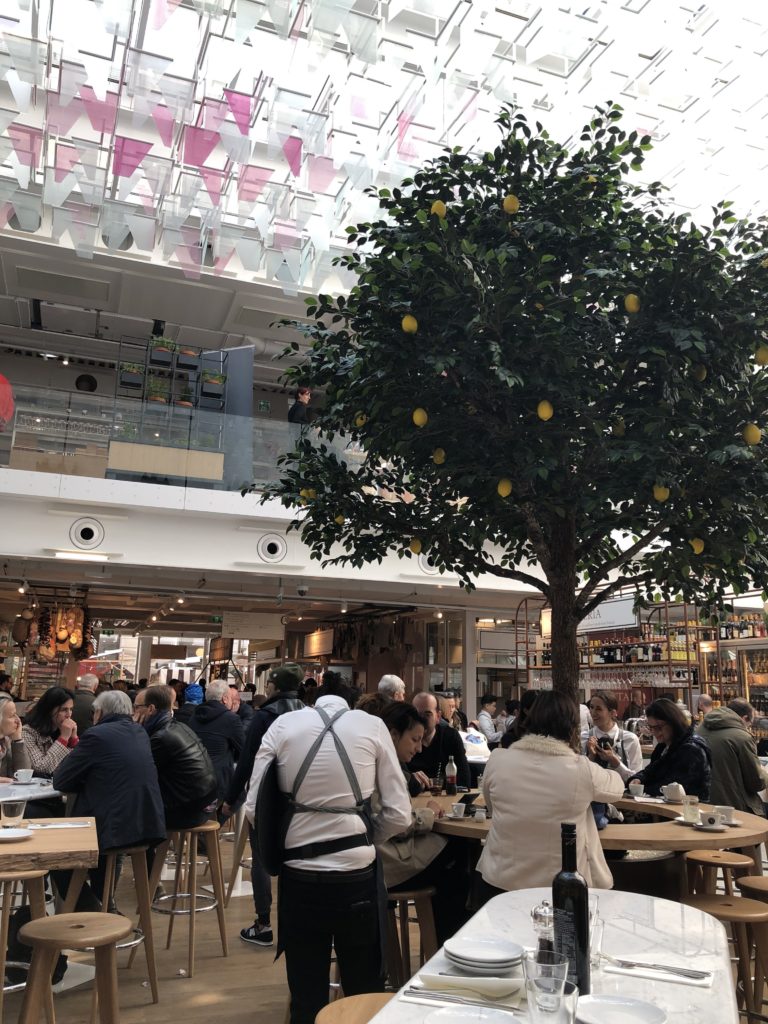 Eataly fits right in with this updated Italian food scene here in Paris. The three-story space is bright and beautiful, with careful consideration given to every detail of the aesthetic. The decoration uses old-world features creatively in the modern interior, creating the perfect blend of tradition and innovation. Some particularly nice touches are the intricate web of wicker baskets framing the entrance, the interior lemon tree that serves as a centerpiece for a round table, and the truck and wooden stands that serve as the backdrop for the outdoor fruit and vegetable market.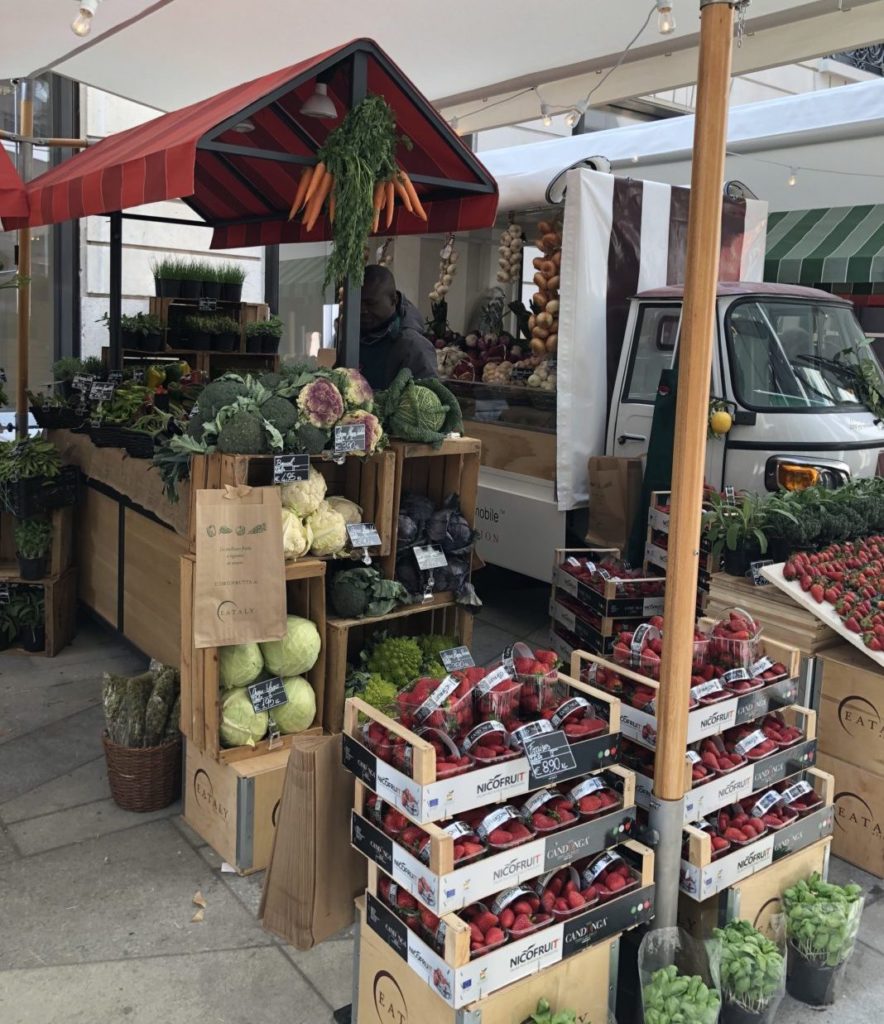 Although the visual aspects play an important role, the main attraction is of course the food. In a New York Times interview about the new opening, Farinetti said, "the French consumer is mature and fanatical about food…they understand artisanal products, they know wine, and they're incredibly curious. You can't make any mistakes." He certainly provided an excellent selection for his scrupulous French clients.
At Eataly Paris, you can sit down for a restaurant-style meal, grab a quick bite of focaccia or fresh pasta, or pick up all the necessary groceries for an Italian feast at home. There are multiple restaurant options on all three floors, featuring lunch, dinner, and aperativo options. The ground floor also boasts a bakery, a butcher counter, and a handmade pasta stand, many of which were offering tantalizing samples. The selection of imported groceries and dry goods is also impressive, the olive oil options alone make a trip to Eataly worth it for any Italian food enthusiasts.
https://www.instagram.com/p/Bvt2tvGnuDy/
One can't help but notice the large letters spelling out "Fraternité" on the wall of the central space. Part of France's national motto, this word also represents an important aspect of Eataly Paris for Farinetti. In that same New York Times interview, he spoke about the brotherhood between French and Italian cultures, and how important it was to him that it be represented in the food hall. To that end, the staff is half Italian and half French, and 10% of the extensive wine cellar is reserved for French wines. C'est beau! Che bello!
Find this haven of Italian food in Paris at 37 Rue Sainte-Croix de la Bretonnerie, 75004.