Despite the sweltering heat, Nina and Rose, two Armenian sisters, kept their unwavering gazes on Hollywood Boulevard. They've been plunged into grief — Charles Aznavour passed away Monday, October 1st, at the age of 94. Like many other fans, the sisters went that same day to gather at Aznavour's star on the Hollywood Walk of Fame, in front the Pantages theater in Los Angeles.
Baydsar Thomasian, a member of Californian Senator Kevin de Leon's team, represents the Hollywood area, where a large community of Armenians live. It was her initiative to inaugurate Charles Aznavour to the Walk of Fame on August 11th, 2017. "Charles Aznavour was not just an Armenian legend, he was an international star, and it was time Hollywood recognized him," she explained, concerning her decision to get Aznavour on the Walk of Fame, in an interview after she'd learned of the star's passing. "We accelerated the process, he was already 93 years old." The senator's team had already given him a star of honor in 2016. "But he merited more, so we pleaded his case to Hollywood Historic Trust, who manages the Walk of Fame."
The relief of having paid tribute to Aznavour during his lifetime does not lessen the sadness. Last Monday, Thomasian continuously referred to him as "the legend whose first love was France"; unfortunately, she did not succeed in contacting his family to give them her condolences. On the Walk of Fame, voices wavered while tissues are used to wipe away runny noses and running makeup. After having heard the news of his passing, and drying their first tears, Nina and Rosa came to this place. "I was in frozen in my bed when I heard about his death," swore Nina, who has lived in the US for 14 years and worshiped the artist and man who was appointed permanent representative for Armenia to the United Nations in 2009. "We dropped off a basket of Armenian roses," she explains, adding that since she lives close by she will bring them regularly.
Even though she is not able to remember as much, Hranush Mezhlumyan, a 32-year-old Armenian, was no less devastated by his death. "I was apprehensive of the news," admitted the engineer. "He was an iconic singer in person, with no need of artificial effects." As well as the artist, she celebrated — as many do — the man who defended the Armenian cause; he gave them "so much aid." Another longtime fan, Naré Mkrtchyan touched his star on Hollywood Boulevard. "I met him in Paris because I was making a documentary about him," she explained, holding a photo of the two of them. She felt "connected" to Aznavour since her father had made a film concerning his attitude following the 1988 Armenian earthquake. "For me, it was impossible to believe that he passed away," Mkrtchyan declared.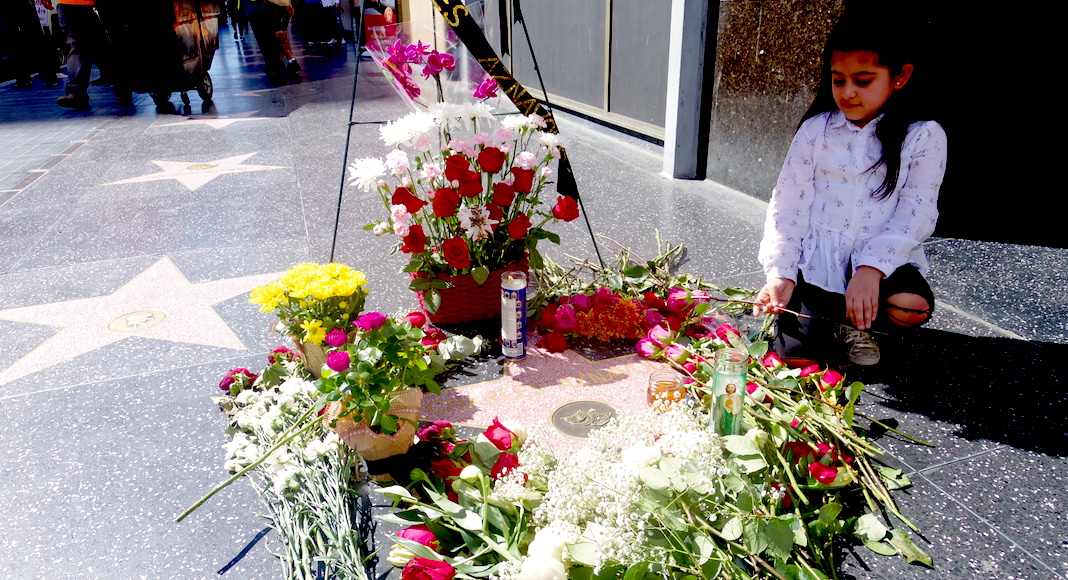 His influence exceeded the frontiers of France and Armenia after his debut in New York in 1963, where he sold out Carnegie Hall after financing the show himself. Since then, he gave dozens of concerts in the US, mainly in LA, New York, Boston, and Miami. In 1999, a survey by Time Magazine and CNN named him the "most important singer of the 20th century."
"He was an exceptional artist, with a reputation in the US and beyond. He always sold out his shows," noted Moshe Noy, a producer of Aznavour's concerts in LA. The Israeli, who has a collection of photos and all 44 CDs of special collectors editions, met him in Frankfurt, Germany. A huge fan, he'd organized a concert of classics at the Greek Theater for the French artist. On the day of Aznavour's death, Noy remembered a calm, healthy man, who loved to go to LA to enjoy the sun and see his family (his daughter and his grandchildren live there). He happily recalled "a crooner's escapade to Sinatra's house in Palm Springs, after a concert."
Many of Aznavour's American friends have paid homage to him over social media. Liza Minnelli — with whom he lived for a year — called him "my mentor, my friend, my love." Quincy Jones remarked on their friendship on Instagram: "From the time that we first met, we enjoyed an enduring kinship that lasted more than six decades. Whether it was in the recording studio or vacationing in the South of France, I will forever cherish the time we spent together & memories we shared…RIP dear Charles…You'll be forever in our hearts." Elton John remembered Aznavour as "A truly great artist and a brilliantly beautiful voice. It was an honour singing with you."
The most international of French artists will leave his mark in the City of Angels. Unable to leave the Walk of Fame, Mkrtchyan says, "he will always be in our lives."