The celebration couldn't get any better — this year, July 14th falls on a Saturday, so Francophiles and French people from the City of Angels can celebrate Bastille Day all night and day. And there are many ways to do so.
The evening will be "so Frenchy" at Riviera 31 (Sofitel Beverly Hills) on Saturday, July 14 from 6 pm to 2 am. With the support of the Alliance française, the Chamber of Commerce and French Morning, French Tuesdays sets the bar high in the City of Angels. In addition to a French DJ, the audience will participate in a demo of French Cancan. To avoid sticking out like a sore thumb, a blue-white-red outfit is strongly recommended.
Riviera 31, 8555 Beverly Boulevard, Los Angeles. Tickets between $15 and $65.
Raise Your Glass in the City's Bars and Restaurants
Many restaurants are passionate about celebrating the national holiday. Among the regulars, Le Petit Paris organizes a big aperitif that day from 4pm to 7pm in a guinguette atmosphere.
Petit Paris, 418/420 South Spring Street, Los Angeles.
The atmosphere at Garçons de Café wine bar on July 14th will be intoxicating. Enjoy "bottomless rosé" in the establishment of Thomas Choulot and Sofian Ketfi, located under the large glass roof of the Spring Arcade Building in Downtown. You can choose between two options: $25 to drink from 8pm to 11pm, or $50 to drink from 11pm to 1am.
Garcons de Café, 541 S Spring St #114, Los Angeles.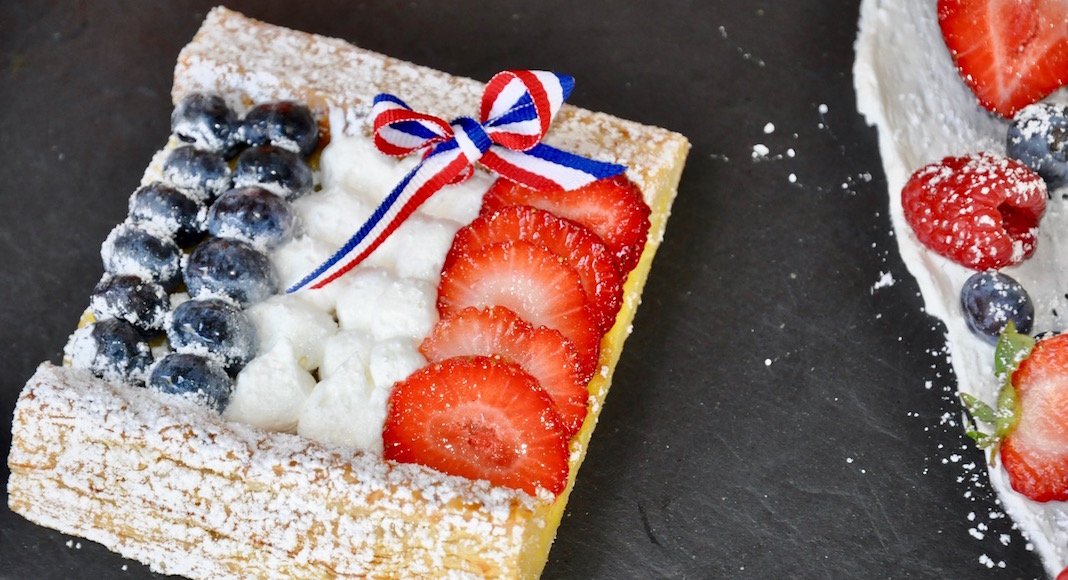 Pitchoun will be decked out in blue-white-red on Saturday, July 14th. Like every year, the bakery and pastry shop concocts many special products for the occasion, such as patriotic éclairs, the Bastille Tarte, croissants, and tricolor macarons.
Pitchoun, 545 S Olive St, Los Angeles.
Celebrate the French way and drink wine! From 7:30pm to 9:30pm, the San Antonio Winery offers a unique tasting ($65) of wines from Alsace, Bordeaux, Burgundy, and the Rhône, all accompanied by tasty regional cuisine.
San Antonio Winery, 737 Lamar St, Los Angeles.
National gastronomy will also be honored on Saturday, 14 July 14th at Heritage — self-defined as "the most French place in L.A.". Accompanied by an accordionist playing popular songs, a $35 meal will be cooked for guests with an endive salad or tarte, a Bourguignon beef/vegetarian quiche or salmon in a papillote, followed by a dessert. It starts at 7pm.
Heritage Gourmet Food & Wines, 467 North Canon Drive, Suite 101, Beverly Hills.
The atmosphere will be very patriotic at the Original Farmers Market on July 14th. The four French shops — Michelina Artisan Boulanger, Oh Waouh Salon, Monsieur Marcel Gourmet Market and Bistro, and The French Crêpe Company — will all celebrate Bastille Day. In addition to offering French dishes, Monsieur Marcel have an accordion player from 6pm to 9 pm. In addition, the "pin-up" Jennifer Keith Quintet will give a concert at 7pm on the West Patio.
Original Farmers Market, 6333 W.3rd St., Los Angeles.
Night owls can also go to Pour Vous for the "Midnight in Paris" party on Friday, July 13th starting at 10pm. Expect decadence in this trendy Hollywood bar where there will be DJs, burlesque performances, and an endless supply of crêpes. Be sure to dress up as a 1920's Parisian for the occasion!
Pour Vou, 5574 Melrose Avenue, Hollywood.
July 14th Sailing with the LA Yacht Club
There's more to life than wine. Women on Water will introduce women to sailing on Saturday, July 14th, from 10am to 2pm. You can learn how to come about and jibe in San Pedro on this special day.
LAYC, 85 Whalers Walk, San Pedro. Free. Reserve with [email protected].
A Colorful French Festival in Santa Barbara
Marvel at the colors in Santa Barbara on Saturday, July 14 and Sunday, July 15 (from 11am to 7pm). The 30th edition of the French Festival is full of surprises with folk dancers (from Polynesian dance to French Cancan and Tango), concerts paying tribute to Django Reinhardt and Edith Piaf, and other entertainment (such as a medieval fighting demonstration or the Canine Cavalcade at 6 pm). Take a stroll with a crêpe and a glass of wine, or take part in a game of pétanque under the trees of Oak Park.
French Festival, Oak Park, 300 W. Alamar Avenue, Santa Barbara. Free admission.
Enjoy French Street Art
Celebrate Bastille Day early at 5 Art Gallery. On Thursday, July 12, from 6pm to 9pm, the gallery will celebrate French street artists at the Bastille Day Kickoff Reception, in the heart of Melrose Avenue. Discover the works of Christophe Catelain, MonkeyBird, and Richard Orlinski.
5 ART GALLERY, 8250 Melrose Avenue, West Hollywood. RSVP at [email protected].