Sylvain Coulon, CMS-CHt, FIBH - HYPNOTHERAPY
The day we are born, we are all dealt a hand. Some hands are better than others, with more potential and a better environment, while other hands are not as good.
However, what we achieve in life depends on a multitude of little actions we take no matter where we started.
I opened my practice with one goal in mind, helping people to create the change they want no matter where they are in their lives now.
Sometimes, they want to let go of a fear, which limits their experience, like speaking in public or even a phobia, which totally over-rules their behaviors in certain situations.
Some other people want to learn to focus better or increase their memory skills, but are uncertain as to what limits them.
Sometimes, it is the need to stop an unwanted behavior, such as smoking, drinking, binge eating or a need to learn to relax and handle their feelings of being overwhelmed by stress, work, and the daily pressures of life.
The people who come to see me are all very different but they have something in common; they imagine themselves with a better future, and take action to create this future.
None of them are sick, they don't expect a treatment. They just don't settle for less, they don't want to struggle with the same issues for their entire lives.
Modern practice in a modern world
 I help people reach their goal through tailor made, one to one individual sessions in my practice and remotely through secure video. I design all my sessions to be down to earth, hands on, and easily applicable to today's life challenges.
I offer sessions in both English and French.
From my number of years working with people in both the U.S and around the globe, I developed and designed packages that meet individual needs and provide consistent and positive results.
Different sessions for different needs:
 The 60 to 90 Minute Sessions: In this session we take the time to really get to the bottom of things
The 30 Minute Session: I call this the "Mind Boost". This session can be used to help you with mental preparation for an important event, such as interview, exam, test, competition etc…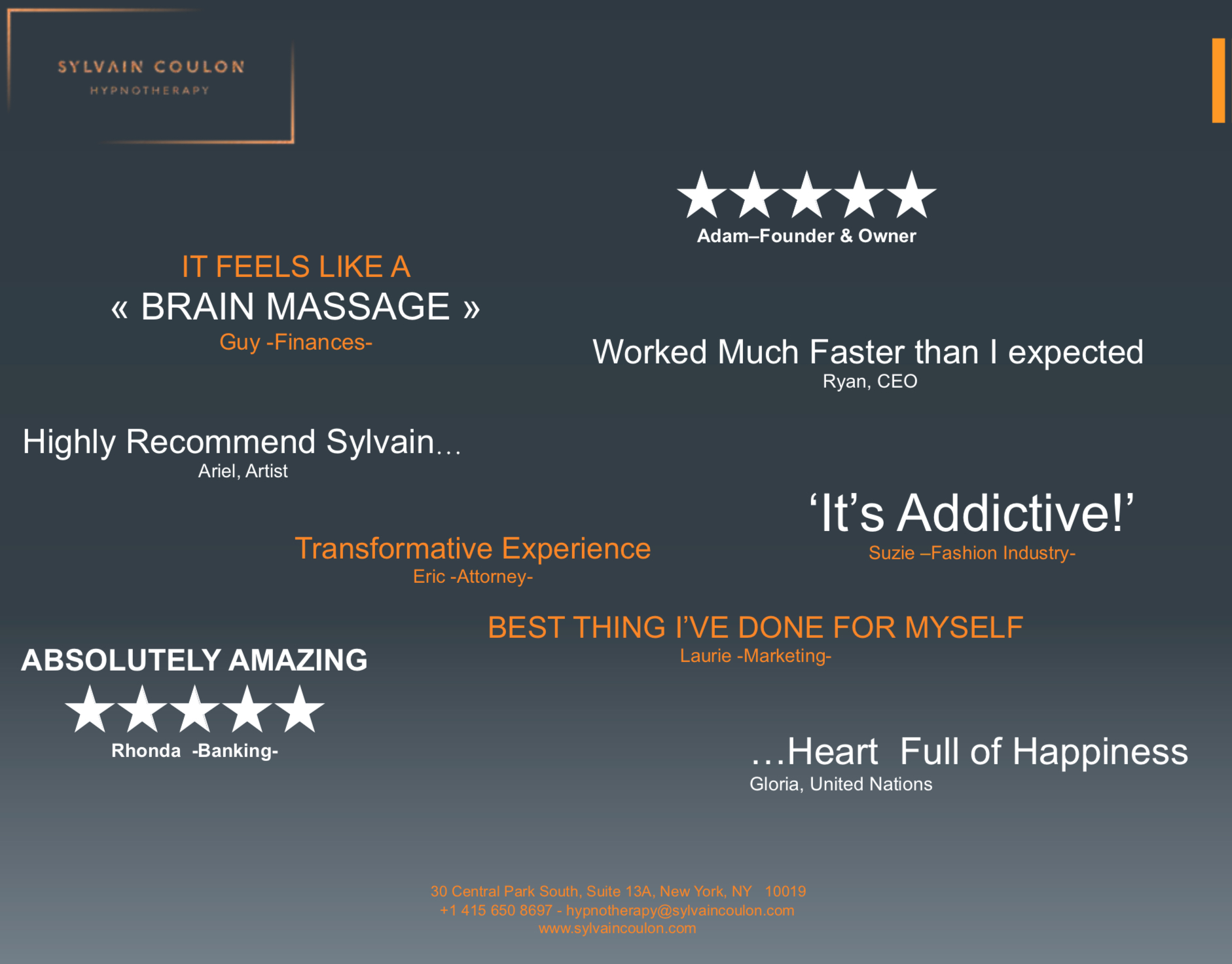 My name is Sylvain, I am a hypnotherapist.
Before settling in New York, I wanted to discover how people lives their lives in different countries and different cultures, so I hopped on a plane to visit a number of countries; sleeping under the stars in Antarctica, on the warm sands of Dubai, in the wilds of Africa. Before, I realized it; I lived in 8 different countries and visited all continents. I learned the range of perceptions of life that are part of different cultures and developed a unique passion for human behavior in different environments; I came to understand how the subconscious mind drives wanted but also unwanted behaviors.
I was fortunate to be invited to share my expertise and speak about hypnosis at symposiums, radio shows and conferences, including Harvard. I was honored to recently receive the 2018 New York Award for best Hypnotherapy Service.
We hear more and more about the benefits of hypnosis, but there are still many myths regarding this practice. In both cases, hypnosis intrigues most people by its impressive results. It is mainly due to the fact that in hypnosis, we access the deepest part of the mind (the subconscious mind), which allows us to really change the way we look at a certain condition. This is when we are able to create a real change.
To find out everything you need to know about the use of therapeutic hypnosis, check this out: www.sylvaincoulon.com