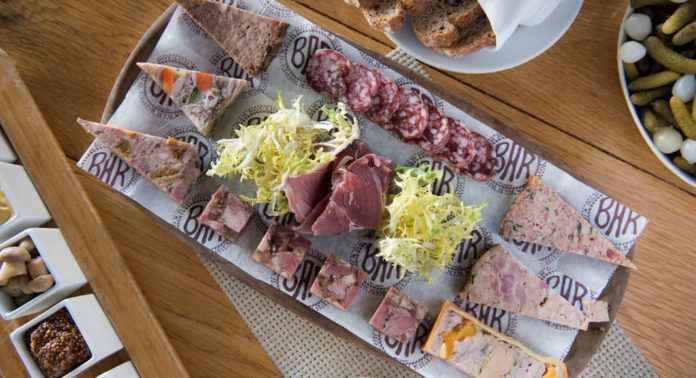 If you're like us, you've had a serious craving for charcuterie before. What's not to love about a plate of meats, especially when it's often served with cheese? For all of you Francophiles and foodies, here are 8 of the best restaurants in New York for charcuterie lovers.
1. Bar Boulud
1900 Broadway (UWS)
Everyone in the know about charcuterie is in agreement that this is the best in the city. Bar Boulud's atmosphere is laid-back, and the decoration is minimal. The charcuterie platters are on the expensive side (small selection for $31, large for $50), but the quality is unparalleled. There are four kinds of pâté, and two kinds of terrine — all delicious. In addition to charcuterie, Bar Boulud offers lunch and dinner, as well as brunch on the weekends. Right next door is Epicerie Boulud where counters are filled with house-made charcuterie and artisanal cheeses, along with soups, sandwiches, pastries, and breads. There you can purchase everything you need to keep the deliciousness coming even after the check is paid.
2. Vin sur Vingt
66 West 84th St (UWS); 201 West 11th St (West Village); Plaza Food Hall, 1 West 59th St, (Midtown); 1140 Broadway (Nomad); 66 West Broadway (Tribeca)
Vin sur Vingt, as the name would suggest, is a wine bar seemingly transported from dear France herself. Take a seat on a red stool at the bar and peruse the menu of 50 wines by the glass before preparing to make some very difficult decisions for your charcuterie plate. There are five VSV locations in the city but they all offer the same eight charcuteries, and a daily selection of cheeses. It's three of either for $18, five for $29. For three of each, it's $36, and you'll shell out $58 for five of each. If you move on to the full menu, you'll find all the classics— ratatouille, croque-monsieur, and escargot.
3. La Compagnie des Vins Surnaturels
249 Centre Street (Soho)
La Compagnie des Vins Surnaturels has everything you want in a wine bar: exposed brick, dim lighting, a French name, and cheese and charcuterie. The menu offers a small but high quality selection of charcuterie and cheese options. Get one cheese for $7, three for $20, or five for $32, and charcuterie individually, or get the chef's selection of both for $42. The dinner menu is equally as enticing, offering unusual options like cast iron leeks and rave-worthy grilled octopus. With soft sofas and low-key décor, this restaurant and wine bar has an electric atmosphere perfect for getting away from that quotidian New York City grind.
4. Jadis
42 Rivington Street (LES)
https://www.instagram.com/p/BQBUfryDNUn/?taken-by=jadiswinebar
Exposed brick, dark wood, and comfy leather couches make Jadis a cozy spot to order up some charcuterie (sense a trend in the ideal décor yet?). Their meats and cheeses are individually priced in case you want one, but we don't know why you would ever be able to eat just one. Platters of four items price at a reasonable $23. All the classics are featured in the selection plus a few unique and rising stars like brie goat, lamb prosciutto, and Serrano ham. As a wine bar, they have plenty of by-the-glass options to go with your platter. If you want to stay for the night, they serve a small but respectable assortment of salads, hot sandwiches, and quiches.
5. Le Pif
2058 Broadway (UWS); 465 W 23rd Street (Chelsea)
Le Pif is a local favorite for New Yorkers living on the Upper West Side and in Chelsea. With wooden planks lining the walls and cozy upholstered benches, stepping into Le Pif feels like stepping into a French chalet. Guests can choose from over 60 bottles of French wine, as well as an additional 40 wines by the glass. The selections of cheese and charcuterie are just as extensive — there are 11 kinds of meats and 11 kinds of cheeses to build the perfect platter in a combo of three, five, or seven, for $19, $31, and $42, respectively. (One cheese or meat is $7.) Come hungry and with friends because these cheese and charcuterie platters are designed for sharing.
6. Amelie Wine Bar
22 W 8th St (Greenwich Village)
Take a seat at that unforgettable red counter and get your stomach ready for a real treat. Originally a San Francisco wine bar, Amélie brought their bright vibes and extensive wine menu to the gloomy east coast to cheer us up. Their charcuterie plates are customizable, with one ($8), three ($22), or five ($33) items. It's not the largest selection of meats or cheeses on this list, but each cheese says where it's from and if it's hard or soft, and each meat has a few descriptive words, helping you to craft the perfect assortment of flavors. How else would you know to pair the paprika-accented Chorizo Iberico with a creamy, light Chevrot? The full food menu contains an assortment of pricey small plates and a few main course meats.
7. Le District
225 Brookfield Place (Battery Park City) 
Le District will immediately remind visitors of Eataly, but French (obviously). Besides offering a marketplace of French foods, Le District is also home to several restaurants, like Beaubourg, Le Bar, and L'Appart, that offer amazing charcuterie options. At Bar à Vin, there's a phenomenal menu of 24 cheeses and 12 meats; pick one ($8), five ($35), or eight ($45). If you'd rather have a full meal, sit down at Beaubourg and choose from a smaller list of meats and cheeses (though priced cheaper) to go on your plate of three, five, or seven. For an experience that is both classically French and undeniably New York, Le District is the place to go.
8. Terroir
24 Harrison St (Tribeca)
Of all of the restaurants on this list, Terroir offers the largest variety of charcuterie (and the largest selection of wines by the glass). Guests can build their own plates, combining groups of three, five, or seven meats and cheeses. You can even get a sample of all the charcuterie for $34. While the charcuterie comes exclusively from the US, the cheeses are imported from countries all over Europe, including Croatia, Austria, and Sweden. The menu is diverse and delectably entertaining, offering dishes like hushpuppies, a fried chicken sandwich, and beet pickled deviled eggs. There are two locations for Terroir: the main city-chic one is in Tribeca, and there's a smaller, outside-only location on the High Line at 15th street (closed during the winter).