In a televised speech lasting almost exactly 13 minutes Monday, French President Emmanuel Macron broke his silence on the Gilets Jaunes protests that have rocked the country for over a month.
Speaking from the Elysée Palace, Macron admitted that the anger felt during four consecutive weeks of protest was "deep, and in many ways legitimate," and took partial responsibility for his role in their escalation.
"For a year and a half we haven't responded sufficiently well [to the demands of French citizens]," he said. "This evening I want to be very clear with all of you. If I have fought to change the political system in place … it is precisely because I believe in our country and I love our country." 
La colère qui s'exprime aujourd'hui est juste à bien des égards. Elle peut être notre chance. pic.twitter.com/cWIjaZ564C

— Emmanuel Macron (@EmmanuelMacron) December 10, 2018
In his speech Monday, Macron took on a more conciliatory, "humble" tone, experts noted. But he also decried the violence, saying, "No anger can justify attacking a police officer, a gendarme, damaging public buildings or businesses."
Last Saturday, more than 1,000 people were detained across the country as violence reached a boiling point in the evening. While the Gilets Jaunes protests initially began as a largely-peaceful response to a proposed fuel tax, they quickly grew to include a much larger array of concerns about Macron's aggressive reform agenda.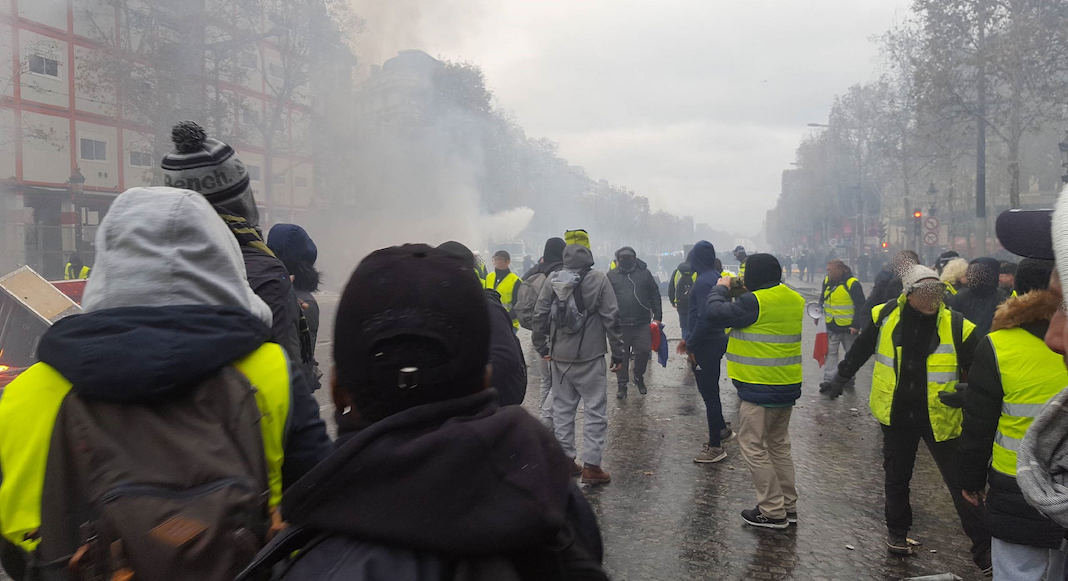 Tonight, Macron announced a number of new policies that will go into effect in the coming weeks, aimed at stemming the anger. 
These include:
1. A 100-euro monthly raise to the minimum wage: Beginning January 1, minimum wage earners will receive an additional 100 euros (net) in their bank accounts each month, at no cost to employers. The current minimum wage (or SMIC) sits at just under 1,500 euros per month, meaning workers will be receiving a monthly raise of just under 7 percent.
2. Eliminating a proposed social security tax on low-income retirees: A proposal to raise contributions to the CSG (general social contribution) by 1.7 percent has been scrapped for retirees who make less than 2,000 euros per month.
3. Tax-free overtime pay: Beginning in 2019, France will require employers to remunerate overtime work without taxes or charges.
4. Tax-free bonuses: He also called on employers to give tax-free, end-of-year bonuses to employees.
5. A national dialogue with mayors: Less concretely, Macron vowed to open up a national dialogue with mayors from every region of France in an effort to better understand concerns voiced by French people at the local level. Similarly, he said that France must, "settle the question of immigration," but gave few specifics on this point.
Unsurprisingly, Macron's supporters and detractors quickly jumped on the moment to insert themselves into the political conversation.
Marlene Schiappa, French Minister of Equality, called Macron's speech "courageous, sincere and humble," while left-wing leader Jean-Luc Mélenchon suggested Macron's speech would do little to prevent a "fifth" act of Gilets Jaunes protests this coming Saturday.
For some, it may not have gone enough. As Le Monde notes, Macron did not implement a wealth tax (called ISF) many protesters have been calling for or announce any structural changes to France's political system.
But whether protests will continue this coming Saturday can, of course, only be decided by the Gilets Jaunes themselves.