1. You can talk with native speakers — without having to be in France
You can work on your French skills with another French learner, but your ability to expand your horizons (and perfect your accent) is limited to what they know. With a native speaker coaching you, the amount you can improve is much greater.
2. You learn as much about culture as you do about language
Whether you get a language partner in Morocco, Ivory Coast, Montreal, or New York, you'll be talking to someone who has grown up in another culture. Find out how the French really celebrate Christmas, what they think of the gilets jaunes, and if French people really carry baguettes under their arms.
3. You learn modern, current French
Nothing makes learning French feel futile quite like realizing you're memorizing outdated vocabulary. When you learn from an online language partner, you're learning from a living, breathing person who speaks current French, instead of a textbook that was last updated in 1987.
4. You learn on your own time
Between friends, family, work, cooking, the gym, transit, and everything else that fills your day, it's hard to find time to squeeze in a weekly three-hour class. When you have an online language partner, all you have to do is turn on your phone and your language partner is there.
5. It's one-on-one learning without the cost of a personal tutor
When you have an online language parter, your questions never go unanswered because you ran out of class time.
6. You learn exactly what you want to learn
If you hate the "Allez-Viens!" textbook's unit about sports in France… you won't have to waste your time on it with an online language partner. Prep for your next trip to a French restaurant by talking about food with your language partner, asking about their favorite traditional French dishes, and what they recommend you avoid on the menu.
7. No homework
Instead of learning the theory that you'll (hypothetically) put into practice later, you learn by actually doing.
8. You learn from someone who you actually like
If the local French language school's teachers aren't to your liking, you probably don't want to learn French from them. An online language partner is someone you pick yourself. Apps like HelloTalk let you pick the age range, gender, and location as specific as a city. Users upload a photo and write a bit about themselves so you connect with someone you actually think it would be fun to talk to.
9. You make friends in other countries
No need to invest in a guidebook for Bordeaux, you'll have your own guide ready to give advice (and maybe meet for a real-life café or two!).
10. You get to be a teacher and a learner
The person you're talking to is learning just as much from you as you're learning from them. When you're learning, so are they! That's part of what makes online language partners so great is that it's an exchange.
11. Anyone can get an online language partner
All you have to do to get an online language partner is download an app. HelloTalk is a language exchange app that helps you find someone to practice language with. Just download it for free, fill out your profile, and search for a partner. Once you find one you like, you can send text or audio, and even photos and videos. The app has built in tools for correcting mistakes like one-tap translation and voice-to-text / text-to-voice software, and also for saving the conversations you found most helpful. There's an extensive amount of preference and privacy settings, so you can customize your experience to be exactly how you want it. Download HelloTalk today for iOS or for Android and start chatting. Learning French will be as easy as talking to a friend.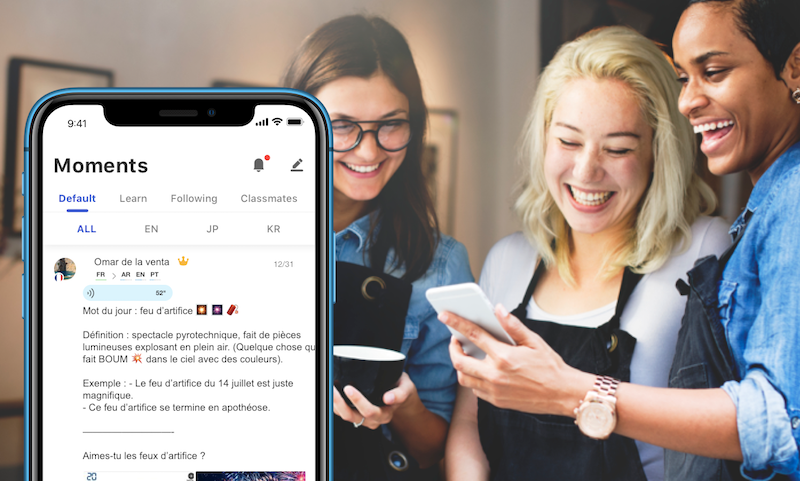 Note: Sponsored articles do not belong to the editorial team at Frenchly. They are provided or written at the request of the advertiser, who determines the content.